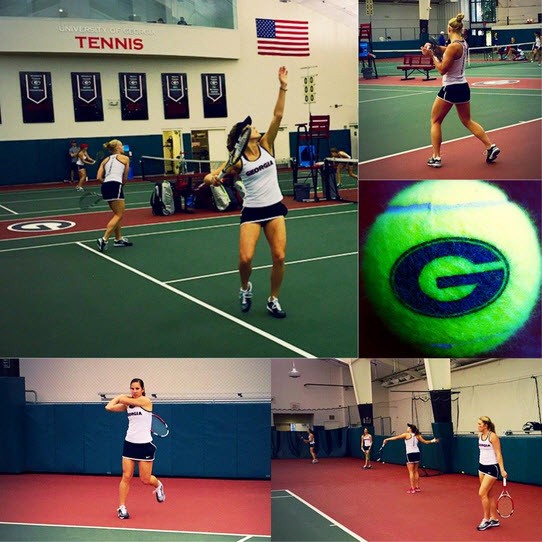 [break] The tenth-ranked Georgia women's tennis team (1-1) overcame a doubles point loss to secure a 4-1 victory over No. 71 Samford (0-1) in the opening match of the ITA Kick-Off Weekend at the Lindsey Hopkins Indoor Facility on Saturday afternoon.
Senior Lauren Herring clinched the match for the Bulldogs with a 7-5, 6-3 singles win over Samford's Stephanie N'tcha on court one. Freshmen Ellen Perez (6-2, 7-5) and Kennedy Shaffer (6-1, 6-1) won their respective matches on courts two and four, while junior Silvia Garcia claimed the initial singles win on court three with a 6-0, 6-0 sweep of Samford junior Jessica Northcutt.
"I'm really excited we got the win today," said head coach Jeff Wallace. "It's always nice to bounce back like we did. We talked ​about some things in doubles that we need to do a little bit better moving forward, but I thought once the singles started our players did a great job."
The win sees Georgia progress to an ITA Kick-Off finals showdown with SEC foe and No. 28 ranked Auburn at 5 p.m. tomorrow. The winner of the match will advance to the ITA National Indoor Team Championships at UVA from February 6-9. The Bulldogs are 50-6 all-time against the Tigers.
Tomorrow's match will feature live stats and a live chat blog on Georgiadogs.com. For additional news and information, be sure to follow the Bulldogs on Twitter @UGAWomensTennis.
Singles Results
#19 Lauren Herring (UGA) def. Stephanie N'tcha (SAM) 7-5, 6-3
Ellen Perez (UGA) def. Yasmeen Ebada (SAM) 6-2, 7-5
#83 Silvia Garcia (UGA) def. Jessica Northcutt (SAM) 6-0, 6-0
Kennedy Shaffer (UGA) def. Savannah Wood (SAM) 6-1, 6-1
#91 Hannah King (UGA) vs. Iva Parapunova (SAM) 4-2, unfinished
Caroline Brinson (UGA) vs. Carita Moolman (SAM) 6-1, unfinished
Doubles Results
Lauren Herring/Ellen Perez (UGA) def. Stephanie N'tcha/Carita Moolman (SAM) 6-2
Yasmeen Ebada/Jessica Northcutt (SAM) def. Caroline Brinson/Hannah King (UGA) 6-2
Savannah Wood/Iva Parapunova (SAM) def. Mariana Gould/Laura Patterson (UGA) 6-4