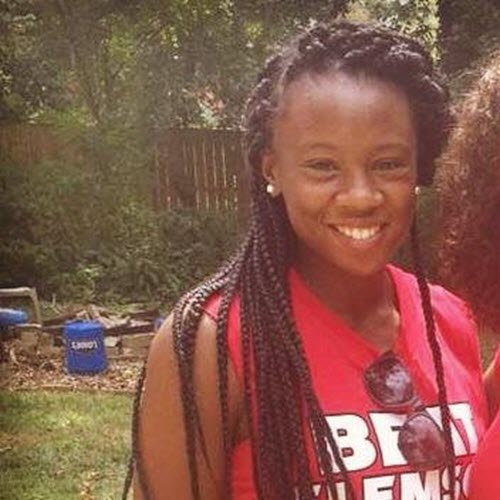 [break] Georgia true freshman Keturah Orji set an American Junior indoor record in the triple jump to highlight the second day of the McCravy Memorial in Lexington, Ky., on Saturday. [break] [break]
Orji (OR-gee), a native of Mount Olive, N.J., soared 45 feet, 10 ½ inches on her fifth of sixth attempts to leave the former record of 45-7.25 (Stanford's Erica McLain, 2005) behind. Orji held off Florida senior Ciarra Brewer (45-2.25) for the victory on Saturday with the second-best jump in the world this year, established the No. 9 spot on the all-time collegiate performers list and cruised past the eight-year-old school record by more than a foot.
[break] [break]
"Today was a 'knockout' day meaning Keturah Orji, or 'K.O.' as I call her, did something big," said Georgia head coach Wayne Norton. "Her series of jumps, which included four 45-foot jumps, was one of the most impressive feats we have had. As good as she was, she was not all we produced because Maicel Uibo, Garrett Scantling and Devon Williams were really good in the heptathlon.
[break] [break]
"In the men's shot put, Ashinia Miller and Nick Vena did what we knew they could do, which is demonstrate that they are contenders to score points at NCAAs. We are making great strides towards being the team we will eventually be."
[break] [break]
After opening with a mark of 43-4.50, Orji answered with four 45-foot jumps, including her personal best that passed former Lady Bulldog Patricia Sylvester's mark of 44-7.50 set in 2007. Orji now owns four of the five best all-time U.S. Junior triple jump marks in history.
[break] [break]
Orji's performance comes a day after sophomore Kendell Williams scored 4,609 points in the pentathlon to move to No. 2 in collegiate history (behind her own collegiate record of 4,635 set in 2014), take over the top non-altitude collegiate score, claim both the McCravy Memorial and Nutter Field House records and record her second mark on the all-time U.S. top-10 list.
[break] [break]
During the men's multis, junior Garrett Scantling and junior Maicel Uibo went 1-2 in the heptathlon with the nation's top two scores this year. Sophomore Devon Williams scored a personal best to finish third and move to No. 4 on this year's collegiate list.
[break] [break]
In addition, junior Ashinia Miller set a school record in the shot put with a national leading effort, senior Brandon Lord shattered the UGA record in the 3000-meter runand senior Charles Grethen clocked the fifth-best time in school history in the 800.
[break] [break]
Miller came in with an indoor career best of 62-0.25 in the shot put and the Kingston, Jamaica, native left that mark far behind on Saturday. Opening with a throw of 65-0.75, Miller then returned from three fouls to uncork a school record toss of 66-7.75. This took over the national lead and surpassed Brent Noon's 66-3 school record throw set at the 1995 SEC Championships.
[break] [break]
Four spots behind Miller in the competition was senior Nick Vena. Vena shot to No. 3 on Georgia's all-time top-10 list with his third throw of 64-5.25, which currently ranks sixth nationally.
[break] [break]
Lord finished fourth in the 3000 with the nation's fourth-best time in 2015, and also walked away with his first school record. Lord ran a 7:56.50 to trim 15 seconds off of his career-best time and pushed Ian Burrell (7:59.04, 2007) to No. 2 on the Bulldog all-time top-10 list.
[break] [break]
In the heptathlon, Scantling overcame a six-point day one lead for Uibo to win the competition with a score of 5,886, which was only three points shy of his total during Scantling's 2013 SEC title run.
[break] [break]
Uibo scored 5,847 for runner-up honors while Williams, whose younger sister Kendell starred in the pentathlon on Friday, bettered his No. 6 spot in the school record books with 5,538 points.
[break] [break]
Scantling registered a career-best time of 7.98, which improved his No. 6 mark in UGA history, to earn second-place honors in the 60 hurdles. He scored 987 points in the event and made another push for his victory.
[break] [break]
Scantling answered the call on a third attempt clearance at 16 feet in the pole vault before going over the bar at 16-4.75 for 910 points. He wrapped up his competition with a 3:00.35 in the 1000 for his final 661 points.
[break] [break]
Uibo matched his personal best in the pole vault (16-8.75, which ties for ninth in the school record books) for 941 points and the win. He had four first attempt clearances before missing three tries at 17-4.50.
[break] [break]
Uibo was third in the 60 hurdles for 900 points after running an 8.33 and finishing behind Williams and Scantling. In the 1000, Uibo ran a 2:59.20 alongside Scantling for 672 points.
[break] [break]
Williams tied for the fourth-best time in school history in the 60 hurdles to score 997 points. He ran a 7.94 to edge Scantling for the win in the event. He then took fourth in the pole vault after scoring 819 points with his second personal best (15-5) in as many weeks in the event.
[break] [break]
Williams closed out the meet by running a 2:45.41 for 814 points and a second-place finish in the event.
[break] [break]
In the 800, Grethen finished fourth after completing his laps in 1:48.96 to improve his personal best by .05. He now stands with a better No. 5 time in school history and in the top 1 nationally this year.
[break] [break]
Georgia returns to action at the Doc Hale VT Elite Meet in Blacksburg, Va., on February 6-7.
[break] [break]
Heptathlon Results
[break] [break]
60m Long Jump Shot Put High Jump Day 1 Total
Maicel Uibo *7.18 (819) *23-6 (852) ^47-5.25 (757) *6-11 (906) 3334
Garrett Scantling ^6.94 (904) *23-1.25 (823) ^48-8 (779) *6-7.50 (822) 3328
Devon Williams ^7.07 (858) *22-1 (750) ^43-10.75 (690) *5-10 (610) 2908
*season-best mark; ^personal-best mark
[break] [break]
60mH Pole Vault 1000m TOTAL
Garrett Scantling ^7.98 (987) *16-4.75 (910) *3:00.35 (661) *5886
Maicel Uibo *8.33 (900) ^16-8.75 (941) *2:59.20 (672) *5847
Devon Williams ^7.94 (997) ^15-5 (819) ^2:45.41 (814) ^5538