[su_spacer size="20″]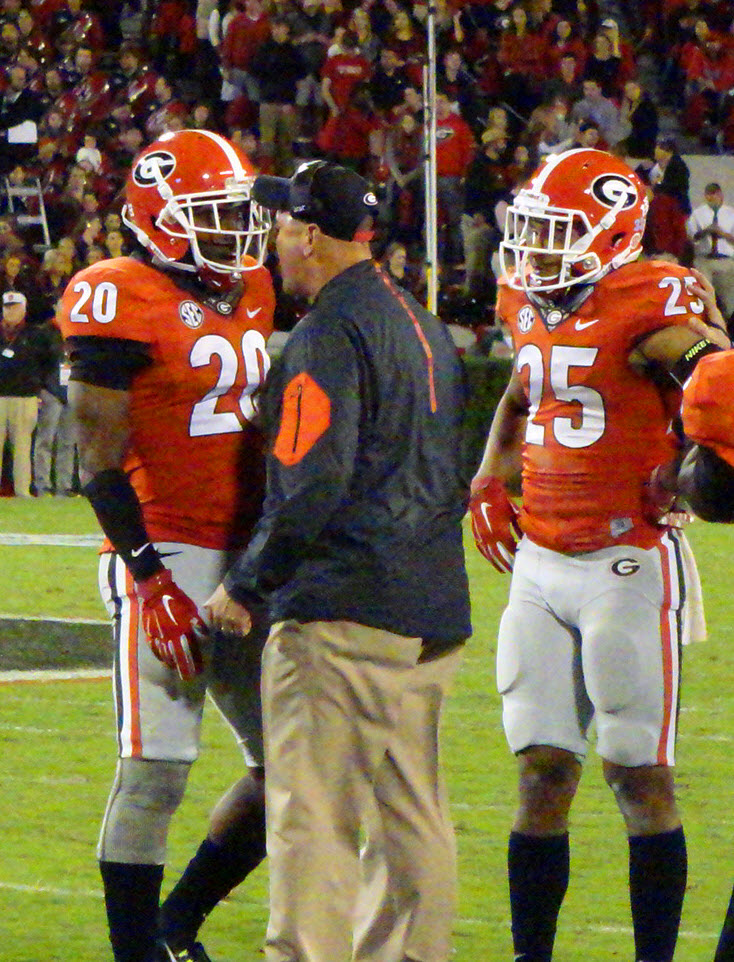 [su_spacer size="40″] Talk about a tough game to photograph, field goals do not make spectacular subject matter. However, Missouri left Athens the loser, and that is a good thing.
[su_spacer size="40″] I do not have much to say about Georgia's offense other than to reiterate that the offensive line is getting a bad rap. Opposing defensive coordinators have correctly determined that the way to stop the Dawgs is to sell out to stop the run (called 'loading the box') and force Georgia to try to win by throwing the ball. Alabama, Tennessee, and Missouri continually moved eight or nine men into the box (close to the line of scrim-mage) to limit Georgia's ability to run the football. To counter, the coaching staff has had to use its tight ends as blockers, further limiting passing options.
[su_spacer size="20″]
When Lambert and Company can make teams pay for concentrating on the run game by completing passes and making opponents back out and into coverage point production will increase. Now would be a good time to get started on that ##. (## is the universal indicator for sarcasm font)
[su_spacer size="40″] Let's not forget that Georgia won the game. I repeat, Georgia won the game. Many fans seem to have missed that based off their comments.
[su_spacer size="40″] The defense held Missouri to six points on a pair of field goals. Admittedly, the Tigers are not an offensive juggernaut but Pruitt started three freshmen and one sophomore in the secondary and started a true freshman on the defensive line. Take a look at the composition of Pruitt's defense and reflect on the absence of upperclassmen. In fact, other than the offensive line, the Bulldogs are an extremely young team. Do you think there have been some recruiting misses in the recent past – especially on defense?
[su_spacer size="40″] Jeremy Pruitt is a fiery dude. At one point in the second half against Mizzou, Quincy Mauger blew an assignment on third down. Pruitt went nuts as the team came to the sideline, got right in Mauger's face and explained his deficit in no uncertain terms.
[su_spacer size="40″] Did you notice the difference in tackling after the collapse at Tennessee? There may have been a bit of emphasis on the art of tackling during the week before Missouri, and I guess that might continue as they prepare for the trip to Jacksonville. ## Seriously, Jake Ganus, who appeared to have forgotten how to tackle in Knoxville, came back strong against Missouri.
[su_spacer size="40″] Trent Thompson is going to be a consensus All-American. Not only does he go toe-to-toe with SEC offensive linemen as a freshman but he hits like a linebacker when he gets to a quarterback. He is already fun to watch, just wait for him to mature and gain some experience.
[su_spacer size="40″] Special teams play was better against Mizzou. Maybe by the time they get to the WLOCP special teams can be a weapon.
[su_spacer size="40″] Looking ahead to Florida
[su_spacer size="20″] Coach Richt and his staff treated the bye week as a back-to-basics camp opportunity. They stressed fundamentals and continued to develop young players while giving some of the banged up guys some much-needed therapy and rest.
[su_spacer size="40″] In his Thursday press conference, Richt singled out the freshman wide receivers for praise. One would think that means there may be more rotation at that position when the team gets to Jacksonville. Georgia will land in Jax Thursday night, by the way.
[su_spacer size="40″] There have been some rumblings in the press room of a possible shakeup in the quarterback rotation. Apparently, the basis is some variance in the quarterback team snaps during the media portion of the bye week's Wednesday's practice. However, Lambert was taking snaps with the ones the following day. Coach Richt left the question open when he changed the subject completely when asked about quarterback performance during that day's presser.
[su_spacer size="40″] As we move into "Cocktail Party" week, a sizable portion of the fanbase is not in a party mood. As I have said many times before, when fan hopes dampen a bit more popularity capital has to be expended by the head coach. There is a tipping point. I do not believe the tipping point is particularly close but every disappointing game (and season) chips away at his reserve of support. After last year's total collapse in Jacksonville, expectations are pretty low but another outing characterized by a perceived failure to have the team ready for the rivalry will drive more supporters from his camp.
[su_spacer size="40″] Pruitt's defense stepped up its game tremendously against Missouri, and the offense is working on shifting to a game plan that maximizes the available talent (post-Chubb).
[su_spacer size="40″] Shut down the Gators, play opportunistic offense and extend the series lead – Go Dawgs!
[su_spacer size="40″]
---
[su_spacer size="40″] Make sure to check out
Bulldawg Illustrated's
latest print edition:
Trick or Treat
, digital issue available for free online. CLICK
HERE
.
[su_spacer size="80″]