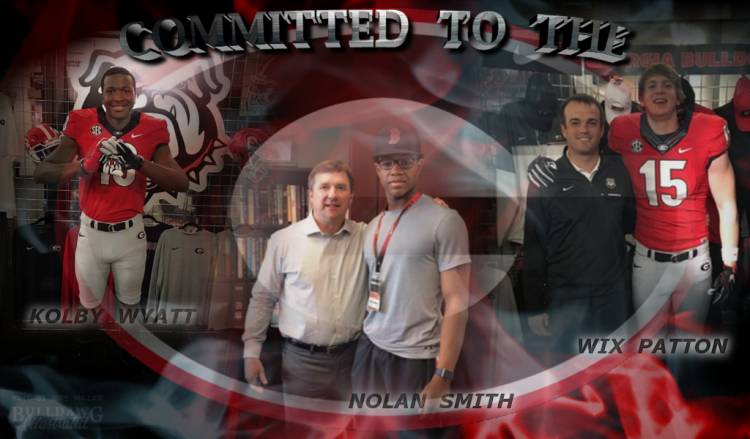 It was a busy Sunday for the Georgia Bulldogs as they picked up three commitments before supper time from Wix Patton, Nolan Smith, and Kolby Wyatt.
UGA received two preferred walk-on commitments for the 2017 class and also received their second verbal commitment for the 2019 class. The first commitment of the day came from 2017 outside linebacker, weakside defensive end Kolby Wyatt out of Shiloh High School from Snellville, GA who accepted a preferred walk-on offer and announced he was committing to the Bulldogs shortly after 1 p.m. ET. Later on that afternoon, Calvary Day High School, 2019 defensive end prospect Nolan Smith announced his decision to verbally commit to Georgia, and then approximately half an hour later, Wix Patton, a 6 foot 6, 241 lbs tight end out of Landmark Christian High School from Fairburn, GA announced he had accepted a preferred walk-on offer and committed to UGA.
Headed into National Signing Day in just two short days, the Bulldogs now have 23 scholarship, 5 preferred walk-ons, and 2 walk-ons committed for the class of 2017. Six of those 23 scholarship players enrolled early at the first part of January. They include quarterback Jake Fromm, defensive backs DeAngelo Gibbs and Richard LeCounte III, offensive tackle D'Marcus Hayes, wide receiver Jeremiah Holloman, and inside linebacker Monty Rice. Those early enrollees were recognized on Saturday afternoon at the men's basketball game between Georgia and Texas at the Stegeman Coliseum.
In addition to those six scholarship EEs, one of the preferred walk-ons, athlete Jake Skole, also enrolled early. Skole is a 24-year old freshman who graduated from Blessed Trinity High School in 2010 and then went out to be drafted in the first round of the MLB draft by the Texas Rangers. Now, he has decided to come back to football and will look to compete at linebacker and defensive back for the Bulldogs.
Now, the question looms for fans as to who Georgia will round out this class with on Wednesday and how many?