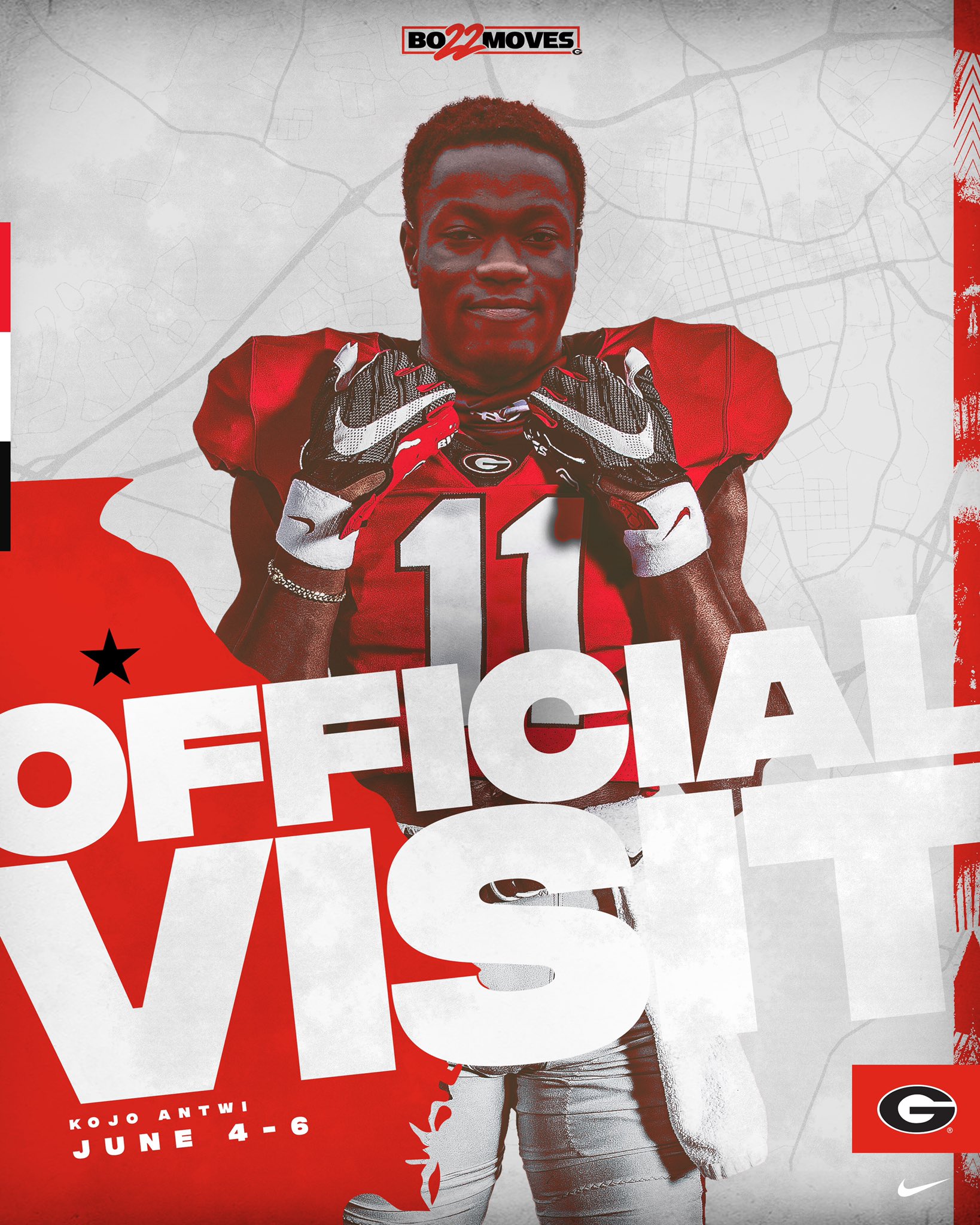 Some recent commitments, one to the Dawgs, one to a perennial CFP Championship contender and cross-division rival, and one to an SEC East division rival, have helped to clear things up in the 2022 wide receiver landscape for the University of Georgia. The Dawgs were able to secure the commitment of arguably their top overall wide receiver target in Denylon Morrissette from Kennesaw on April 30th. May 3rd rolled around, and the Alabama Crimson tide grabbed Jameson Williams out of the transfer portal from Ohio State. The Dawgs definitely had an interest in bringing in Williams, but it appears that this was never more than a fringe conversation. Finally, Florida received the commitment of Buford, Georgia native Isaiah Bond yesterday. With Morrissette, Williams, and Bond off the board, there is now a select group of wideout that Georgia will be focusing on. I've taken the liberty of ranking these prospects from 1 to 5, with 1 being the most likely to end up at Georgia. These ranking are based on developments in the respective recruitments of the prospects to date and conversations I've had with either the prospects themselves or those close to their recruitments.
1. Evan Stewart
2. Kojo Antwi
3. Andre Green Jr.
4. Braden Thomas
5. Shaleek Knotts
Honorable mention: Shazz Preston
Evan Stewart and Kojo Antwi could really be 1a and 1b for the Dawgs. Both are scheduled for official visits in June and, from everything I can gather and based on discussions I've had, Georgia is in the top 2 for each of these extremely talented wideouts. If Georgia could bring in Morrissette, Stewart, and Antwi together all in the class of 2022, it would easily be the most talented receiving haul for Kirby Smart. To win a College Football Playoff National Championship, it seems that a team must have at least 3 elite receiving targets for the team to rely on. Stewart, Antwi, and Morrissette would constitute such a trio for sure. However, this is more likely an either-or situation, in my opinion. The Dawgs are battling a pair of Lonestar State schools for Stewart and Antwi in Texas and Texas A&M. Georgia has been extremely consistent in their pursuit of Stewart before his commitment and subsequent decommitment from Texas and aftward. Antwi has been a priority from the start, and you can bet Hustle Inc. teammates and Georgia commits Gunner Stockton, Denylon Morrissette, and Marquis Groves-Killebrew are working their buddy hard.
Georgia has a long-lasting relationship with Andre Greene Jr. and was one of the earliest schools to recruit the standout from Virginia. Greene Jr. is much like Denylon Morrissette in that he is a very physical receiver, but overall, Greene Jr. could be the most complete and most freakish athlete of the bunch. At 6'3″ and with incredible leaping ability and dexterity, Greene Jr. is a receiver that I'm personally very high on and believe that once he is in a college weight room, and adds just a little more muscle mass, the sky is the limit for him. Greene Jr. is expected to visit Athens this summer and Cortez Hankton and company will have to impress. Greene Jr. works closely with the father of Tony Grimes, a former 5-Star CB prospect that graduated a year early from high school in Virginia and enrolled in North Carolina, spurning Georgia. Definitely, a relationship that UGA will have to overcome. Shaleek Knotts is also from that Mid-Atlantic region, hailing from North Carolina. The Tar Heels are also strong in his recruitment, but the 6'2″ wideout is planning on making an official visit to Georgia in late June, so there is a window for late momentum for the Dawgs.
Finally, Brenen Thompson. I actually skipped out of order some as I have Thompson ranked as the 4th most likely to wear the red and black when all is said and done. Plain and simple, Thompson is the fastest player in the class of 2022. The young man has posted a 10.18 100 meter dash time in his high school track career and has won multiple championships in Texas. Todd Hartley and Cortez Hankton have been recruiting Thompson intently for a long time, and the most recent narrowing of schools for Brenen was in December when Georgia was one of Thompson's Top 12. The speedster has not announced official visits, but if Georgia gets one, you have to respect Todd Hartley's ability to close on major prospects in recent recruiting cycles, and on-campus recruiting is the strong suit for Georgia. Oh, and the Dawgs don't have a bad history to sell in terms of student-athletes running track and playing football.
As of right now, I would say that Georgia ends up with Denylon Morrissett, Evan Stewart, and Andre Greene Jr. However, if Kojo Antwi wants to be a part of this class, there is no doubt there will be room for the Lambert Longhorn out of Suwanee, Georgia.
***For more recruiting news and analysis pertaining to Georgia and around the SEC, make sure to listen and subscribe to Recruiting Every SECond my podcast centering around recruiting in the Southeastern Conference and the implications of it. Episodes can be found in the embed player below!***