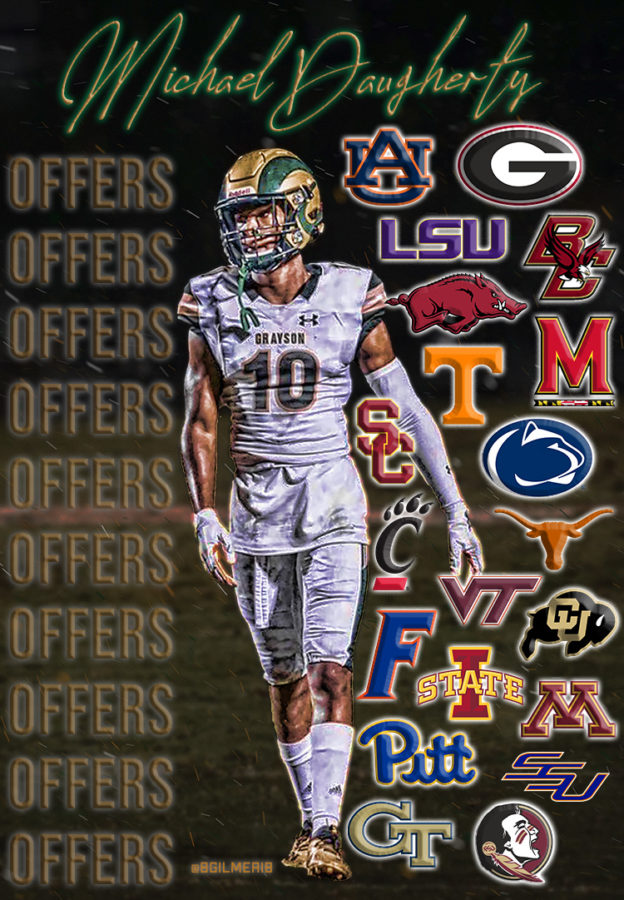 Michael Daugherty is a highly coveted cornerback in the class of 2023. Daugherty is a member of a tremendously talented Grayson Ram defense and his contributions to their stellar play and his performance at camps and combines in the offseason has earned him a ton of notoriety in the evaluating and recruiting world. The 6'0″ 175 pound native of Loganville, Georgia has offers from several of the nation's most prominent programs.
The University of Georgia is one of those programs having offered "Mickey" back on May 19th of this year. In speaking to Michael Daugherty in the past, he has communicated how meaningful the offer from UGA was for him. Several members of his family are big Georgia fans, including Daugherty's late grandfather. Needless to say, given all of these factors and being an in-state prospect, being recruited by Georgia is something that the 2023 standout doesn't take for granted.
Recently, I caught up with Daugherty once again and he detailed the latest for he and the 4 – 0 Grayson Rams, and his recruitment.
Daugherty on Grayson's 4 – 0 start.
"Everything is going smooth, but, you know, we can't let up because there are still things that we feel on the defensive side of all we have to improve on. I speak for the offense because, you know, that's not what I play, but defensively I feel like there are areas for improvement indefinitely. Practice and each film session we have after a game, is really important and vital to us."

"We haven't accomplished nothing like Coach Carter always says we can't win nothing yet. You know? Sure, we're 4 – 0. All right, now, but we feel like we haven't accomplished anything big. Yeah, we got, a trophy from a rivalry game, but that's not what we're after. You know, we have to still go in each week and come out 1 – 0 to succeed and accomplish what the big picture is. So I feel like we can't overlook the small things."
Daugherty on his play this season & on the importance of special teams.
"I feel like when my number is called and I'm you know, I'm on the field. I feel like I'm productive, but, there's always room for improvement, you know, still being young and having a scheme that I feel fits me well at Grayson. I've just got to continue to make plays and, you know, and I feel like that's what I do"

"The only special team I'm currently not on, I think is our field goal. But special teams to me, I've been told by many different coaches that if you come to my school or if you go to a big D1 school your freshman year, you're gonna end up playing special teams. So I haven't had an issue playing special teams. I feel like that makes a third of the game and you can change games on special teams. Like Zamir White going to block in the punt and getting them (Georgia) great field position against Arkansas. They won the game with big plays like that.

I feel like Special team is one of those aspects that people don't look at enough like that. But, when and if they get a touchdown on punt return or they block field goal and make it a one point game and get back into a scoring position. It it changes, and people start to look at it like, oh, they are important."
Daugherty on his relationship with Charlton Warren and UGA.
"I've been in contact with Coach Warren, a lot. You know, that's my, that's my guy, talk to him a lot. You know, I talk with Marquise (Groves-Killebrew *2022 UGA Commitment*) as well. You know, he's a big recruiter for Georgia, especially.

I've talked to a lot of schools recently. Recently, I've been talking with Tennessee as well. But when I'm talking to Coach Warren, he just talks about life and other things, not just about football. I enjoy those conversations a lot, but when it does come to football and come to Georgia, you know, I do appreciate those conversations as well."
Daugherty on the recruiting dead period being pushed to January.
"I was devastated when I heard that it will be pushed back to January because I was just starting to make my list finalized. Planning dates out, and they said, no, we gotta wait some more. But, you know, talking about Warren and UGA,. they said whenever it lets up, for me to call and they'll get me on campus and all of that. I just feel like that's definitely a place I wanna go with this once the Corona dead period lets up, and we finally get to go back on business."
Daugherty is a highly connected individual as well. Not only does Daugherty talk a lot to 2022 Georgia commitment and fellow defensive back Marquis Groves-Killebrew, but he is part of a group of future star that all compare notes about programs at the next level. Two of the biggest are 2023 QB Dylan Lonergan, who received an offer from UGA recently, and Justin Benton. Benton, a 6'3″ 245 pound edge defender at Newton, is a Georgia legacy and the son of Phillip Benton. Benton seems to be trending toward UGA and he and Daugherty are very close.
In fact, Benton, who is from Covington, the hometown of Eric Stokes, encourages Daugherty to talk about UGA with Stokes. Also, Daugherty's trainer Oliver Davis has worked closely with Richard LeCounte and Erick Stokes in the past. It certainly seems like there is plenty of reason for the talented Peach State product to give UGA a long, hard look before he ultimately comes to a decision on his commitment.
Freshman Year (Varsity)