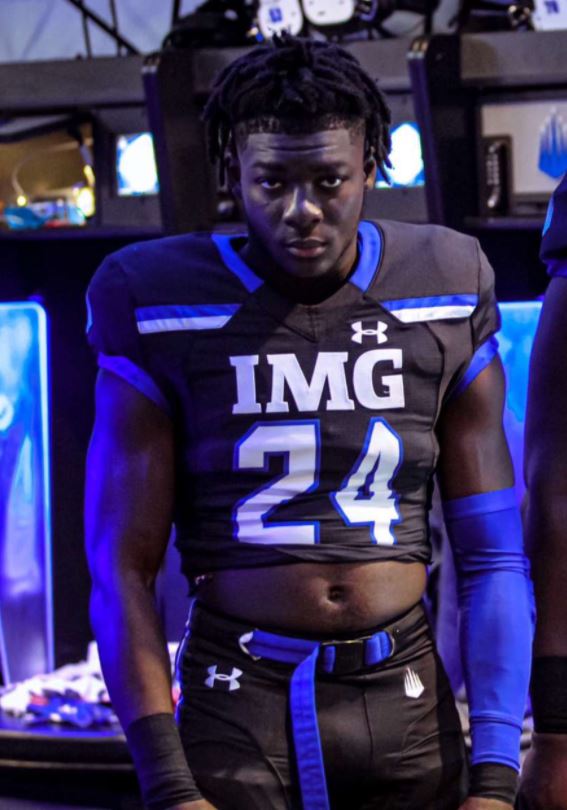 With Georgia now having a quarterback, running back, and a receiver committed in the class of 2022, and players at each level of the defensive side, the question is what positions are still of the most need? There are still plenty of big fish out there to reel in at a variety of spots. However, roster construction and addressing the most pertinent voids is key. Kirby Smart and company, with 13 players already committed, have the luxury of really diving in and investing in the relationships they've cultivated with select targets that have both the talented and the positional fit sought by the Dawgs. Today, I'll give you the top 5 remaining targets I feel are most important to Georgia and the 2022 class based upon their needs after the 2021 season and beyond.
Kamari Wilson
Tyler Booker
Branson Robinson
Evan Stewart
Mykel Williams/Christen Miller
Kamari Wilson is the biggest need and want that Georgia has remaining on the board in the 2022 recruiting cycle. Talents like Wilson are tough to come by. It's very rare to find a player with the combination of size, speed, skill, and physicality that Wilson possesses. However, those types of players are out there, just 2 or 3 in each class, and the Dawgs already have 1 in Malaki Starks from Jefferson, Georgia. The Dawgs will need to revamp the safety position after 2021, with likely 3 safeties leaving the roster either due to graduation or due to pursuing NFL dreams. Wilson would help to fortify the position. The pure prospect of him and Starks playing in the same secondary alone is enough to make Kamari Wilson the top remaining target based on need for Georgia.
Georgia has not secured a commitment from an offensive lineman in the class yet. In my estimation and by my conversations with him as of late, Tyler Booker has been getting recruited by Georgia as hard or harder than any other school. Booker has expressed confidence in Matt Luke's ability to develop him as a player and person. It is worth noting that 1 FSU insider reporter for 247Sports has given Booker a crystal ball prediction to Florida, but I find that to be far from reality from what I've gathered in talking to Booker and those around him. Georgia needs an immensely talented offensive lineman to be a leader and an anchor in the class of 2022. Tyler Booker is that guy to do it, and Georgia wants him in a major way.
Branson Robinson and Evan Stewart are really on an even playing field here. The Dawgs would be going westward of the Peach State to get each of these two freakishly talented offensive weapons. From Madison, Mississippi, Robinson would bring a desperately needed 2nd running back to the class of 2022 and a future workhorse to be paired with Jordan James out of Murfreesboro, Tennessee. The combo of James and Robinson would go a long way toward bolstering running back depth, as the Dawgs will being losing James Cook and Zamir White after the 2021 season. As for Even Stewart, he's the next Mecole Hardman, Arian Smith type receiver with elite speed if the Dawgs can land him. Stewart was at one point committed to the Texas Longhorns, but Georgia never relented in the pursuit of the speedster from the Lonestar State. Adding Stewart to go alongside the newest Georgia commitment and big-bodied, physical wideout Denylon Morrissette would make for a dynamic pairing in the future. UGA will ultimately bring in 3 to 4 receivers overall.
Finally, it comes down to the defensive line. Georgia will have A TON of players drafted from their defensive front in the next 2 NFL Drafts. Jordan Davis, Devonte Wyatt, Jalen Carter, and Travon Walker will lead the way in the 2022 and 2023 NFL Drafts for the Dawgs. Therefore, in the 2022 class, Georgia must reload tenacious trench players, and they don't have to look far for prime targets. Mykel Williams and Christen Miller are both Peach State players, hailing from Columbus and Ellenwood, respectively. Of course, Georgia will be pursuing targets like Shemar Stewart and Jeremiah Alexander. Still, it's important to keep the best talent in a talent-rich state like Georgia at home at the end of the day. If Georgia can bring in just 1 of the 2, which is looking more increasingly difficult by the day, it would be huge. Getting both would make for one of the best classes of all time, not just for Georgia but in the modern college football recruiting period.