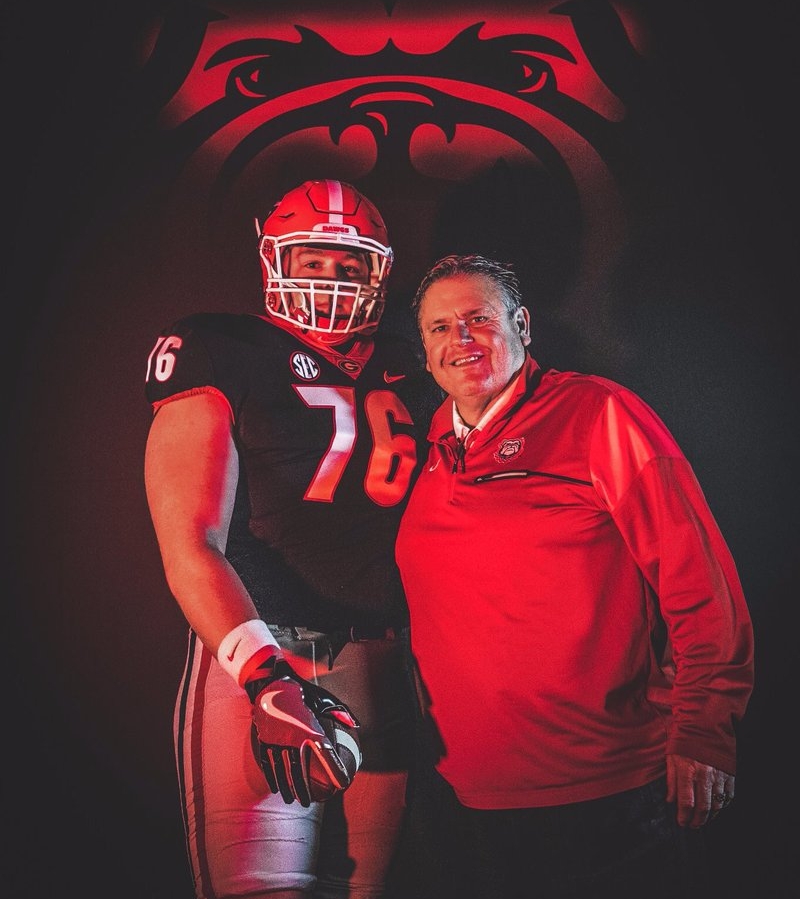 UGA Recruiting Daily Thread
Click HERE – Go Directly To Comments
TODAY'S FEATURED PROSPECTS
If position ranking is noted, unless otherwise stated, it is 247 Sports latest composite ranking of the player.
Wanya Morris
CLASS: 2019
POSITION: OT
HT, WT: 6-5, 268
SCHOOL: Grayson High School
CITY, STATE: Loganville, Georgia 
STATUS: Undeclared
# OF OFFERS: 23
UGA OFFER: Yes, March 14, 2017
NEWS: 
Wanya Morris plays left tackle for Grayson, and he fits the role well. If his defender doesn't challenge him he handles him well and prevents the player from getting to the quarterback. However he could work on his footwork and shuffling espeically if the defensive end is a good player. His arms are so long if he does get beat, he can still hold on and slow the defender down. Morris comes out of his stance nicely, but he could use a little more flexibility. He shows a lot of potential and with the right guidance could really turn into a nice tackle at the next level.
He recently attended South Carolina's Junior Day on January 27. However, the battle seems to be between Georgia and Oklahoma. Clemson was the latest to offer this talented 4-star tackle. It looks like he will stay home, but it's still early in his recruiting process.
Highlights – 
---
Warren McClendon
CLASS: 2019
POSITION: OT
HT, WT: 6-5, 290
SCHOOL:  Brunswick High School
CITY, STATE: Brunswick, Georgia 
STATUS: Undeclared
# OF OFFERS: 20
UGA OFFER: Yes, November 29, 2016
NEWS:
Warren McClendon has the capabilities to maul over people. He keeps his feet nice and square against whomever he's going up against and makes that defensive lineman work for it. Coming out of his stance, he explodes well from the hips. McClendon is a big-time pass blocker  He lined up mostly at right tackle, and he contained the edge well. He moves his feet and avoids getting unbalanced. McClendon plays smart. He needs some technical work with his feet and coming out of his stance, but for the most part, this kid is good and has a lot of fundamentals you want in a tackle.
There seems to be a three-way battle for McClendon. South Carolina, Georgia and Alabama all seem to be in the mix of things for the lineman. Georgia being the hometown team may work out in Georgia's favor, but  I have a feeling this recruitment is far from over.
Highlights – 
---
Harry Miller
CLASS: 2019
POSITION: OT
HT, WT: 6-4, 310
SCHOOL: Buford High School
CITY, STATE: Buford, Georgia 
STATUS: Undeclared
# OF OFFERS: 28
UGA OFFER: Yes, June 14, 2017
NEWS:
Out of these three guys, his film is the most impressive. He has great footwork, and his hips are extremely flexible. There won't be any yoga for him if he comes to campus. His ability to follow defenders and prevent them from getting to the quarterback is top notch. I liked how his film showed him playing on the interior and exterior line. He could probably play guard at the next level early on. He keeps himself square and balanced. Kid is going to blow up this football season if he continues to show what this film did.
Harry Miller is a big Buford bred athlete that just works hard. He's visited Georgia back on October 14, 2017, and came back for another unofficial visit on January 27, 2018. However, Ohio State will be a tough opponent to recruit against. It appears to be down to the Buckeyes and the Bulldogs, but with as talented as this kid is I wouldn't be surprised if this wasn't a hard fought battle to get him committed.
---