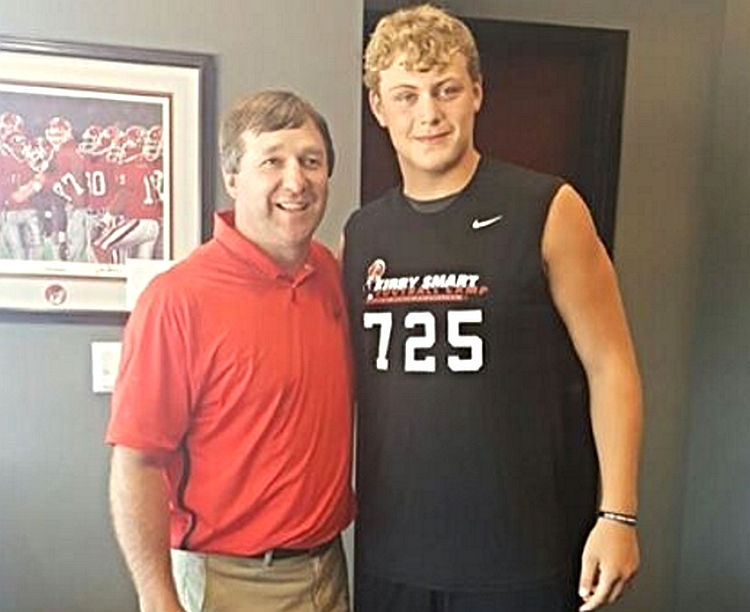 UGA Recruiting Daily Thread
Click HERE – Go Directly To Comments
TODAY'S FEATURED PROSPECTS
Luke Griffin
CLASS: 2019
POSITION: OT
HT, WT: 6-5, 275
SCHOOL: North Murray High School
CITY, STATE: Chatsworth, Georgia
STATUS: HARD COMMIT: UGA 6/11/2016
# OF OFFERS: 2 offers 
UGA OFFER: Yes, 6/11/16
NEWS:
Luke Griffin is a 6-5 275-pound offensive lineman from Chatsworth, Georgia. He ranks as the No. 34 OT and the No. 41 prospect in Georgia. Griffin may appear accident prone, but the kid has a nice size to him. He has a nice technique and doesn't let folks through often.   There isn't a lot of film on Griff
Griffin holds just two offers, and once the Bulldogs offered him on 6/11/16 he committed on the spot. He shut down his recruitment and has stayed committed to Georgia. It appears he doesn't show any interest in any other school despite holding an offer from Florida.
Highlights – CLICK HERE
Clay Webb
CLASS: 2019
POSITION: OG
HT, WT: 6-3, 297
SCHOOL: Oxford High School
CITY, STATE: Oxford, Alabama 
STATUS: Undeclared
# OF OFFERS: 11 offers 
UGA OFFER: Yes, June 14, 2016
NEWS:
Clay Webb is a 6-3 297-pound five star offensive guard from Oxford, Alabama. He ranks as the No. 1 OC in the country and the No. 1 prospect in Alabama. Webb's rankings don't lie. After watching him this past weeked at the Nike Opening Regional he's one of the most talented offensive linemen I've watched. He's going to be an interior lineman or center at the next level. Webb's got great footwork and technique. He holds off guys and prevents any penetration from defensive lines. Webb's just a power house. He just manhandles people and will be an impact player at the next level.
Webb holds 11 offers, and it appears to be between Alabama, Auburn and Georgia. As one of the biggest offensive linemen prospects out there, this recruitment will go to the wire. He's a hot commodity that teams will do a lot for. It wouldn't surprise me if he didn't hold his decision off until signing day.
Highlights – CLICK HERE
---