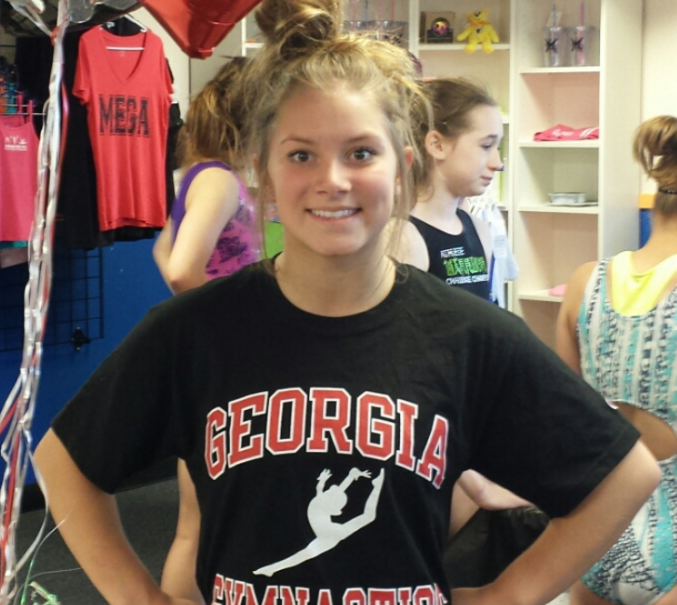 Georgia gymnastics coach Danna Durante announced on Thursday the signing of three prospects to national letters of intent to attend UGA and compete for the Gymdogs.
[su_spacer size="40″] Rachel Dickson of Canton, Mich., Jordyn Pedersen of Burlington, Ontario, and Sabrina Vega of Carmel, N.Y., will begin competing for Georgia in 2017.
[su_spacer size="40″] "This amazing signing class is comprised of three strong, well-rounded young women," Durante said. "No question they are incredible athletes, but we are even more excited about their larger than life personalities, their character and their passion for the University of Georgia. It's truly an exciting day for our program to have Jordyn, Rachel and Sabrina officially sign. All three are a perfect fit for our program and we are delighted to have them and their families join us."
[su_spacer size="40″]
Dickson is a two-time all-star team member in her region and a four-time Level 10 national qualifier. She came back from several injuries to place third in the all-around and first on bars at the Level 10 J.O. National Championships in 2014. She trains at Michigan Elite Gymnastics Academy, and she has been coached by Kim Tanskanen, Juha Tanskanen and Joseph Rodriguez.
[su_spacer size="40″] "Rachel made an enormous impact on us throughout her 2014 season," Durante said. "She had been sidelined with an injury for several months, but worked her way back to the top of the J.O. Team finishing second at Nationals that year. She worked long and hard during her months of recovery and to see her compete at J.O. Nationals in May of 2014 was incredibly exciting. It's a true testament to her work ethic and her determination. She's incredibly quick and will showcase her power on all four events and making the most difficult skills look effortless. Rachel's bubbly personality is magnetic."
[su_spacer size="40″] "As I went on my recruiting visit, I fell in love," Dickson said. "I fell in love with the people, the school, the team, the coaches, everything. Everyone was so welcoming and kind to me. I could picture myself fitting right in with all of the girls, being a big contributor to the gymnastics team, going to classes, and loving every minute of it. The University of Georgia is the place for me and I have never been more excited to become a Bulldog."
[su_spacer size="40″]
Pedersen has been a member of the Canadian National Team since 2008, and she has competed internationally for Canada since 2010. Pedersen was a member of the 2014 Canadian World Championships team, and she also received a bronze medal in the team event of the Pacific Rim and a gold medal oat L'international Gymnix on the balance beam. Pedersen trains at Manjak's Gymnastics, and she has been coached by Kelly Manjak, Sue Manjak, Scott McFarlane and Kelsey Arnold. She initially signed with Georgia in November 2014, but chose to defer for one year with a goal of competing in the 2016 Olympics.
[su_spacer size="40″]
"Jordyn is a dynamic and aggressive competitor, who has significant experience at the international level as a member of the 2011 Canadian World Championship Team," Durante said. "She won our hearts immediately when she first visited campus. Jordyn is energetic and resolute in her focus. She has consistently impressed us with her determination, long term commitment to her goals, and tenacity with which she approaches life."
[su_spacer size="40″] "The first thing that drew me to UGA was watching a lot of my former Canadian teammates move to NCAA gymnastics," Pedersen said. "No team had a better team dynamic than Georgia."
[su_spacer size="40″]
Vega was a member of the U.S. national team for five years, and she competed and represented the United States in eight different countries. She was a member of the gold medal team at the 2011 World Championships, and she also competed at the 2012 Olympic Trials. Vega also helped her team with the 2010 Pan America Championships in Guadalajara, Mexico. She has trained at Great American Gymnastics Express under Al Fong and Armine Barutyan-Fong.
[su_spacer size="40″] "We've been following Sabrina for many years and were thrilled when she decided to continue her gymnastics career here at Georgia," Durante said. "She will bring a wealth of experience competing on the international stage, as part of the Gold Medal 2011 United States World Championship team member.  Sabrina is such a vibrant person, she brings a level of excitement contagious to everyone around her. She loves people, loves to have fun and is no stranger to hard work. She's extremely disciplined with a laser focus set on reaching her goals athletically, academically and in life beyond gymnastics."
[su_spacer size="40″] "It was clear to me that UGA felt like home and the Gymdog family was something I saw myself being a part of," Vega said. "I can't express how grateful and excited I am for this journey to begin."
[su_spacer size="60″]