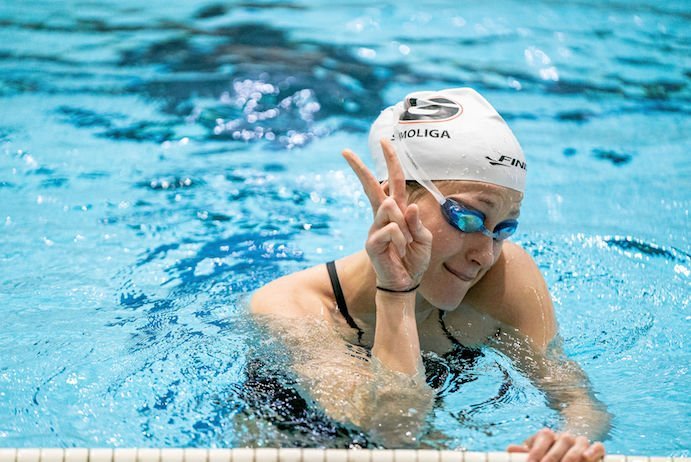 With a third-place time of 53.63 in the 100-meter freestyle final, Bulldog alum Olivia Smoliga earned a second-consecutive Olympic berth Friday evening at the United States Olympic Swimming Team Trials at the CHI Health Center Arena.
Smoliga will be joined on the 4×100-meter freestyle relay team by fellow Athens Bulldog Swim Club ProDawg Natalie Hinds, who finished fourth with a time of 53.84 and notched her first Olympic bid. Alum Allison Schmitt placed sixth with a time of 54.12, earning a spot in the pool of eligible 4×100 swimmers.
Earlier in the evening, alum Chase Kalisz added to his Olympic program with a second-place time of 1:56.97 in the 200-meter IM final. Meanwhile, rising sophomore Luca Urlando advanced to the 100-meter butterfly final by placing sixth with a personal-best time of 51.77. In the 200-meter backstroke semifinal, alum Hali Flickinger moved on to the final with an eighth-place mark of 2:09.61.
With two days remaining in the meet, five Bulldogs (Smoliga, Kalisz, Schmitt, Flickinger, Nic Fink) have officially qualified for the Tokyo Games, with alums Jay Litherland and Gunnar Bentz nearing confirmation for their spots. Additionally, two members of Tom Cousins Head Coach Jack Bauerle's pro training group (Hinds, Andrew Wilson) have earned bids.
During morning prelims, rising senior Callie Dickinson finished 42nd in the 200 backstroke with a time of 2:17.05, while incoming graduate Peyton Palsha placed 36th in the 800-meter freestyle at 9:06.40.
Trials continue Saturday morning with the final prelims session of the meet, including both 50-meter freestyle prelims and qualifying heats in the men's 1,500-meter freestyle. The primetime session will feature finals in the men's 100-meter butterfly, women's 200-meter backstroke, and women's 800-meter freestyle. The action begins at 11 a.m. on NBCOlympics.com with finals starting at 9 p.m. on NBC.
For all news and updates about Georgia swimming and diving, follow the Bulldogs on Twitter (@UGASwimDive), Instagram (@ugaswimdive), and Facebook (UGA Swimming and Diving).
RESULTS
Evening Session
Women's 200m Backstroke Semifinal
8. Hali Flickinger, 2:09.61
Men's 200m IM Final
2. Chase Kalisz, 1:56.97
Women's 100m Freestyle Final
3. Olivia Smoliga, 53.63
6. Allison Schmitt, 54.12
Men's 100m Butterfly Semifinal
6. Luca Urlando, 51.77
Morning Session
Women's 800m Freestyle Prelims
36. Peyton Palsha, 9:06.40
Men's 100m Butterfly Prelims
8. Luca Urlando, 52.19
Women's 200m Backstroke Prelims
15. Hali Flickinger, 2:12.02
42. Callie Dickinson, 2:17.05