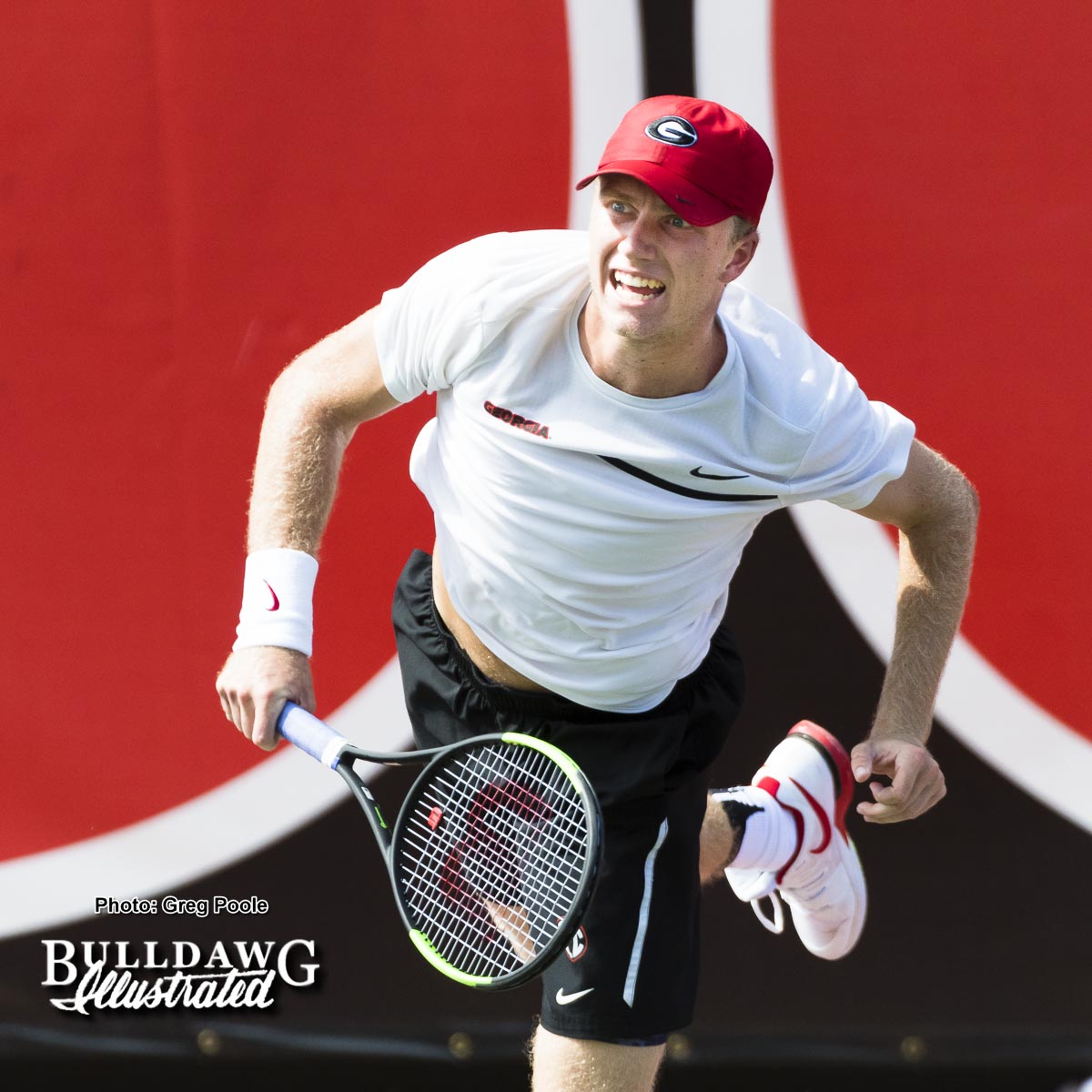 NORMAN, Okla. — The No. 19-ranked Georgia men's tennis team saw its 2017-18 season come to an end in dramatic fashion to the Minnesota Golden Gophers, 4-3, Friday in the first round of the NCAA tournament.
With his team locked in a 3-3 battle, senior Wayne Montgomery was serving for the match, before Gopher senior Felix Corwin stormed back to force a third set en route to a 4-6, 7-6 (4), 6-2 win. Corwin's victory clinched the contest for his team as the Bulldogs' 2017-18 campaign came to an end. 
Georgia ends the season with a 13-11 overall record. The Bulldogs' loss represents their first NCAA first-round defeat since 2003 and only the fifth first-round loss in school history. Minnesota moves on to face the winner of Utah versus Oklahoma in Saturday's second-round match.
"Just another heartbreaker for our team," head coach Manuel Diaz said. "Our guys played hard. Minnesota just played a little bit better. Wayne had a match point and his opponent just stepped up and played really well. I was proud of the way we competed, but things just did not go our way. Minnesota deserves all the credit for stepping up and winning some of these matches I thought we had an excellent shot to win."
Georgia's top two doubles teams came out of the gate ready to play as both duos broke their opponents early on in the match to cruise to wins. Walker Duncan and Montgomery were the first to finish with a 6-2 victory, before Robert Loeb and Jan Zielinski followed with a 6-3 triumph.
The win by Duncan/Montgomery marked their eighth win in dual-match play and improved their record to 7-2 this year on the second court. Loeb and Zielinski improved to 17-14 overall.
The Golden Gophers took first-set wins at courts two, three and four to begin singles action. Up 5-2 and serving in the first frame, Loeb faced a furious comeback from Marino Alpeza in a 7-6 (4) loss to give Minnesota its fourth first set.
Georgia then fell behind 2-1 after straight-set losses from Zeilinski and Reinberg at courts two and four. That Minnesota lead then turned to a 3-1 advantage after Loeb fell 7-6 (5), 7-5. Duncan delivered at his court in third-set fashion with a 6-4, 3-6, 6-3 win to put the match at 3-2.
Ponwith knotted the score at 3-3 after rebounding from a first-set loss with a 3-6, 6-2, 6-4 victory. That set up a back-and-forth match between two seniors at No. 1, where Corwin clinched the match with a win over Montgomery.