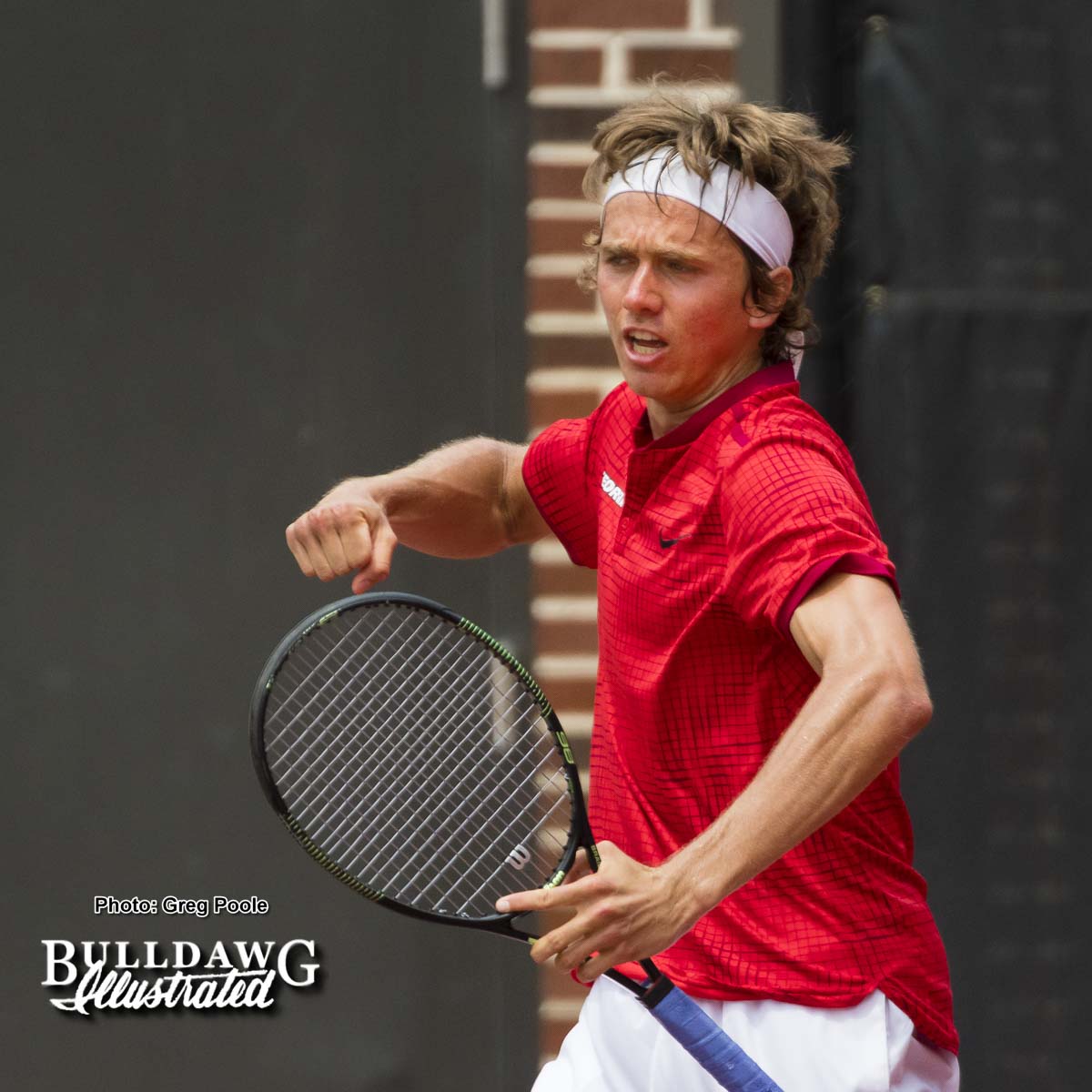 ATHENS, Ga. — Three members of the University of Georgia men's tennis program — Wayne Montgomery, Nathan Ponwith and Jan Zielinski — have placed on the 2018 All-Southeastern Conference Team, the league office announced Thursday.
The trio of Bulldogs each earned second-team honors in a vote by league coaches. In all, 32 student-athletes from across the conference were recognized as either first or second team members.
"We play in one of the top conferences in collegiate tennis, so it is always an honor to be recognized by the other coaches in this league," head coach Manuel Diaz said. "I am proud of Wayne, Nathan and Jan and the progress they continue to make. We obviously have had our ups and downs this season, but I think these guys all know our best tennis is ahead of us with the start of the NCAA tournament. Wayne, Nathan and Jan are very important to our success, and I am happy for them for placing on the All-SEC team."
With Thursday's announcement, Montgomery is now a four-time All-SEC selection after placing on the All-SEC First-Team in each of his first three years as a Bulldog. The senior has put together an impressive career in Athens and currently ranks among the top-15 players in Georgia history with 116 career singles wins. This year, Montgomery has totaled 27 victories in singles and boasts a 20-11 mark on the doubles courts.
Zielinski has recently moved into the No. 2 singles spot for the Bulldogs, where he is a perfect 3-0. Overall, the Warsaw, Poland native leads Georgia with an impressive 29-8 singles record, including a 16-2 mark in dual-match play. This represents the second-straight year he placed on the All-SEC squad after earning first-team honors a year ago. Zielinski was also an ITA All-American in 2016-17.
A season after being named the SEC Freshman of the Year, Ponwith places on the All-SEC team for the second-consecutive season. The Scottsdale, Arizona native has played mostly at the third singles spot, where he is currently 9-3 this year.
Georgia is busy preparing for the 2018 NCAA Championships, which begin next weekend in Norman, Oklahoma with the first and second rounds. The Bulldogs play Minnesota at 10 a.m. CT Friday, May 11, with the second-round contest set to take place at Noon CT on Saturday, May 12.