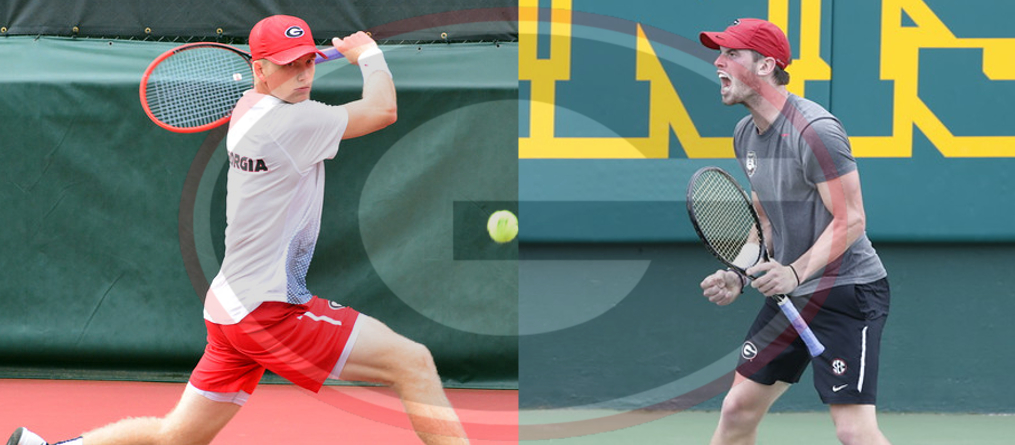 Georgia men's tennis team mates Walker Duncan and Austin Smith keep climbing up the ITA rankings. Senior Austin Smith moved up 13 spots to No. 22, while his freshman team mate, Walker Duncan, jumped to No. 111 in the latest Oracle/ITA Collegiate Tennis Rankings, which were released on Tuesday.


Smith, along with teammate and fellow senior Ben Wagland, improved to No. 4 in this week's doubles rankings.


Georgia maintained its No. 7 spot in the team standings after knocking off No. 10 Texas A&M and No. 39 LSU last week. The Bulldogs are currently on a 10-match win streak and own a perfect 8-0 record in SEC play with four league matches remaining on the schedule. Overall, the SEC has six teams ranked, which is the highest mark for any conference.


Smith entered last week at No. 35 in the singles rankings, but has won four-straight matches, including three consecutive victories against ranked opponents.


Duncan, who is part of a Georgia freshman class that owns a 16-1 SEC singles record this season, moved up nine spots after he entered the week ranked 120th. He was won four of his last five singles contests entering action this week.


Bulldog sophomore Wayne Montgomery rounds out Georgia's rankings this week as he maintained his No. 34 spot.


Georgia returns home for its final two regular season home matches this weekend. The Bulldogs host Florida, who currently sits in second place in the league standings with a 7-1 record, on Friday at 5 p.m. ET. UGA then hosts Auburn on Sunday at 1 p.m. ET for Senior Day.


FOLLOW THE BULLDOGS: For more information on the Georgia men's tennis team, follow the team on Twitter (@UGATennis), Instagram (@ugatennis) and Facebook (UGA Men's Tennis).


---