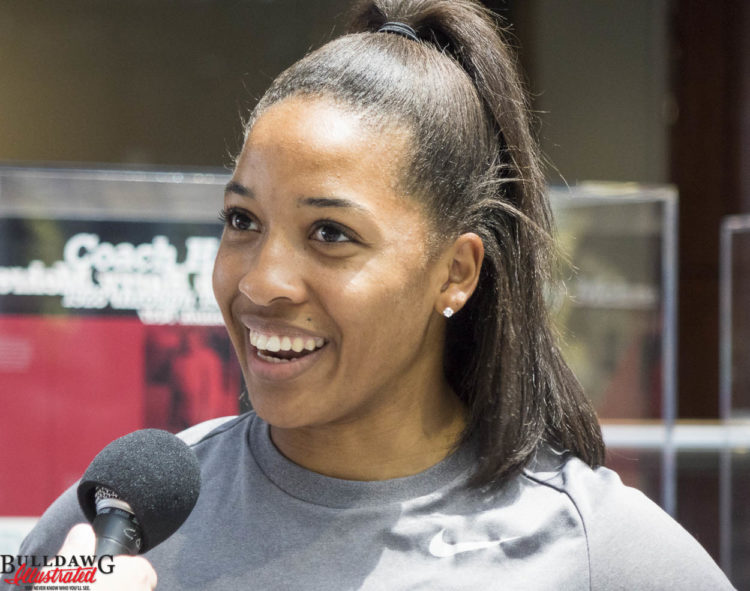 When Kendell Williams takes off in the heptathlon's 100-meter hurdles at 7:35 a.m. ET on Friday morning, the first of 11 current or former Bulldogs will begin competition in the track portion of the 2016 Olympic Games.
Williams, a Marietta, Ga., native who is a two-time NCAA heptathlon champion and who will be returning for her senior year in 2016-17, will complete the first four events of the heptathlon on Friday. The final three events of the heptathlon will come on Saturday starting at 9:45 a.m.
In addition on Friday, former Bulldog Charles Grethen, who will be racing for his native Luxembourg in his first Olympics, competes in the opening round of the 800m at 8:10 a.m. and former Lady Bulldog Jenny Dahlgren, who remains the collegiate record holder in the hammer throw and will be competing in her fourth Olympics for Argentina, throws at 6:40 p.m. in the qualifying round.
The aforementioned trio makes up part of the 11 current or former Bulldogs from eight different countries competing from Friday through August 20 in Rio.  Including Williams, rising juniors Keturah Orji and Karl Saluri and departing senior Maicel Uibo make up the four current Georgia team members.  Orji, who owns the American and collegiate records in the triple jump, qualified for her first Olympics by winning the U.S. Trials.
The Bulldogs' 11 members competing is a school record, topping the 10 Georgia sent to the 2012 Games in London.  Shot putter Reese Hoffa won a bronze medal in London and the Bulldogs have now tallied 12 medals since Spec Towns won gold in the 110m hurdles in 1936.
The last Lady Bulldog to win an Olympic medal was Hyleas Fountain with a silver in the heptathlon in 2008.  Sprinter Gwen Torrence has the most medals in Georgia track and field history with five, including three first-place finishes.
In addition to the 11 athletes, Georgia head coach Petros Kyprianou will be serving as an assistant coach for Estonia.  Two weeks after the Olympics, former Bulldog track and field signee Jarryd Wallace will compete in the sprints during his second Paralympics.  Wallace is the son of the Georgia women's tennis coach, Jeff Wallace, and former All-SEC distance runner for the Lady Bulldogs, Sabina Wallace (formerly Horne).



Bulldog Olympic Track & Field Schedule (Aug. 12-20)
Heptathlon (women): Kendell Williams (USA – 1st Olympics), Friday, Aug. 12, 7:35 a.m. ET (first four events – 100m hurdles, high jump, shot put, 200m)
Men's 800m: Charles Grethen (Luxembourg – 1st Olympics), Friday, Aug. 12, 8:10 a.m. (round 1)
Women's Hammer Throw: Jenny Dahlgren (Argentina – 4th Olympics), Friday, Aug. 12, 6:40 p.m. (qualifying)
Men's 100m: Cejhae Greene (Antigua – 1st Olympics), Saturday, Aug. 13, 7:30 a.m. (round 1)
Women's Triple Jump: Keturah Orji (USA – 1st Olympics), Saturday, Aug. 13, 7:40 a.m. (qualifying)
Women's 400m: Shaunae Miller (Bahamas – 2nd Olympics), Saturday, Aug. 13, 9:00 a.m. (round 1)
Heptathlon (women): Kendell Williams (USA – 1st Olympics), Saturday, Aug. 13, 9:45 a.m. (final three events – long jump, javelin, 800m)
Men's 800m: Charles Grethen (Luxembourg – 1st Olympics), Saturday, Aug. 13, 8:08 p.m. (semifinals)
Men's 800m: Charles Grethen (Luxembourg  – 1st Olympics), Monday, Aug. 15, 8:25 p.m. (finals)
Women's 400m: Shaunae Miller (Bahamas – 2nd Olympics), Sunday, Aug. 14, 6:35 p.m. (semifinals)
Women's Triple Jump: Keturah Orji (USA – 1st Olympics), Sunday, Aug. 14, 6:55 p.m. (finals)
Men's 100m: Cejhae Greene (Antigua – 1st Olympics), Sunday, Aug. 14, 7 p.m. (semifinals); 8:25 p.m. (finals)
Women's Hammer Throw: Jenny Dahlgren (Argentina – 4th Olympics), Monday, Aug. 15, 8:40 a.m. (finals)
Women's 400m: Shaunae Miller (Bahamas – 2nd Olympics), Monday, Aug. 15, 8:45 p.m. (finals)
Decathlon (men): Maicel Uibo, Karl Saluri (Estonia – 1st Olympics for each) Wednesday, Aug. 17, 7:30 a.m. (first five events – 100m, long jump, shot put, high jump, 400m)
Men's hammer: Kibwe Johnson (USA – 2nd Olympics), Wednesday, Aug. 17, 7:40 a.m. (qualifying)
Decathlon (men): Maicel Uibo, Karl Saluri (Estonia – 1st Olympics for each) Thursday, Aug. 18, 7:30 a.m. (final five events – 110m hurdles, discus, pole vault, javelin, 1500m)
Women's High Jump: Levern Spencer (St. Lucia – 3rd Olympics) & Leontia Kallenou (Cyprus – 1st Olympics), Thursday, Aug. 18, 8:00 a.m. (qualifying)
Men's hammer: Kibwe Johnson (USA – 2nd Olympics), Friday, Aug. 19, 7:05 p.m. (finals)
Women's High Jump: Levern Spencer (St. Lucia – 3rd Olympics) & Leontia Kallenou (Cyprus – 1st Olympics), Saturday, Aug. 20, 6:30 p.m. (finals)