Before I "called the Dawgs", before I sidestepped the arch, before I had my first beer on Clayton Street, before I even cared about or wanted anything to do with Athens, Georgia, I sat at Brogen's North on St. Simons Island underneath a Jack Davis drawing of a Bulldog stomping some hillbillies, lizards, and tigers and thought: "I want to be a part of that."
The bright colors, the movements, the eyes, the feet. How is it possible that someone could use these disarming shapes and colors to show what it feels like to actually live through something as vibrant and exciting as a football Saturday in Athens?
Jack Davis was a master communicator. From capturing the excitement of a football game, to biting satire in Mad Magazine, to summing up a foreign policy dilemma for the cover of TIME, he could say more on just one page using his paintbrush than any of us could say in 100 pages of written word.
And whether it was one of his coveted Bulldogs, one of his friends, or any of the other myriad of subjects that drew his eye, there is no greater honor in our part of this world than to be the subject of one of his illustrations. That is no mistake. In my experiences with him, his one goal was to use his talents to make other people's lives better.
There are hundreds of stories of Jack brightening someone's day with a few thoughtful swipes of his paintbrush. Two come to mind for me.
In 2008, the girl who I ended up convincing to marry me and I started a small philanthropy on campus for local children and families affected by Autism. I blindly wrote a letter to Jack Davis asking for some kind of logo that could give legitimacy to our cause. About a month later I got a letter back from Jack, telling me to go pick up the new logo from his son-in-law at Hilltop Grille. I was shell shocked! The shot in the dark worked!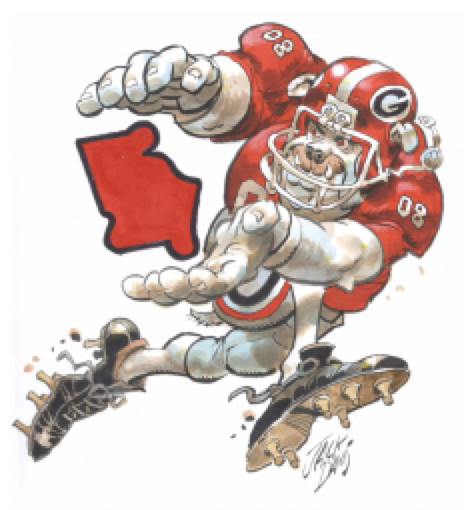 Jack's logo brought our cause instant goodwill and credibility on campus and beyond. And he generously gave his trademark style to us without even knowing us. The philanthropy (AutismUGA) is still on campus and helping families affected by autism across Northeast Georgia today, underneath the banner of a smiling Bulldog painted by Jack Davis.
Once Jack let me come to his home studio on St. Simons and interview him during my internship for Bulldawg Illustrated. He let me stay and talk to him all afternoon one hot day in August. He told me about his fishing trips with Lewis Grizzard, about how he picked up drawing cartoons as a boy, the risks associated with starting Mad Magazine, his pride in his children and his grandchildren, and life in general. As a souvenir he painted me a Bulldog on the spot and gave me a digital archive of thousands of his works and sketches dating back decades. All of this for some pretentious college student who showed up on his doorstep just a few hours earlier. I have carried his warmth and generosity from that afternoon ever since.
Aside from his kind and giving personality, how Jack Davis painted UGA came to be how we all saw the Red and Black. Colorful. Loud. Intense, but not without a healthy dose of self-awareness and fun. From the private chambers of the Georgia Supreme Court to South Georgia Barber shops, his work is displayed across the "Bulldog Nation" as a reminder of the best parts of what it means to be a part of the University of Georgia.
In my book, Jack Davis is UGA. What Munson did for our ears, Davis did for our eyes. As Jeff Dantzler said, we were so lucky to have him.
May we all aspire to live a life like Jack Davis – taking the time to use our talents and abilities to remind others about the best in themselves.
Hats off to a full life and a Damn Good Dawg. Thank you Jack!
 Ryan Scates