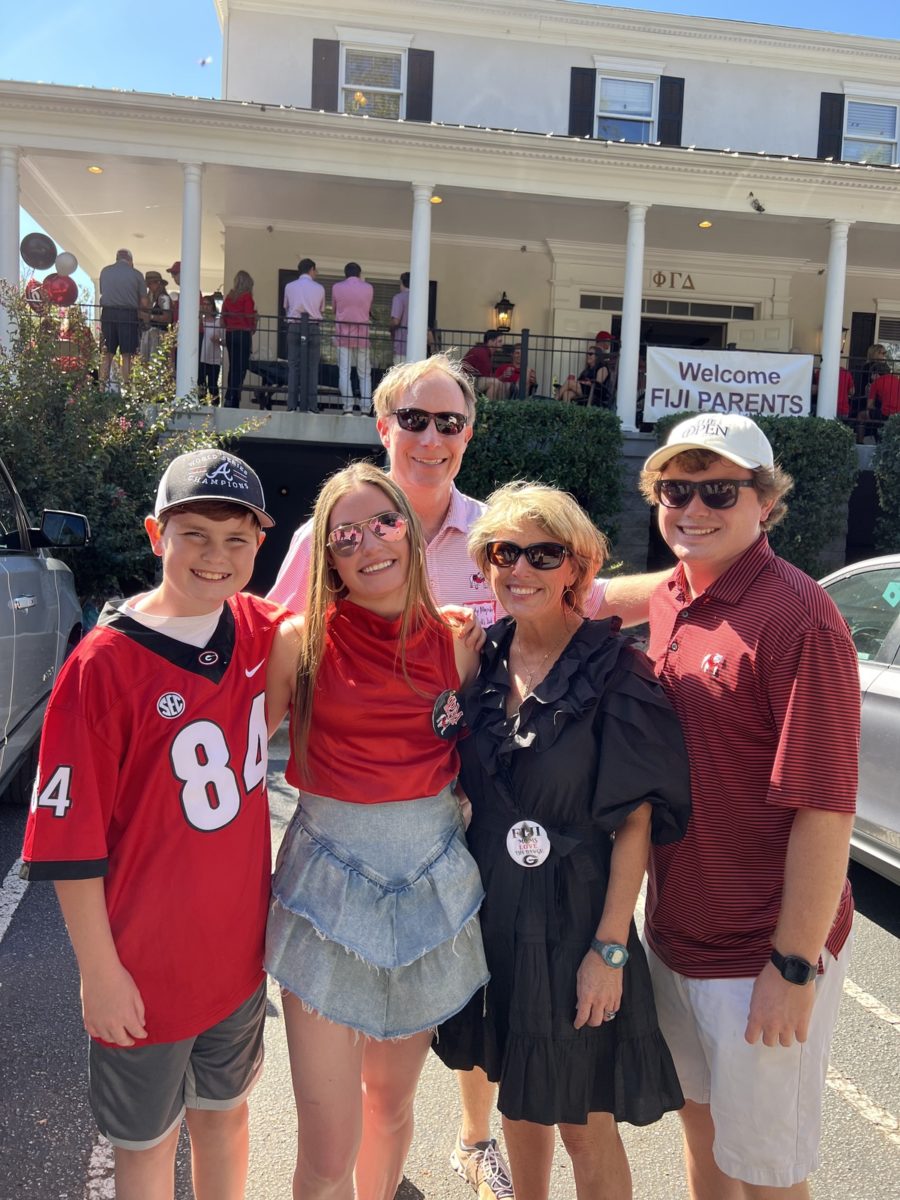 Name:   Lillian Owen Magruder          
Family:  Andy (husband UGA Law c/o 1994) Marshall (son, Junior UGA c/o 2024) Ruthie (daughter- Freshman, UGA c/o 2026), Richard- 7th grade, Episcopal Day School
Hometown: Augusta, Georgia
Current Town:  Augusta, Georgia
What Years at UGA: 1991-1996
School/Degree: Franklin Arts and Sciences, BS Microbiology.
Profession: Registered Nurse (BSN, MCG 1998) turned pharmaceutical sales representative for over 20 years. After departing from corporate America I purchased a small but necessary and appreciated business, Richards Furriers. It has been a local Augusta institution since 1963. Originally known as Cullum's Department Store, ladies would have a fur coat custom designed. It is best for the fur to be stored at proper temperatures and humidity levels in the warmer months, April- October. We continue this service to  customers locally and throughout the Southeast in our 2000 square foot refrigerated low humidity vault. In addition we help customers redesign their fur pieces or simply refresh them with a new lining or a monogram. 
2003 GlaxoSmithKline Ruby Level Sales Award, 2008, 2009 Merck Vice Presidents Club Sales Award, 2021 August -Summitted Mt Kilimanjaro with my daughter Ruthie. (1)
Book: Shoe Dog, Phil Knight (2)
Magazine: Southern Living– Great Recipes and I LOVE the Grumpy Gardner.
Podcast: Smartless.
Blog: Bulldawg Illustrated.
Instagram: @UGARedCoatBand, @MomsBehavingBadly, @RichardsFurriers.
Brand: Athleta.
Fashion designer: Carolina Herrara. (3)
Interior designer: Yancey Siebert Shearouse.
Chef: Ina Garten.
Historical figure: Dan Magill – I attended UGA tennis camp for several summers as a youth player led by Coach Magill, Jeff Wallace and Manny Diaz . My favorite junior tournament was Crackerland, hosted by Coach Magill at the UGA tennis facility. Coach Magill an amazing player, coach, and UGA Historian. He held and expected a high standard of exemplary sportsmanship. (4)
Quote:
"It's zero to ******* zero and you make them never want to play again. All that **** they're talking? I love it … You don't say **** to them. You just laugh and point at the scoreboard … Don't say **** to their undisciplined ***! Because we are disciplined. And our *** is gonna kick the ******* **** out of them. Physically, I wanna break them. I'm talking about ******* breaking these ******* on defense and offense!"
– CKS , Halftime GA-FLA 2021
Describe Athens in five words or less:  Classic, electric, amazing, second home. 
Restaurants and bars: 5 Bar, Porterhouse, Ted's Most Best. 
Shops: Athens Interiors, Amelia's, Heery's, Cheeky Peach.
Athens/campus landmark: The Tree That Owns Itself and the Double Barrel Cannon Facing North in case the Yankees return.
Memory while in school: Watching the Braves win the World Series at 185 Bloomfield then heading downtown.
Professor/class: Dr. Hermann, Entomology 201, Dr. Duncan Krause Immunology 410 and two quarters as a research assistant. Dr. K was an amazing professor . After time in his lab, I realized I did not want to be a research scientist with a microscope!
Game-day ritual/plan: Tailgating with my family in the Fiji parking lot, old friends, new friends, my 83 year old Dad who is DGD (three years at UGA then bridged to MCG in 1960), my two brothers who graduated from UGA, my nephews, and nieces all DAWGS!! WifeSaver Chicken Fingers with honey mustard and BBQ sandwiches from Randall at The Washington Grocery Store are essential. 
Tailgate Recipe: Poppy Seed Ham Rolls
Ingredients:
2 Sticks Butter (Soft- not melted)
3T Poppy Seeds
1t Worcestershire sauce
3T yellow mustard
1 small onion, finely chopped
3 packs Sunbeam dinner rolls
1 lb thinly sliced ham
3/4 pound thinly sliced Swiss cheese
Directions:
Cream first five ingredients. Cut rolls top and bottom. Spread on both parts. Layer with ham and cheese. Wrap in aluminum foil. Bake 350 for 15 minutes or until hot.