Name: Ginny Clark
Family: My husband John and my puppy Lulu Hogg, a Chocolate Boston Terrier and our families live in Athens and the surrounding areas.
Hometown: Athens, GA
Current Town: St. Simons Island, GA
What Years at UGA: 2001-2005
School/Degree: Fashion Merchandising from the School of Family & Consumer Sciences
Profession: General Manager of the Tibi Outlet
There is only one Tibi Outlet and it is located on St. Simons Island. Amy Smilovic, the designer wanted a unique shopping experience in her hometown. I was a regular shopper, then I interned in college and now I been managing the store for almost four years.
Accolades: Unless there is an award for spending too much $$$ at your own store …

Describe Athens in three words: Eclectic/Creative/Home
Fave bars and restaurant in Athens: Oh, don't make me pick … The National, White Tiger, The Grit, DePalma's, The Old Pal, Little King's, The rooftop of GA Theatre
Fave shops in Athens: Heery's, R. Wood Studios
Fave Athens landmark: Georgia Theatre and The Arch

Describe your typical Bulldog game day: We want to visit with EVERYONE so we usually bounce around from tailgate to tailgate.
Share a tailgate recipe: These are usually a hit, easy to transport and pair well with a cocktail!
Sweet and Spicy Pecans
1/3 cup dark-brown sugar
2/3 cup white granulated sugar
1 1/2 teaspoon kosher salt
Generous pinch of cayenne pepper
1 teaspoon ground cinnamon
1 pound pecan halves
1 egg white, room temperature
1 tablespoon water
*my grandmother leaves out the spices and adds orange juice and orange zest, highly recommended too!
Preheat oven to 300 degrees. Mix sugars, salt, cayenne, and cinnamon, making sure there are no lumps; set aside. Beat egg white and water until frothy but not stiff. Add pecans, and stir to coat evenly. Sprinkle nuts with sugar mixture, and toss until evenly coated. Spread sugared nuts in a single layer on a cookie sheet fitted with parchment paper. Bake for 30 minutes, stirring occasionally. Remove from oven, and separate nuts as they cool. When completely cool, pour the nuts into a bowl, breaking up any that stick together.

Fave lipstick: Glossier, Generation G in Crush
Fave mascara: None, Lash Extensions
Fave skin care line: Juice Beauty
Fave hair product: Oribe Dry Texturizing Spray
Product you can't live without: Sugar Advanced Therapy Lip Treatment from Fresh – warning: it's highly addicting.
Best budget buy product: Neutrogena Face Wash
Best product splurge: those eyelash extensions!

Fave fashion designer: Amy Smilovic, Prabal Gurung, Victoria Beckham, Alexander Wang
Fave interior designer: Pinterest
Fave jeans: J Brand, 3×1
Fave tee: The Great or Target
Fashion idol: Currently I'd say Victoria Beckham
Fave flower: Wildflowers from the Farmers Market
Fave accessory: A cool earring
Fave stationery: Crane or Sugar Paper

Who inspires you? Anyone and everyone, I find different perspectives fascinating, especially when shared through fashion, interior design and art.
Fave blog: Atlantic Pacific, Song of Style, Cookie + Kate, Half Baked Harvest
Fave instagram: @evachen, @sincerelyjules, @humansofny and for laughs @pamlovesferrariboys and I follow way too many food accounts
Fave magazine: I am a magazine-a-holic, I like them all: fashion, food, home.
Fave book: Whatever I'm reading at the time but The History of Love still has me thinking
Fave song: Islands in the Stream, can't go wrong with Dolly and Kenny.
Fave artist: remember Mondrian, Matisse and Miro inspiring me when I was younger.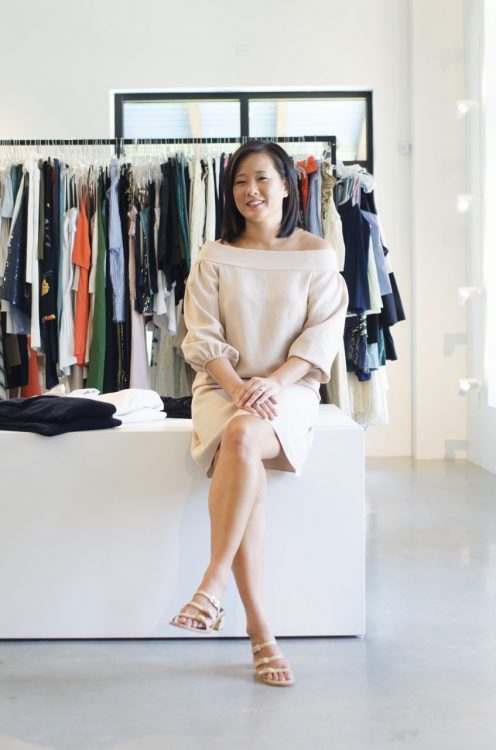 (Photograph David Choe)
FOR CHERI'S RECENT GEORGIA GIRLS POSTS with UGA ALUMNAE – click here 
FOR CHERI'S RECENT PROUST Q&As with UGA ALUMNI – click here
FOR CHERI'S RECENT POSTS on THE SOUTHERN C  – click here