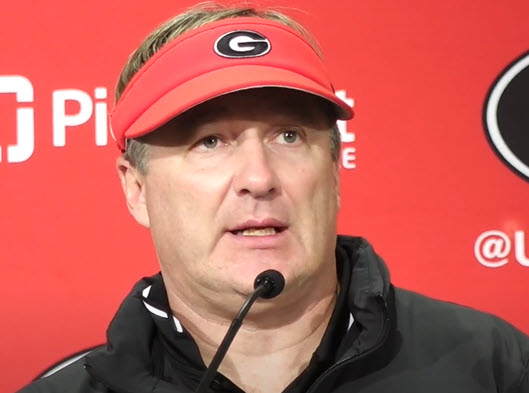 Name: Brian Thomas
Family: Wife, Kathy, children Kaylyn (27), Kristina Thomas Larsen (25), Bradley, and Bryce (24), and Wally Butts our 4-year-old Bulldog who is named after the late UGA Head Coach Wally Butts. Wally's our second Bulldog, our first was named Zeke after UGA great Zeke Bratkowski.
We have five UGA graduates in our family, Kathy BSED '88, Kristina ABJ '20, Bradley BBA Finance & Management '21, Bryce BBA Finance '21. Bradley is currently attending UGA Law (2L), and our oldest, Kaylyn, was a student athlete (Swimming) at Georgia Southern University; BS in Sports Management in '18.
Hometown: Lilburn, Georgia
Current Town: Cumming, Georgia
What Years at UGA: 1985-1988
School/Degree: Terry College of Business/BBA '88
Profession: Area Vice President, McKesson; Community Pharmacy & Health
Accolades: Terry College of Business Board of Alumni, Phi Gamma Delta, Chair; Board of Chapter Advisors, Gridiron, Third place Shot Put; Region 4A Meet -Track & Field (Parkview High School)
What life lessons did you learn while at UGA?
So many, but the two that resonate the most with me are the importance of choosing your friends wisely and the fact you cannot "judge a book by its cover." My involvement in the Fraternity of Phi Gamma Delta, without a doubt, changed the course and trajectory of my life. The friendships I built as an undergraduate brother are still strong today and they've helped me become a better friend, husband, father, and mentor. Secondly, growing up in Lilburn, Georgia in the late 70s and early 80s, didn't offer a lot of diversity of thought or background. It was a great place to grow up but when I arrived at UGA I was prone to judging a book by its cover too frequently, when I left UGA I realized doing so was a mistake.
‌What professor did you most admire?
Dr. James Cox – Management professor, for his passion in teaching the "theory of constraints" as it relates to operations and production management and for sparking my interest in leading teams to overcome them.
What do you consider your greatest achievement?
Without a doubt my marriage and my family. Kathy and I have been married 34 years and moved six times in 18 years along the way. We've been blessed with four children – we were married seven years before we had our first (Kaylyn) and then had our second (Kristina) two years later and what we thought was our third just one year later but turned out to be third and fourth – twins! – (Bradley and Bryce). We had four children in three years – a blessing for sure and we finally figured out what was causing it. As an aside, Kristina, Bradley, and Bryce were born while we were living in Knoxville, Tennessee and when UT won the national championship. It was tough sledding for Dawg fans in those days.
‌Which historical figure do you most identify with?
Calvin Coolidge – 30th President of the United States – his quote on "Persistence" (Google it!) describes my view on what it takes to achieve anything in life.
‌Who are your heroes in real life?
Teachers, like my wife Kathy, and High School coaches (like my friend Brett Martin) as they invest their time, and in many instances a lot of time, and energy via their love for the game and for the kids they are coaching. One of my high school football coaches, Coach Flanagan, challenged and motivated me in a way that brought the best out of me even when I thought I couldn't get better.
‌Quote to live by:
"Knowing is not enough; we must apply. Willing is not enough; we must do." Goethe
‌What is your idea of perfect happiness?
Since Kathy and I are empty nesters, anytime our family can spend time together is a special time for both of us. Whether it's an annual trip to the beach or a UGA game we are always reminded of how fortunate we are when we are all together.
‌What is your most marked characteristic?
I am comfortable in my skin and always humble.
‌What do you most value in your friends?
Honesty, humility, and loyalty.
‌If you could change one thing about yourself, what would it be?
I am even keeled most of the time, but I can become "overly passionate" when I watch the Dawgs play – particularly football and basketball. I admire my friend Troy Lanier and his balance of perspective and insight in watching the Dawgs. I am working on adopting his approach. It's a work in progress….
‌Who are your favorite writers?
Pat Conroy – he has a unique way of telling a story that leaves you with the feeling you were there.
David McCullough – author of 1776 and John Adams among others – exceptional historical narratives which reinforce his quote: "A nation that forgets its past can function no better than an individual with amnesia."
Fave social media and who to follow?
I listen to Podcasts when I have the time – I like Craig Groeschel's Leadership Podcast because it provides new ways of thinking about leading teams and challenging you as a leader. I also listen the Pharmacy Podcast Network as it provides relevant issues/challenges pharmacist's and pharmacies are faced with.