Jump To Top of Page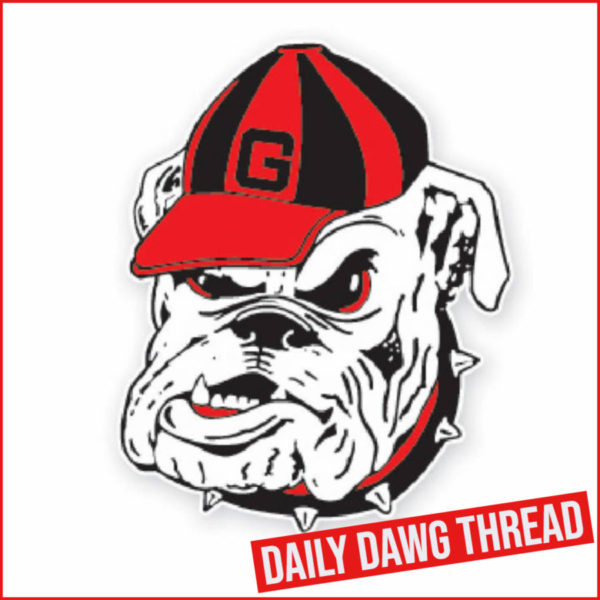 MBB: UGA Falls to Oregon in Las Vegas
Despite a game-high 18 points from senior Jabri Abdur-Rahim, the Georgia men's basketball team fell in its season opener to Oregon, 82-71, inside T-Mobile Arena in Las Vegas.
The Bulldogs also had RJ Melendez and Blue Cain reach double figures, each with 12 points. Abdur-Rahim cashed in on nine free throws and added five rebounds, marking the first game of his career with at least 15 points and five boards. In his first collegiate game, Cain shot five-of-11 from the field, including a pair of three-pointers.
Georgia trailed early but managed to pull the score within four points at the beginning of the second half. The Ducks used their advantage on the glass to continuously make scoring runs and keep the Bulldogs at bay, totaling 21 offensive rebounds. Oregon led by as many as 20 points in the second half, but Georgia responded by getting its deficit down to single digits with just over a minute remaining. The Bulldogs were unable to mount the comeback, though, eventually dropping its first contest of the season.
Georgia will return to action on Friday, Nov. 10 for its home opener against Wake Forest at 7 p.m. ET, which will be televised on the SEC Network. The Bulldogs hold a 4-3 lead in the series but fell on the road to the Demon Deacons last season on Nov. 10, 2022.
Five Fast Facts
• Georgia made 10 3-pointers in the game, which is tied for the third-most made in a game under Mike White.
• Russel Tchewa had five points and nine boards, putting the graduate one shy of his 16th time reaching double-digit rebounds.
• True freshman Silas Demary Jr. was the lone first-year player to start in the contest, scoring eight points, all in the second half.
• The Ducks out-rebounded the Bulldogs, 63-41.
• Oregon is picked to finish fourth in the Pac-12 in its media poll.
Key Quote
Head coach Mike White: "The ball stuck a little bit – we weren't crisp enough. It's difficult, but you know Oregon is dealing with the same thing. Maybe not quite to the same extent. They've got a really good nucleus back, credit them and their program and everything that they've accomplished since Dana [Altman] has been there. We're trying to build something and we've got to do a better job. I thought we've had better cohesiveness and connectivity offensively and defensively leading into this one, but a good program like that will expose you. That's why you play these games, so you can self-evaluate. It'll be rocking in the Steg."
---
ICYMI – Video/Transcript: Kirby Smart's Presser – Ole Miss Media Day
Opening Statement
"Before we jump to Ole Miss, I want to talk about some accolades and some things going on in the athletic department to make sure we get great coverage for our other teams. Basketball is getting ready to start. The women's soccer team, which I got to watch the semifinal match and parts of the final match, won the SEC tournament. So, want to congratulate Keidane (McAlpine) and his team, his staff. What a tremendous job. He has made a major impact on our soccer program really quickly, and they, hopefully, will be hosting a Friday match here in Athens, which should come out today.
"But also, I want to encourage everybody to come out for basketball. They've both got home openers this week. I think the women open tonight, 7 p.m., against North Carolina A&T, here at home, and then the men play Friday night at 7 also against Wake Forest. So, with the excitement of our game, we should get a great turnout for both of the basketball teams, as well as the women's soccer. So, encourage you guys to help promote that and get folks out for that.
"Moving to Ole Miss, they've got a really good football team. They've improved. You watch them on tape, and you watch the games throughout the year, they've improved with every game. They've played a tremendous schedule, some really tough teams they've played on their schedule. Lane does a great job with his program, with his team. They've got a great staff. They got really good players. He's done an incredible job.
"(Jaxson Dart) is playing at a high level; great backs. I think Pete (Golding) on defense has brought unbelievable energy, and you see it the way they play and the way they attack the ball. I mean they come after the ball. They lead the SEC in, I'm pretty sure, turnover margin, but I know they have like the fewest fumbles and the most fumbles gotten. They do a great job of that. They attack that, and they really play hard. So, we got a hell of a challenge. We got a great atmosphere. We need it to be as great an atmosphere in Sanford Stadium as it's ever been to help take care of our home field advantage that we need to have.
"So looking forward to that. Looking forward to the preparation time, and that starts today."
On dealing with team blitzes and Ole Miss' pressure…
"Well, first off, Pete (Golding's) always been that way. He's an aggressive nature, comes after people. They've got the players to do it. They got really good team speed on defense. They will come after you with different looks, multiple looks and try to confuse the quarterback and the offense. That's what good defenses do. He's been around good defenses his whole career. He does a great job defensively. So, I'm sure they'll have a plan. They study what you do, and they study what you've seen and give you problems. He'll have forms of that. They do a good job of that.
"And then your answers to pressure and blitz is protection can beat pressure if you protect well. And then there's other answers. We all know what they are, you just got to be able to execute them. And we pressure people with our defense. So, they'll come after you, and they've done a good job doing that and being disruptive."
On the 2023 senior class…
"Well, I hugged (Xavier Truss) last year. So, it's gotten to be the norm of, you know, guys, especially this COVID class, of guys that have multiple years. It's a little confusing who's a senior anymore. It's hard to go by that. But I'm certainly very appreciative for what all they've contributed because it's not really one class. It's fifth years, fourth years, sometimes third-year, fourth-year redshirts, things like that. It gets confusing who's in a class. But this class has been great. This group of leaders has been very impactful. I think it speaks for itself what they've been able to accomplish thus far, and they still have goals ahead they want to achieve."
On Jamon Dumas-Johnson and Xavian Sorey, Jr.'s statuses…
"We're expecting to have (Xavian) Sorey back, as well as Raylen (Wilson), C.J. (Allen), Smael (Mondon, Jr.), Jalon (Walker), Terrell (Foster). All those guys will be competing for those spots. As far as (Jamon Dumas-Johnson), still not sure how long it'll be, how long his absence will be. He's going to try to find some innovative ways to get back and be able to play but won't know the extent of that until a couple more days. But really excited to see those other guys get opportunities. We got other guys that have played, and thank goodness, at linebacker, we use that as a normal rotating position. We have guys that roll in and play. We've averaged playing four guys at that position each and every game."
On the importance of night games…
"I don't know that the night game impacts it. I mean, I think the 3:30's have been great. So, I think the toughest is the 12:00 kick to get the atmosphere you want. But I don't know that I see a difference between the other two."
On the inside linebacker group…
"Well, go back, they both were here midyear. So, we do so many walk-throughs and so many practices and so many in between. They're both very intelligent kids. They pick up on things really well. They're both very conscientious. They both played more and more, Raylen (Wilson) more recently, C.J. (Allen) throughout the whole year; and very pleased with where they are. And they're in a room where they're asked to learn a lot of information and be able to command the defense, and they do a good job of that. I got a lot of confidence in those two guys."
On Ole Miss quarterback Jaxson Dart…
"Well, I think Lane's quarterbacks take on a personality from him, and they have a lot of moxie. They have a lot of talent. They play really hard. They play with reckless abandon for their body. And he runs like a running back. He's taken some hits this year and shown his toughness. So (Jaxon Dart's) not going to shy away from contact and toughness, and he's the extra element of run that gives them a competitive advantage over a lot of teams you play, because they have great backs, but he runs the ball like a back, and he throws the ball really well, too, which that's what makes him really hard to defend when you got a guy that can make all the throws, but can also take off and run, and he's proven the ability to do that."
On Ole Miss running back Quinshon Judkins…
"Yeah, thick lowers. I mean, I'll tell you, I've been super impressed. I already knew about Quinshon (Judkins) and how good he was. I saw him last year and how they ran on people. (Ulysses Bentley IV) incredible, too. They have two really good backs, and Quinshon bears probably more of that load, and he has really thick lowers. He runs through tackles. Extremely patient runner. Like he has an innate ability to navigate what's there and turn it into explosives and positive runs. I mean, he just sets up blockers really well. And really tough, physical runner, and does a great job. So, they have two really capable, talented backs."
On Brock Bowers' return…
"(Brock's) been great. He's done everything we've asked. He ran on Friday, did a good workout. Had Saturday off, obviously. And continues to work and is going to do all he can to try to get back as fast as he can."
On Ole Miss wide receiver Tre Harris…
"Hard. You can't — it's hard to put two people on him because of all the issues we just talked about before that. So, you talk about the backs; you talk about the quarterback. They look for matchups. Lane looks for matchups, and he's looking for every opportunity he can to get a high-percentage matchup in his favor. And it's easier to do when you got big, good wideouts and a quarterback that can get them the ball, and your ability to run the ball does those things. So how do you do it? You do it like you do every week. You do your best to cover them and defend them, and you try to control the run game. It's the package of what they do, everything together, not one thing, that complements each other."
On Lane Kiffin as a coach…
"(Lane) does a great job. He's extremely intelligent. He doesn't overthink things. He keeps it simple and doesn't think that — you know, you don't have to overthink things sometimes as a coach. And probably doesn't get enough credit for that because he wants to beat you with fundamentals. He wants to beat you with his players doing things within their system. It's just — he does a great job. He looks for matchups. He looks for explosive opportunities. They've been one of the most explosive offenses, run and pass, in really the last ten years of the SEC. They have broken some numbers that are out there. They get lots of snaps because they go with pace, but they do a good job with the snaps they get. So, no, he probably doesn't get enough credit, but it's not like he's trying to be scheme of the week. He does what he does really well, and he knows what they do well, and he also knows what you don't do well, and he's looking for a matchup most of the game."
On Kamari Lassiter changing positions…
Well, if you remember, we talked about (Kamari) played that position as a freshman, and he played that position in spring practice, and he played that position when we go out and do reps against the offense. It's something that we don't ever veer really far away from. He didn't learn it in three days. He didn't go out there and never played it. There are concepts you learn when you're in a meeting room that don't revolve around your position. We go do drill circuits all off season to say, this is how you play this. Doesn't matter what position you play; you have to be able to play this. He did those things, and he's very bright; he's very conscientious. He didn't learn to play it within a week. That wouldn't be realistic. He only had to do so many things, and he's done those things in walk-throughs, and he was able to execute them in the game."
On the meaning of defeating Kiffin and Ole Miss…
"Not any more than it would have last week. I mean, we're not going to build it up to be something it's not. I mean, every win in the SEC is critical. It's critical for (Ole Miss). You know, they're in the hunt. They're in the hunt for the West. They're in the hunt or playoffs. They're in the hunt for all the goals and aspirations they have. So, it's not about he and I. It's really about the players and the guys that got to go out on the field and make plays."
On Tykee Smith…
"(Tykee's) unselfish. He understands his role on the team. He's been a really good special teams player for us. People don't give him enough credit. He's been elite at kickoff return. The job he has is one of the hardest jobs. He's been really good at punt return. He's played on kickoff. He'll play on punt if we ask him to. He plays the nickel star position really well. He does what's asked, and there's — I think he has an appreciation for his role in what he does because he didn't have that role last year, and you have a greater appreciation when you don't have it, when you get the opportunity to earn it and keep it and do it. And he's appreciated that more this year."
On Smael Mondon, Jr…
"(Smael's) already a vocal leader. He does a great job. He calls the defenses when (Jamon Dumas-Johnson's) not in there anyway, and when Pop is in there, they share. So that's not a big concern, to be honest with you. The two freshmen, they don't practice and play like freshmen. They know the calls, and they do a great job. So Smael will do an awesome job of calling the stuff."
On Amarius Mims' recovery…
"(Amarius) Mims practiced all last week, did a good job, wasn't quite 100 percent, but he took reps at his right tackle position, did a good job. (Xavier) Truss took reps at right and left tackle, which he continues to do, and probably still the same thing this week. That's not going to change in terms of those reps.
"I think Mimms is much closer. He feels really comfortable. He could have probably played Saturday, had we needed him. So, I think he's in a good place. I think he's much closer to being able to play like he wants to be able to play and go out there and compete, and looking forward to seeing him do that in practice so we can gain some more information."
On the offensive line's performance against Missouri…
"I mean, I'm very happy with the result. They played really hard. Could we play better? Yes, 100 percent. It always goes back to the same thing on the offensive line. You play against different teams, and sometimes you get your butt whooped. There are times we got our butt whooped Saturday, and I think our guys will be the first to admit that. The goal moving forward is to not let that happen again. And there's times that we won and times that we lost. And you want to win them all; and the expectation, for our team apparently, is that you're going to win every play up front, and that's just not real in the SEC. You're going to face really good defenses and really good people, and you got to keep chopping wood and keep coming back, and we did that, and we found ways to have success in the run game and ended up having a really nice run — couple nice runs by Kendall (Milton) and nice runs by Daijun (Edwards)."
On his dogs…
"Yeah. I had a lot of birddogs growing up and had to go feed them all the time, didn't enjoy that. But that's one of my childhood memories is taking it out there in the cold weather to feed the dogs. We have a dog now, Bess, that my wife loves to death. But we don't bring her around the team. So, she doesn't get to hang out with the team like Juice does."
On if the crowd is affecting the game…
"Yeah, the Tennessee game was probably the most impactful game since I've been here. I felt like they impacted the game the most.
"Can you tell? I don't know. I feel like our crowd is really good for all our games. I mean, I don't know — if you separate it in ratings, I don't know where it fits. I definitely think it was very impactful at Tennessee, and I do think that we need that same impact for this game in terms of the way they go about things and how you can affect the game."
On the defensive backs' flexibility…
"We may have more depth. I don't know that we have more — there's no possibilities that we have now that we didn't have before. But I feel good about the DBs we have now. I felt good about the DBs we had before. I don't really know what you're asking. We had a package last week, but that was not something about our DBs. It was more about something they did."
On Julian Humphrey's importance…
"We got other guys that can play. We got other guys that are on the sideline that can play, too. (Julian) gets an opportunity to play because he's earned it in practice, but I have confidence in five or six guys that can go out there and play, because I get to watch them do it every day in practice. I got confidence in some DTs that don't play. I got a lot of confidence in two or three linebackers that are on the scout team that go every day. I got a lot of confidence in a lot of our players that can go out there and play, but you play the players that give you the best opportunity to win. You can't play everybody. You don't get a chance to do that. You can't even rep and prepare everybody. So, we're constantly developing all our players, so they have an opportunity when they get in the game to go out there and have success."
---
ICYMI – Video/Transcript: Xavier Truss and Tykee Smith Interviews – November 06, 2023
On being the best player from Rhode Island…
"I wouldn't consider myself the best, but on paper that's what it says. There's so much talent coming out of that little state that I don't want to give myself all the praise. There's a lot of talent that gets overlooked, especially at all different positions. I can't call myself the greatest, but there's a lot of talent there."
On transitioning back to left guard at the return of OL Amarius Mims…
"I think we got a good rotation as we have over the past two years. Consistently at practice, if you guys are out there, you'll see, everybody works at every position across the board. Guards flip, tackles flip, we all play different positions. As far as being ready, I think I'm ready to play anywhere across the line but it's up to the coaches at the end of the day and I'm just excited to get my chance to get out there."
On Senior Day and his last game between the hedges…
"I think it's going to be a super emotional game, as it was last year. Last year, a lot of the guys that I came in with left as well and there's a few of us left in this year. It's a long time coming. These five years have flown by. Watching everyone grow up beside me and watching everyone come and go, it's been amazing. I know it's going to be a great atmosphere for my last game in Sanford and I'm just excited for it."
On his sack against Mizzou…
"I think Coach (Glenn Schumann) did a really good job dialing up the right person at the right time. The line slid a different way, and I came free, so I was trying to make a play and change the momentum of the game when Missouri was doing a good job of marking down the field at draws."
On the Ole Miss offense…
"I'm going to watch a little more film on them today, but I know they go extremely fast. Really good running game. I think their quarterback does a really good job at getting them into the right calls, whether that's running or passing. I think he does a really good job at extending plays."
On the impact of crowd noise…
"The biggest thing with tempo is us being able to get lined up and get our cleats on the ground. I think the crowd does a really good job being loud and making them check or getting them to jump offside and not being able to hear their cadence."
On facing highly rated wide receivers…
"I think we did a good job at knowing what Missouri was trying to do as far as Luther [Burden] trying to force feet on the ball. We're going to watch a little bit more film this week then the coaches do a really good job as far as game plan. I'm looking forward to seeing what the game plan is this afternoon."
---
WTennis: Georgia wrapped up its fall schedule with a perfect six victories through six matches on the final day at the Torero Tennis Classic
Opening the morning with doubles action, the first match saw junior Mai Nirundorn and sophomore Anastasiia Lopata take on Dariya Detkovskaya and Astrid Olsen (Washington). A grueling match from first serve saw both sides exchange games early. The back-and-forth battle led the score to a tight game at 5-5 before the Bulldogs applied the pressure to secure the last two games and win 7-5.
The second doubles matchup saw junior Guillermina Grant and freshman Aysegul Mert face off against Sarah-Maude Fortin and Catherine Gagnon (Washington). The Bulldog duo jumped out to an early lead as they dominated nearing the midway point of the set. Pushing late in the set, it was all Grant and Mert as they shutout the opposition to take the match 6-0.
Nirundorn opened up Sunday's singles slate as she took on Fortin. Nirundorn took control early in the first set before Fortin applied pressure near the midway point to keep the deficit tight. Reaching a 5-4 lead, Nirundorn held off Fortin to close out the set and win 6-4. With a one set lead in her pocket, Nirundorn carried over momentum to jump out to a multi-game lead. Despite Fortin picking up one game in the closing stages of the set, Nirundorn never looked back as she closed out the set to win the match 6-4, 6-1.
Across the courts, Mert was slotted to take on Detkovskaya in her singles match. The trend of the first set was even early on as both players kept the score close. Mert sparked a short lead and never surrendered as she finished the first set 6-4 to lead 1-0 in the match. The second set was all Mert as she cruised by to take the lead into the latter stages of the set. Detkovskaya won two games near the end, but it was not enough as Mert finished the set to take the match 6-4, 6-2.
Lopata faced off against Gagnon as she quickly played her way into an early lead. Having established momentum from first serve, Lopata breezed past the first set 6-2 to take a one set lead. In the second set, Lopata picked up the pace as she controlled the run of play nearing the midway point of the set. Gagnon responded with a short run of her own, pushing the set to a 5-4 deficit. Despite the late bid, Lopata capped off the set to secure the match 6-2, 6-4.
In the last match of the day, Grant closed out her fall competition with a match against Sakar. The first set leaned towards Grant in the early going as she set the tone to lead by several games. With the score at 5-3, Grant picked up the final game to close the set 6-3 and lead 1-0. The second set proved to be more competitive between both players went back-and-forth before reaching a 5-5 score line. With Sakar pushing to take the lead, Grant sparked a run to secure the last two games and take the set and match 6-3, 7-5.
---
Nazir Stackhouse and Peyton Woodring have earned SEC weekly honors
Stackhouse was named the SEC Co-Defensive Lineman of the Week for the second time in his career (Kentucky, 2022) while Woodring, a three-time Freshman of the Week, garnered SEC Co-Special Teams Player of the Week honors for the first time.
Stackhouse split his honor with Ole Miss' Zxavian Harris and Woodring shared his award with Arkansas' Cam Little.
This marks the eighth and ninth SEC weekly honors for the Bulldogs this season. Junior center Sedrick Van Pran was named the SEC Offensive Lineman of the Week on Sept. 18 for Georgia's first weekly honor this season. Junior linebacker Smael Mondon (Defensive Player) and freshman place-kicker Peyton Woodring (Freshman) earned the honors after the road win over Auburn. Woodring was again named the league's Co-Freshman after the win over No. 20 Kentucky while junior quarterback Carson Beck was the SEC Co-Offensive Player of the Week. Woodring won his third straight Freshman honor after the win at Vanderbilt. Last week, junior WR Ladd McConkey garnered SEC Offensive Player of the Week honors for the first time after Georgia downed Florida.
Stackhouse, a native of Stone Mountain, Ga., snagged his first career interception in the fourth quarter of Georgia's victory over the Tigers. With the Tigers driving at midfield down just six points midway through the final period, Stackhouse grabbed Brady Cook's pass and took it 44 yards deep into Missouri territory before a penalty negated his return yardage. He added a tackle and helped the Bulldogs collect three sacks.
Woodring, a native of Lafayette, La., drilled all three of his field goals and was 3-for-3 on PATs. After giving the Bulldogs' an early 3-0 edge with a 33 yarder, he had a pair of fourth quarter field goals to help lock down the victory. Woodring's final field goal was a career-long 48 yarder to push the lead to nine points with less than four minutes left in the game.
---
Jump To Today's Discussion Thread