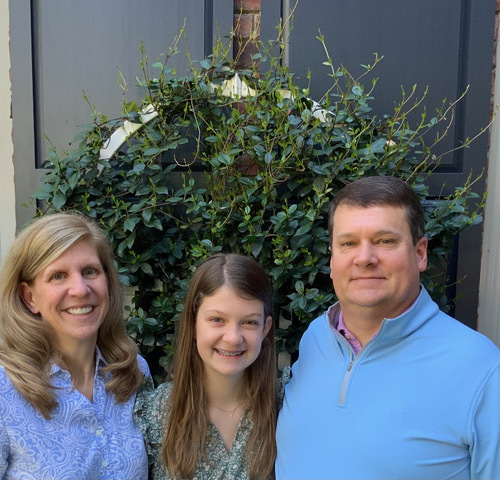 Family: Married to J.J. and we have one daughter, Annmarie (13).
Hometown: Jasper, Georgia
Current Town: Charlotte, North Carolina
What Years at UGA: Started with the 1989 football season and left after the 1995 football season. Even then, it took a couple of independent study classes for me to finally receive a diploma in 1997.
School/Degree: Speech Communications in the Franklin College of Arts and Sciences
Profession: I worked in Construction/Project Management until 2008, then the financial crisis hit. J.J. was pregnant with Annmarie and we had the luxury of one parent staying home. I am now Annmarie's Uber driver. Recently, I have been working with a friend of mine. He sells senior housing properties (Nursing homes and assisted living facilities) in North and South Carolina.
What life lessons did you learn while at UGA?
I learned that things do not come easy. In high school things had been easy academically. When you walk into a 7:50 A.M. Psychology 101 class as a freshman and there are 300 people in there, it is easy to think "they will not know if I am here or not." It was a struggle for me, thus the six football seasons, but graduating from UGA was important. I think through all the quarters off, the changes in major, I learned that hard work and persistence pays off.
What professor did you most admire?
I can barely remember the names. When I went to UGA, I wanted to follow in my father's footsteps and attend UGA College of Pharmacy. In order to do this, I would have three classes with Professor Ken Whitten. I learned very quickly that I wasn't cut out for Pharmacy school.
What do you consider your greatest achievement?
Convincing J.J. to marry me. It still amazes me that I was able to pull this off.
Which historical figure do you most identify with?
Doc Holliday. He was born and raised in Georgia. He loved to play poker and spend time out West.
Who are your heroes in real life?
My dad. He is one of the hardest workers I know. My mother passed away in 1990. He was younger than I am today. He raised four boys, put them through UGA, and has always been there for advice. He also taught us at an early age to love Georgia football.
Quote to live by:
"Some people make more friends because they know how to shake hands." or "Every shot counts. The three-foot putt is as important as the 300-yard drive." – Henry Cotton
What is your idea of perfect happiness?
Waking up early in Athens to secure the tailgate spot. Many think the best time of the day is when the crowds gather at the Dawgwalk or on the bridge before kickoff. The best time is early in the morning, talking to friends that you have met over the years through UGA football. You may only see these people eight or ten times a year, but they feel like some of your best friends and for these precious three to four months, they are. People wonder why I am out there for sometimes 12 hours before a kickoff, but it feels like two hours to me. I hope I can do it for the rest of my life.
What is your most marked characteristic?
Ability to bring people together.
What do you most value in your friends?
Availability. I think the sign of a good friendship is when you may not speak for several months due to distance or whatever, but when you call it is like no time has passed. I think that is important. It can make a person's day for them to know you are thinking of them.
If you could change one thing about yourself, what would it be?
I tend to worry too much about what other people think of me. Sometimes even to the point where I put others first and neglect the friends and family closest to me.
Who are your favorite writers?
Will Leitch, because he is just a good guy. I love how he has embraced Athens, since moving his family there from New York City. I just finished his new novel "How Lucky" where the plot was based in Athens. Will and I have different views on many things, but I enjoy reading his work. It helps me realize it is okay to disagree with others and still appreciate them for the people they are.
Fave social media and who to follow?
Twitter, by far. It is a great source for breaking news. I like to have fun with it, because taking social media seriously is not healthy. I like to follow all the UGA media accounts (@BD_illustrated), all the beat writers, #UGATwitter, #BourbonTwitter. It is a fun way to unwind and keep up with news, especially the news of sports.