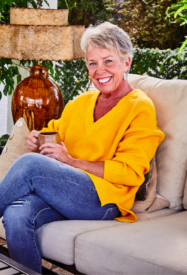 Name: Vera Kilpatrick (confusing for some because my professional name is Vera Stewart)
Family: Husband, Andy Kilpatrick (also a UGA graduate) is a lawyer in Augusta. We have five children (two of whom graduated from UGA) and nine grandchildren.
Hometown: Macon, Ga.
Current Town: Augusta, Ga.
What Years at UGA: 1971- 1974
School/Degree: BSHE – Bachelor of Science in Home Economics Education '74
Accolades: Named 1997 Small Business Person of the Year by the Augusta/Richmond County Chamber of Commerce.
One of two women named a CSRA Business Hall of Fame Laurette.
Two-time GABBY Merit Award winner
UGA FACS Emily Quinn Pou Professional Achievement Award winner
UGA FACS 100 Centennial Honoree
Vera's cooking and lifestyle show, The VeryVera Show, premiered in Augusta, Ga. in 2012 is now syndicated to 12 markets in the eastern US, including Savannah, Charleston, Tampa, and Indianapolis. VeryVera Cooking Camp completed its 15th year this year and has franchised locations in Aiken, Charleston, Macon, and Indianapolis. Vera's debut cookbook, The VeryVera Cookbook: Recipes from My Table, hit shelves in April 2018, garnering praise from fans and media publications alike.
Down Home Cooking
Five ingredients always in your pantry:
1. Rice
2.  Stewed Tomatoes
3.  Peach Preserves
4. Italian Dressing
5.  Ritz Crackers
Five ingredients always in your fridge:
1. Butter
2. Sour Cream
3. Durkees
4. Hellman's Mayonnaise
5. Bacon Drippings
Favorite local seasonal produce right now?
Fresh okra – I never liked it as a child and now it's my all-time favorite. There are so many wonderful preparations! I love it steamed, boiled, fried, roasted, and pickled. The tiny ones are best for steaming or boiling. Save the larger, firmer ones for frying and roasting.
If you had to choose one last meal, what would it be?
With all of the grand meals I've prepared throughout my life, people are often surprised to learn that my favorite food is unpretentious– crunchy peanut butter. To me, it's a remains a true comfort food and still satisfies my appetite, even as an adult. There's something fun about the making a peanut butter sandwich—simple yet so delicious– and remembering your childhood.
If you could only have one cookbook, what would it be?
My first cookbook was given to me by my sister, Bitsy, whom I admire. It was the paperback version of the Better Homes & Gardens Cookbook. There were no pictures, but if I wasn't using a recipe card collected from friends and family, I was referencing that cookbook. It's tried and true. My well-loved copy is now held together now by two rubber bands. It has tremendous sentimental value to me.
What is your "signature dish?"
Harry's Old Fashioned Pound Cake. This cake was the original pound cake recipe of my grandmother, Vera, to whom I give so much credit in the book for my cooking and hostess skills. It makes a beautiful and delicious cake. The basic recipe is what I used to develop other flavors of pound cakes.
The cake is named for my brother, Harry, who is also a UGA graduate. Harry used to love to take slices out of cakes as they were cooling on the counter. I'll never forget the time he sliced a piece out of the cake I was baking to celebrate my boyfriend's birthday! That was probably the biggest (only?) fight we ever had.  
To Market … To Market
How did you get into the culinary business?
My major at UGA was Home Economics Education. I chose this major during my senior year of high school. My homeroom teacher happened to be the Home Ec teacher and she made an indelible impact on me just in the few minutes we spent together each morning.
Having a background in Home Economics, which included food preparation, is what allowed me to make the jump from being a teacher in the classroom to catering out of my home kitchen following the birth of my first son. I had a taste of the culinary world and used it to achieve my dream of being a business owner. My imagination led me to convince clients I could do "anything" and my competitive nature kept me hard to the grindstone to make sure I didn't let them down.
If you could take over an Instagram account for the day, who's would it be?
I would love to take over Martha Stewart's Instagram (@marthastewart48).  I studied under Martha in 1985 and then invited her to Augusta the following year to headline a fundraiser for the YMCA. I catered a large event to celebrate her visit and then a luncheon / lecture series for the event the next day. She has been very instrumental in my career and I would love to have the opportunity to connect with her again.
If you could ask one person or brand to take over YOUR Instagram account, who would it be?
In the last year, I have become very engaged with the NPR Podcast "How I Built This" with Guy Raz (@guy.raz). He interviews notable entrepreneurs and founders of brands with which I am very familiar. There is a wealth of knowledge in these 30-minute interviews. With each episode, I have taken a tip or two that I can bring back to VeryVera. I know my followers would love hearing his insights as much as I do.
Harry's Old-Fashioned Pound Cake
This recipe is the mother of all pound cakes. Don't let its simplicity fool you. No frills, just buttery, velvety cake goodness. Lemon and coconut brighten it up and keep it from being too heavy. This cake is named after my brother, Harry, and it has his seal of approval: "Our finished cake turned out tasting great! This recipe is exactly like the one she's been sending me for years!"
Serves: 24
Prep Time: 30 to 35 minutes
Bake Time: 1 hour and 20 minutes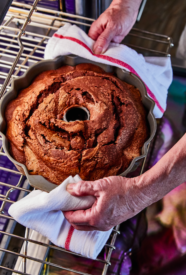 INGREDIENTS:
1 cup unsalted butter, at room temperature
3 cups granulated sugar
1 cup heavy cream, at room temperature
2 teaspoons pure vanilla extract
2 teaspoons lemon extract
2 teaspoons coconut flavoring
3 cups cake flour
½ teaspoon salt
6 large eggs, at room temperature
Floured baking spray
PREPARATION:
Preheat the oven 325F.
Cream the butter and sugar in a large bowl of a stand mixer fitted with the paddle attachment on medium speed for 20 minutes, or until light and fluffy. While the butter and sugar are creaming, measure out the remaining ingredients for the pound cake. In a large liquid measuring cup, whisk together the cream and flavorings and set aside. Whisk together the cake flour and salt in a large bowl and set aside. Once the butter and sugar have finished creaming, scrape the sides and bottom of the bowl.  Add the eggs one at a time with the mixer on low speed, beating well after each addition. Scrape the sides and bottom of the bowl again. Let the mixture beat on low speed for 5 minutes. With the mixer still on low speed, add the flour mixture and the cream mixture alternately, beginning with the flour mixture and ending with the cream mixture. Mix until well blended. Scrape the sides of the bowl and incorporate any unmixed batter if necessary.
Prepare a large 12-cup Bundt pan with floured baking spray. Pour the batter into the prepared Bundt pan until it is about 1 to 1½ inches from the top. Tap the pan on the counter to ensure there are no air bubbles. (If there is remaining batter, use it to make muffins.) Bake for 1 hour and 20 minutes. Insert a wooden skewer into the cake, and if there is no cake on the skewer, it is done. Remove the cake from the oven. Allow the cake to cool in the pan, on a wire rack, for 15 minutes or until cool enough to handle with pot holders. Place the wire rack on top of the cake pan and flip the pan over. Gently lift the pan, being careful not to remove any of the outside crust. Allow the cake to cool completely before wrapping.
Serving Suggestion:
My son Cord says, "Heat up the griddle with butter and drop a slice of Harry's on top for the ultimate cake experience!"