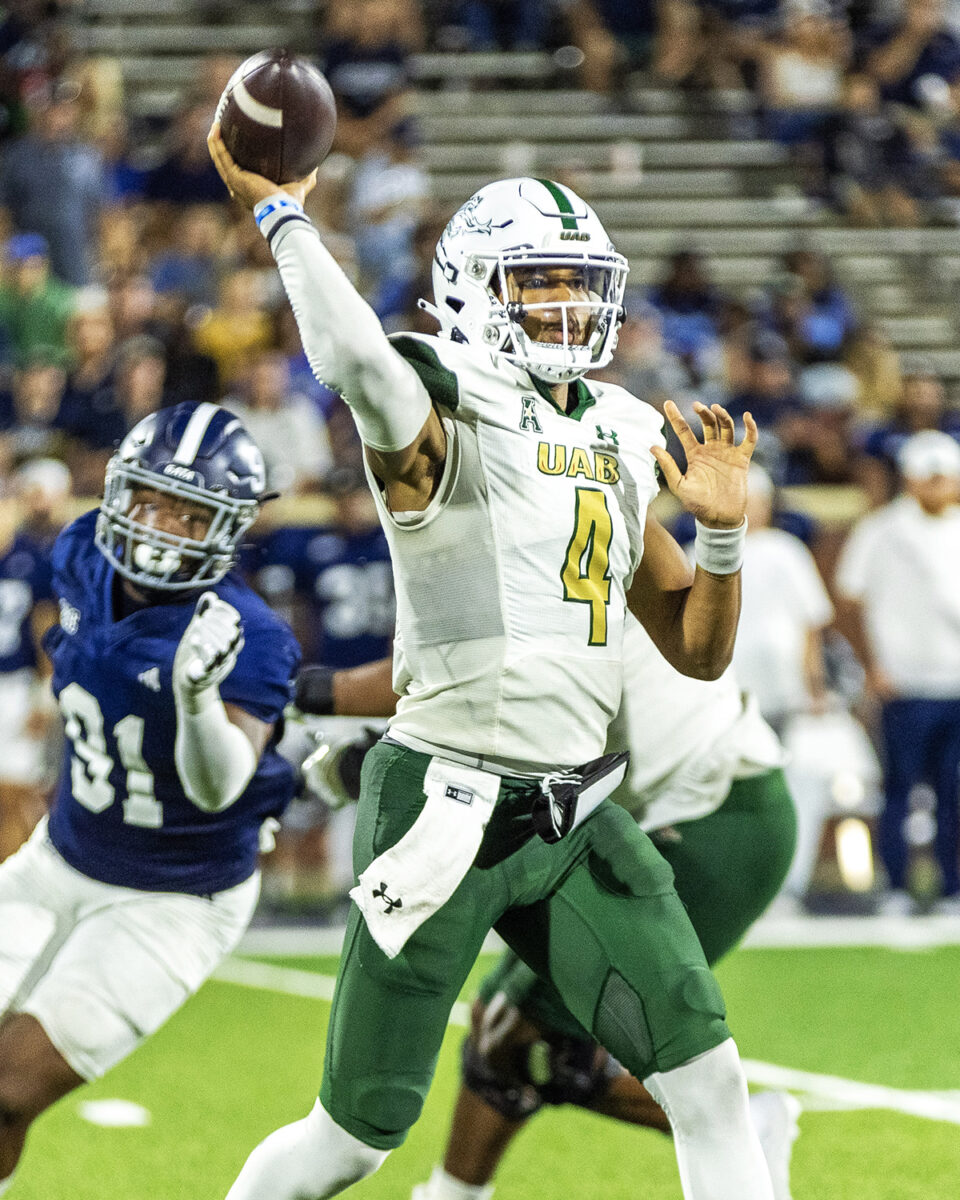 Trent Dilfer (HC) – With 13 years of NFL experience under his belt, this guy knows a thing or two about ball. Albeit this is only his first year coaching a college team and his fourth year coaching period. There's some kinks he needs to figure out. UAB's record to this point in the season isn't impressive, but UAB saw something in Dilfer. Given his background and being a former NFL quarterback, Dilfer has a knack for making his guys throw, which they will certainly try to do against the Dawgs come gameday.
Jermaine Brown Jr. (RB #1) – In order to carry out a good passing game, you need an established and consistent running game, and that's what senior running back Jermaine Brown Jr. has brought to the Blazers for the past four years with the team. He and Isaiah Jacobs are used almost interchangeably, splitting up carries for the Blazers. Of the two backs, Brown has proved to be a more electric pass catcher, so watch for him matching up against the Georgia linebackers out of the backfield.
Isaiah Jacobs (RB #20) – Though Jacobs and Brown basically split up carries in this offense 50/50, Jacobs brings a different kind of physicality weighing in at 220 pounds. This is the power guy on the University of Alabama Birmingham's football team. Looking away from the ground game, don't be surprised if this is the guy the Blazer's use to help protect their quarterback Jacob Zeno. At that size, he can match up against blitzers and may be able to buy their passing game the extra split second they need to make a play.
Jacob Zeno (QB #4) – If there's one thing the Blazers are going to do, it's throw the football. Zeno has quietly had an ELITE season thus far having thrown 122 passes, completing 98 with a 80% completion rate. Zeno is a straight up playmaker. The junior signal caller out of Texas can get it done with feet too being the only other player than Brown Jr. and Jacobs to have double digit rushing attempts on the team. It doesn't matter how, just know that Jacob Zeno is going to get it done.
Jackson Bratton (LB #2) – The Alabama-native Jackson Bratton is not only their leading tackler, the standout linebacker also leads the team in sacks; this guy runs their defense. He's emerging into a larger role this year as an upperclassman for the Blazers. Something folks don't know is that Bratton's a real-deal type of player having transferred from the Alabama Crimson Tide a couple of years ago. He wanted more playing time and has certainly gotten it in Birmingham.
Kevin Penn (DL #92) – Redshirt senior Kevin Penn has been with this team through thick and thin, having been with the Blazers the entirety of his undergraduate career and now staying for a fifth year. A leader on the team and presence in the locker room, Penn also knows how to assert himself on the field. Anchoring the defensive line, eating up blocks, and filling in gaps is what this young man does.
Keondre Swoopes (S #0) – Swoopes is a physical safety, who more often than not, makes a stop when needed. Recruited as a cornerback back in 2019, he has more than enough athleticism to play the position. Like Penn, Swoopes is a veteran in the defense. He will be communicating what he sees to the guys in front of him. The whole defensive side of the ball is going to be dependent on what he sees.
---
One of the most decorated players in UAB history is wide receiver Roddy White, who had a stellar career with the Falcons, earning four Pro Bowl trips and leading the NFL in catches in 2010.
Gene Bartow is the godfather of UAB athletics, starting the school's athletic department and amassing an impressive record as the Blazers Hall of Fame basketball coach for 19 years.
Bill Clark coached the Blazers to their greatest season ever in 2018, as UAB posted an 11-3 record, won the Conference USA title and beat Northern Illinois in the Boca Raton Bowl.