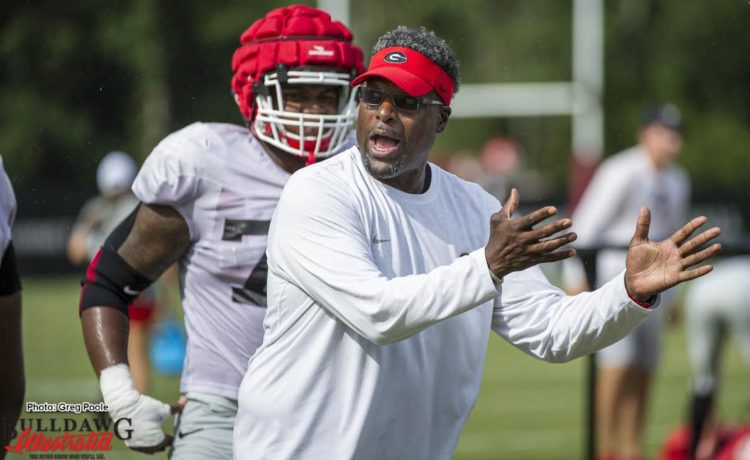 The Bulldogs practice saw the coaching staff getting after their guys yesterday and perfection was being demanded all over the field. Also saw a few different guys getting in some first team reps today that I have not noticed before on the defensive side of the ball.
On the offensive side of the ball the injury report remains the same, Sony Michel was in a non-contact black jersey and Charlie Woerner was not participating in practice but was doing some light work on the side. Woerner did not have a boot on today, which should mean he's getting close to being back to full strength and could be back as a normal participant very soon.


On the defensive side of the ball the injury report did not change, as well. Quincy Mauger was on a bike and had a boot on his left ankle and John Atkins was on a bike too but did some walking around and had a knee brace on his left knee for all of the media session of practice. Each injury does not seem to be very serious but Atkins has been lingering on for a while and I would not be surprised to see him participating more some time next week. Also, Juwuan Briscoe was spotted in a black non-contact jersey again but seemed to have normal participation in all of the drills that I saw.


One of the most notable position changes that occurred this week was Rashad Roundtree moving from safety to inside linebacker and he continued to work at that position today. Coach Smart mentioned that Roundtree's move was to help alleviate depth concerns and I imagine the coaching staff is hoping Roundtree turns into an Alec Ogletree type of inside linebacker.


Another position change that stood out today was cornerback Aaron Davis seemed to be handling Quincy Mauger's reps at safety while he is out with his ankle injury. Also Roquan Smith seemed to be taking a few first team reps at inside linebacker today, granted what we saw is very limited and it could have been a different scheme or package that had him out there today. Natrez Patrick continued to man the other inside linebacker position where he has been a staple in practice thus far.


As mentioned earlier, The coaches today were really getting after the players and the two main coaches to do this were Kirby Smart and Tracy Rocker. Smart was getting on to players for running out of steam during drills and told some that they needed to get in better shape. Coach Rocker was much more critical of players in his position group and had them repeat drills over and over again until every player got it right. Although this may have been very frustrating for the defensive lineman, Rocker's demand for perfection will get these guys more prepped for the season opener. The staff is really getting the players ready and these guys should be more than prepared to face the Tar Heels in the Georgia Dome.