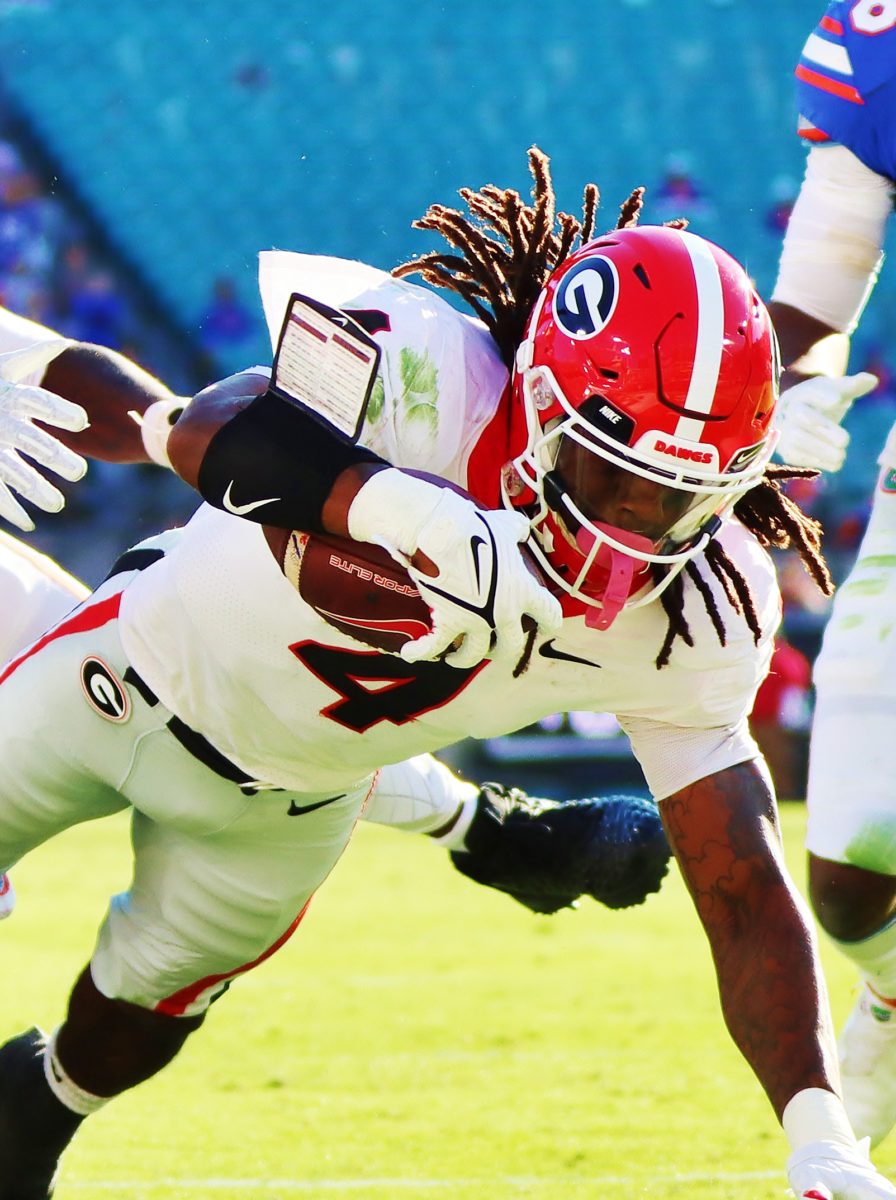 JAMES COOK (RB #4) – Cook's speed and hands out of the backfield have been on display all year. However, he has not yet had a true breakout game this year. Missouri could be the matchup where that breakout happens. The Tigers have a horrendous rush defense and Cook should be able to find success running outside zones and in between the tackles. Cook has not broken 100 yards rushing yet in a game, don't be surprised if he breaks a big play in this game.
MATT LUKE – Replacing Sam Pittman was never going to be easy at Georgia, just look at the success he has had at Arkansas. Matt Luke has the offensive line playing at a very high level right now. The Georgia offensive line did not allow a (real) sack against Florida and has been effective during play-action passes for Stetson Bennett. They've also improved in the run game as it seems like Georgia has hit its stride in that department.
ADONAI MITCHELL (WR #5) – The Bulldogs are starting to get healthier at the receiver position, so it will be important for Mitchell to continue his impressive freshman campaign to stay in the rotation. He did not have a catch against the Gators, so look for Georgia to get him involved early against Missouri. Kearis Jackson said "what he can do is unbelievable with his skillset, he's very twitchy," when asked about Mitchell last week.
TRAVON WALKER (DE #44) – Walker seemed like he was showing Florida quarterback Anthony Richardson a miserable time with the amount of times he was in the backfield. Walker's athleticism at his size allows him to stay on the field for all three downs. Kirby Smart said last week that he's not sure when he will coach a player again with Walker's skillset. If he continues on his success this year, he will be playing on Sundays soon. Missouri has given up a ton of sacks this year, so look for Walker to be active off the line of scrimmage.
NAKOBE DEAN (LB #17) – Dean is asserting himself as one of the best inside linebackers in the country. He made the play of the game against Florida with a 50-yard pick six that gave the Bulldogs a 24-0 lead heading into halftime. Dean is the Bulldogs second leading tackler with 37 tackles this season and has 3.5 sacks this year. There really isn't a weakness to Dean's game and the Roquan Smith comparisons will only continue as the year goes on.
DERION KENDRICK (CB #11) – Kendrick has been one of the best corners in the country according to Pro Football Focus. He's turned Georgia's cornerbacks from a question mark before the season to a strength of the Bulldogs defense. Kendrick could become the highest drafted player on Georgia's defense if he keeps his play up.