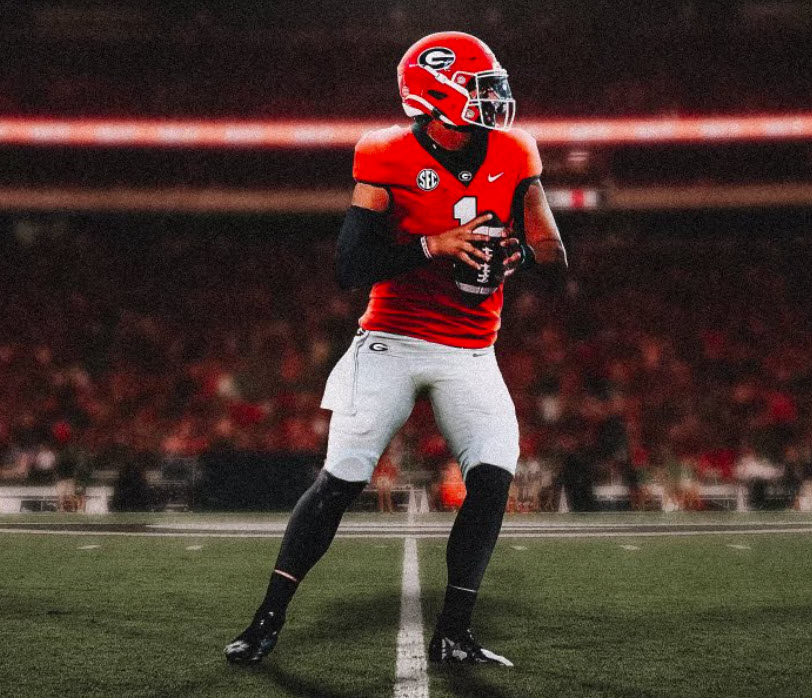 It was early on Monday afternoon that Raiola took to Twitter to make his announcement saying, "Athens, GA is home!!! I'm a Dawg!! Go Dawgs," accompanied by a tasteful graphic. This prolific player looks to play his senior year at Pinnacle High School in Phoenix, Arizona, after an electric junior season at Chandler High School (in Chandler, Arizona). At Chandler, Raoila amassed 2,435 passing yards and 22 touchdowns, and before that– in his sophomore year– he put up 3,341 yards and 42 passing touchdowns playing in Texas.
Now you may be thinking: How did Georgia get a guy from Arizona? It's a fair question, but the fact of the matter is in this industry, everyone knows someone, and in this case, this someone was the one and only Super Bowl Champion and DGD Matthew Stafford. Stafford and Raiola's dad, Dominic Raiola, played in the NFL together on the Detroit Lions for a good while. That connection supposedly sparked Raiola's connection with Georgia. Names like Stafford were vital to this commitment.
There's a lot of hype behind Raiola, with him being the best player in the country. Blair Angulo, an analyst for 247 Sports, even said, "At times it looks like he's even… maybe dialing it back because his arm is so strong," after watching him perform at the Elite 11 Camp in Eugene, Oregon. 
This young man has even drawn comparisons to Patrick Mahomes because his ability to throw into a variety of different windows on a variety of different platforms. It also doesn't hurt that both Raiola and Mahomes stand at 6'3, 230 pounds.
Regardless, Raoila's commitment is BIG for the Dawgs. Similarly to how Manning's commitment to Texas led to a series of big-time commitments soon after, Georgia may be in for a crazy recruiting run in the next couple of weeks. Names like Jeremiah Smith, five-star wide receiver and Ohio State commit, have already mentioned that they're interested in Georgia after hearing about Raiola's commitment. Only time will tell.