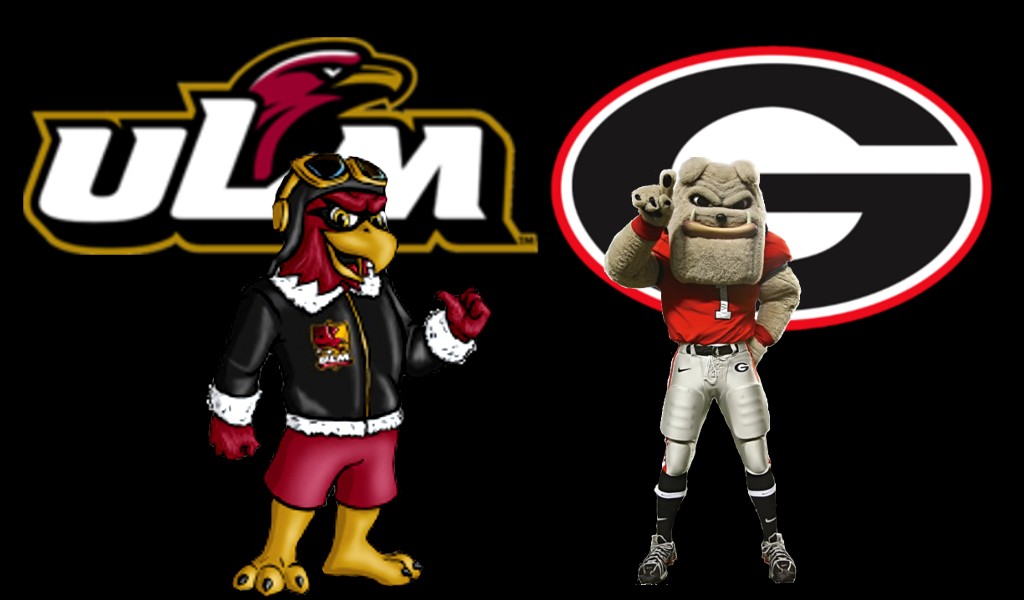 [su_spacer size="40″] The University of Georgia football team will open their 2015 college football season this weekend when they kickoff at 12 noon and take on the University of Louisiana-Monroe Warhawks. Bulldawg Illustrated has the skinny on the match-up in Gameday Preview: ULM vs UGA.
[su_spacer size="20″]
The Opponent: ULM
[su_spacer size="20″] The University of Louisiana Monroe was established in 1931 as Ouachita Parish Junior College and fielded a JC football team that same year. For the 1974-75 season, the Warhawks moved up to the NCAA Division 1-AA football classification, which is called the FCS today. In 1994, ULM made the leap to Division 1-A, which is now known as FBS.
[su_spacer size="40″] ULM played as an independent school in Division 1-A from 1994 to 2000, and joined the Sun Belt Conference in 2001. Since playing at the Division 1 level in both FCS and FBS classifications, the Warhawks have complied a 118-201-2 record. Overall, since 1931, ULM is 294-388-8.
[su_spacer size="40″] Last year, ULM finished 4-8 for the season and was 3-5 in the Sun Belt Conference placing in the bottom half of their conference's standings. On offense, they scored an average of 20.1 PPG while allowing 26.3 on defense. They averaged 69.5 yards rushing and 279.9 yards through the air per game. To their opponents, they allowed 183.33 yards rushing and only 189.9 yards passing per game.
[su_spacer size="40″]
Todd Berry
is the Head Coach of Louisiana-Monroe and is in his sixth year with the Warhawks with an overall record of 26-33.
Steve Farmer
is ULM's Offensive Coordinator and
Travis NieKamp
is the Co-Defensive Coordinator along with
Adam Waugh
. For more detailed information of the Warhawks football coaching staff you can go to
ULMWarhawks.com
.
[su_spacer size="40″]
ULM DEFENSE
[su_spacer size="20″] ULM runs a 3-3-5 style defense that utilizes 3 down linemen, 3 linebackers and 5 defensive backs. The Warhawks return 8 starters and 18 lettermen off last year's defense which was 48th in yardage allowed, tied for 46th in yards allowed per play, and 58th in points per game allowed at 26.3. While ULM was 86th against the run allowing 183.33 yards on the ground per game, what stands out is that they were 14th nationally against the pass, only allowing 189.9 yards per game.
[su_spacer size="40″] Out of those 8 starters returning on defense for ULM, 6 are seniors or graduates and 2 are juniors. Players to keep an eye on, on the defensive side of the ball for the Warhawks are 6-1 and 283 lbs graduate Gerrand Johnson at NT, who is an All-American and All-Sun Belt candidate, and 6-1 and 220 lbs senior Mitch Lane who plays at the H position similar to the Rover in a 4-2-5.
[su_spacer size="40″]
What does all that information, all those numbers and statistics mean?
[su_spacer size="20″] ULM likes to put a lot of pressure on the opposing QB through blitzing from different spots on the field from that fast and flexible 3-3-5 defense. Last year, they sacked the opposing QB 38 times which was good enough to be ranked 16th in the country. They are also good at blowing up plays behind the LOS, causing 90 tackles for loss, which was 24th nationally.
[su_spacer size="40″] When the Bulldawgs go to the air, it will be a good test for this veteran Georgia offensive line and the quarterbacks to see if they handle the blitz and pressure that ULM will try to generate. One advantage that UGA will have in the pass attack is the match up of the TEs on ULM's LBs and DBs. There tallest DB is Justin Backus at 6-2 and 186 lbs. Still, Jeb Blazevich at 6-5 and 248 lbs and Jay Rome at 6-4 and 250 lbs should match up well here.
[su_spacer size="40″] Where the Dawgs will probably have the most success is running the ball with Nick Chubb, Sony Michel, Keith Marshall, and Brendan Douglas. Depth will also be an issue for ULM as the game goes into the second half and the 4th quarter. Georgia simply has more quality depth to put on the field. If the Bulldawg ground attack is Chubb'in along, I expect to see Warhawk defenders with their hands on their hips and tapping on the helmet for a break and some O2.
[su_spacer size="40″]
ULM OFFENSE
[su_spacer size="20″] As good as the Warhawk defense maybe, the offense has some big questions marks. Gone from last year's squad is the starting QB and RB, but they do return a darn good receiver in senior 6-0, 192 lbs Rashon Ceaser who has caught 142 receptions for 1,836 yards and 8 touchdowns the last 2 years.
[su_spacer size="40″] Graduate DeVontae McNeal is the expected starter at RB for ULM, and he is coming back from an injury that kept him out all last season. He has played in 25 games for the Warhawks rushing for 405 yards on 48 carries which works out to be a very nice average of 8.4 YPC.
[su_spacer size="40″] At QB, redshirt 6 foot 0, 211 lbs freshman Garrett Smith beat out graduated senior Brayle Brown, but the biggest question for the Warhawks is whomever is taking snaps at QB or toting the rock, is can their offensive line come together to block well enough for them to have success. There are big question on the right side of the line at RG and RT.
[su_spacer size="40″] ULM will be starting a redshirt freshman at RT, 6 foot 5 and 297 lbs Keaton Baggs, and a redshirt sophomore at RG, 6 foot 2 and 297 lbs Jeff Savage, who has only saw action in 2 games.
[su_spacer size="40″]
Can the Bulldawgs Defense Take Advantage of the Opportunity?
[su_spacer size="20″] What that means is Georgia has an opportunity to pit their strength, the pass rush, against an uncertain ULM o-line. Whoever lines up or blitzes from the left side of the Dawgs defensive front seven has to be licking their chops. I am going to assume that ULM will try to counter by adding a TE or RB to help block on that side or just run away to their strong side on the left.
[su_spacer size="40″] The fact of the matter is that the Warhawks just haven't been that good on offense, and this year, they have more questions on that side of the ball than answers. The Dawgs defense needs to take advantage of the opportunity and eat as they say.
[su_spacer size="40″]
Bulldawg Bob's Prognostication
[su_spacer size="20″] The spread for this game was Georgia (-35) when I checked last, and the over/under was 54. I do think the Dawgs win, but I do not think they cover the spread and I'll take under. That is not to say the 2015 Dawgs aren't a good team, but I'm giving credit to ULM's defense here. It could be one of the top 4 that Georgia faces out of it's 12 regular season games. There is also the fact it is the first game of the season, and Georgia is starting a new QB too. However, in the end, the Dawgs' defense, rushing attack behind a physical o-line, and depth will prove just to much for the Warhawks.
[su_spacer size="20″]
UGA defeats ULM 34 – 10.
[su_spacer size="60″]
GAME DAY INFO
[su_spacer size="10″]
Date: Saturday, September 5th, 2015
Location: Athens, GA, Sanford Stadium
Pregame Broadcast begins at 8:00 AM
Dawg Walk at 10:10 AM
Gates open at 10:30 AM
Kickoff at 12 Noon EST
Televised on the SEC Network
[su_spacer size="40″]
Live Stream On
[su_spacer size="10″]
Listen on the Bulldog Radio Network
[su_spacer size="20″]
Click HERE for a list of radio stations
[su_spacer size="20″]
Listen to the Game on Audio Stream
[su_spacer size="20″]
106.1 WNGC-FM Athens and 107.1
[su_spacer size="40″]
For more info, check on Georgiadogs.com Gameday Central
[su_spacer size="20″]
GEORGIADOGS.COM – University of University of Georgia Official Athletic Site – Football
[su_spacer size="60″]