Coming into National Signing Day on Wednesday, Feb. 7th, the University of Georgia had either the No. 1 or No. 2 college football 2018 recruiting class depending on whether or not you went by 247Sports, ESPN, or Rivals team rankings. The question was whether or not the Bulldogs would finish No. 1.

The Georgia coaching staff had a field day during the early signing period some seven weeks ago. This was the first year that college football had an early signing period which allowed prospective student-athletes a three-day window from Dec. 20th-22nd to sign their National Letter of Intent (NLI or LOI) before the traditional National Signing Day (NSD) on the first Wednesday in February. Twenty prospects inked their LOI's with UGA giving them the consensus No. 1 recruiting class for a time, at least until the final ratings on 2018 recruits were released a few weeks later after the high school football all-star games.
With just a few spots left to fill, there wasn't to be much-expected drama on NSD for the Dogs, but many were wondering how the Georgia staff would close this class out. And after the dust settled, if last year didn't convince fans that a new sheriff on the recruiting trail was in town, this year should have.
UGA started off with a resounding thunder clap by first getting a commitment from American Heritage High School five-star cornerback Tyson Campbell out of Plantation, FL just after 10:15 a.m. ET., and then flipping Lee County High School linebacker/safety Otis Reese from the University of Michigan about a half an hour later.
The third and fourth news items on the day were from Mallard Creek High School defensive tackle Jordan Davis and Liberty County High defensive tackle Tramel Walthour, who had both already verbally committed but didn't sign during the early signing period. Both D-linemen put their name on the dotted line and made it official just after Reese announced his final decision.
Georgia Head Coach Kirby Smart and his staff were not done flipping recruits either. Quay Walker, who had been committed to the University of Alabama, flipped his commitment from the Crimson Tide to the Bulldogs just after 11:45 a.m. ET. Walker's announcement gave UGA 25 signees, but the Dogs were not done.
If to add insult to injury, Georgia also received a verbal commitment for the 2019 recruiting class from Kennesaw Mountain High School tight end Ryland Goede just before 12:00 p.m. ET. That gives the Bulldogs seven commits and… drum roll please… the No. 1 recruiting class for 2019 currently per 247Sports and Rivals.
But Kirby and company were still not done for the day. Not long after the clock struck high noon and Georgia got commitment/signee No. 6 on the day for the 2018 recruiting class from Clemens High School wide receiver Tommy Bush out of Schertz, TX.
Bush's commitment gives Georgia 26 total signees, and… if I may have another drum roll… the consensus No. 1 college football recruiting class for 2018 per 247Sports, ESPN, and Rivals.
247SPORTS COMPOSITE TEAM RECRUITING RANKINGS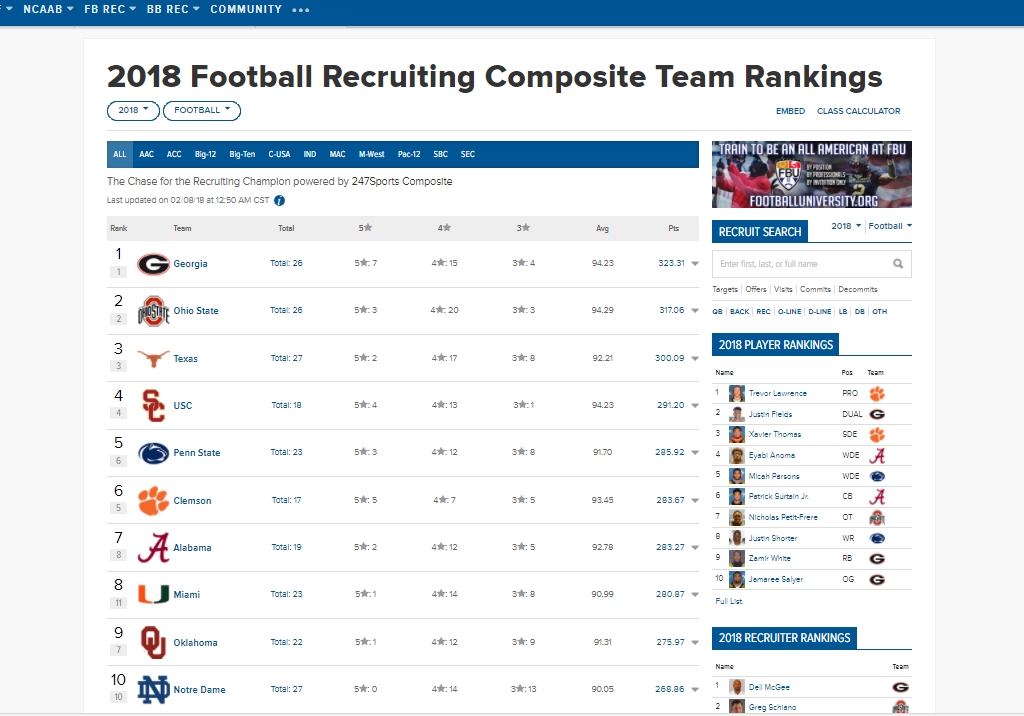 ESPN TEAM RECRUITING RANKINGS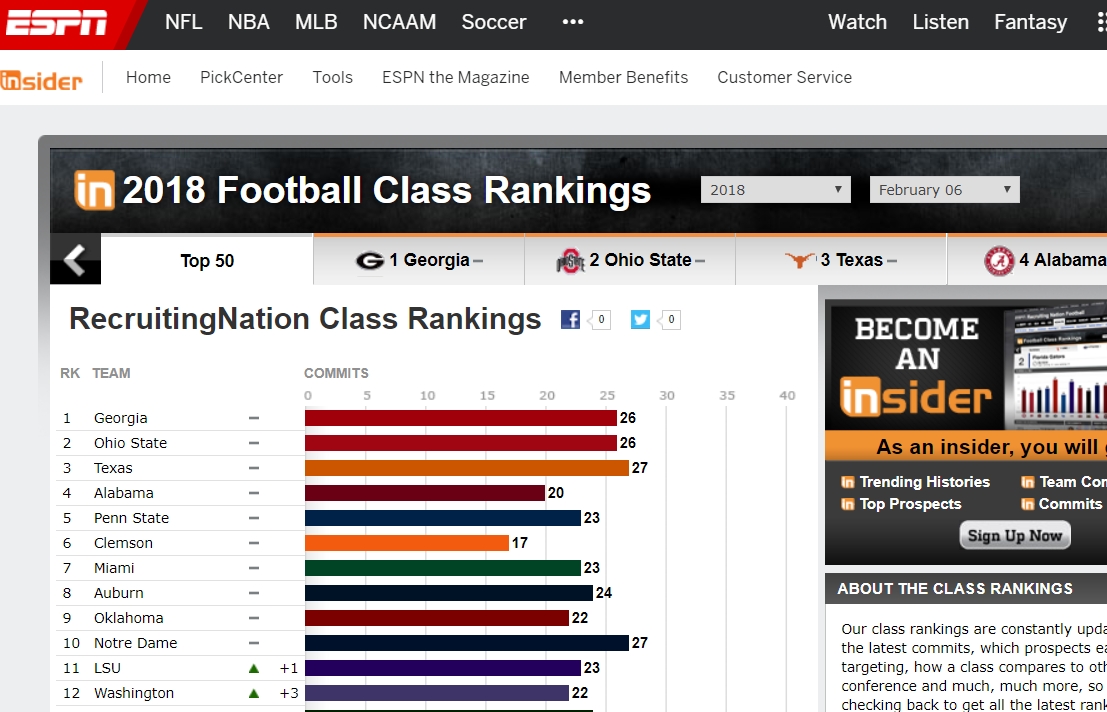 RIVALS TEAM RECRUITING RANKINGS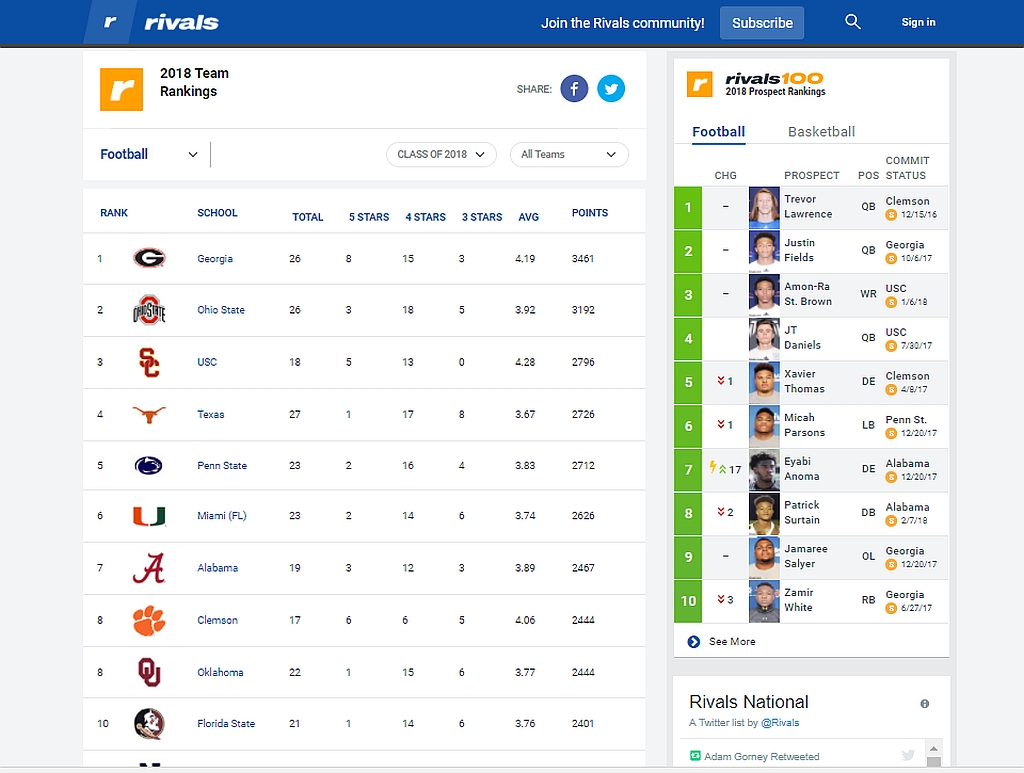 It wasn't just that UGA finished with a No. 1 class either. It was both the quality and quantity of the class. The Bulldogs signed 7 five-star prospects according to 247Sports, or 8 per Rivals rankings. That is four more than all of the rest of the SEC combined. The only SEC team that signed more four-star prospects than Georgia was Auburn. The talent gap between the Crimson Tide and the Bulldogs is shrinking, but the gap between Georgia and the rest of the SEC is widening. And while a No. 1 recruiting class doesn't guarantee a program a win or a national championship, it does help when your team can field more talent than the other guy, especially later in the schedule after the grind of the season has taken its toll.
Here is what Kirby Smart said on Wednesday afternoon about Georgia's 2018 recruiting class in his opening statement from his National Signing Day Press Conference.
"Excited about today (Wednesday)," said Kirby Smart. "You know, it was kind of anti-climactic with the fact that we had had most of the guys signed as mid-year guys. A lot of early enrollees, a lot of early signees, but I think one of the things that helped us today was the fact that we knocked a lot of the work out in December, and I think any time you're able to do that, you're really able to focus your attention on 2019, 2020. We had a lot of junior days and sophomore days in here on the Saturdays leading up to today, so that was a big advantage for us to get ahead. But we were able to focus a lot of our contact attention on the four or five guys we needed to target for the remainder of our class."
Kirby added:
"What's more important is the quality of kids we were able to get, both academically and athletically. That's what excites me most about them, the fact that 10 of these guys got over a 3.0 core GPA. We haven't had that in a long time. The fact that three of these guys got offered scholarships to Ivy League schools, that impresses me a lot. 25 of these 26 played multiple sports, and I think we all know the indicators of playing multiple sports."
"Thirteen of the 26 played for a state championship, so when you start looking at those things, they're winners. They're a tight-knit group, really unselfish. Some of these kids went and watched other kids in the state championship game. Several of them went to other guys' surgeries when they had surgeries for injuries, which we had several guys have. They're a unique group. I'm excited about them."
"But the chore for them is to get past this and move on, and I'm excited about what they bring to our team, but they've also got a lot of big shoes to fill of some great young men that just left our program."
For a complete list of Georgia's 2018 football commits, CLICK HERE, and for a Georgia's 2019 football commits, CLICK HERE.
---
Recent Articles by Bob Miller
[pt_view id="83405b425p"]