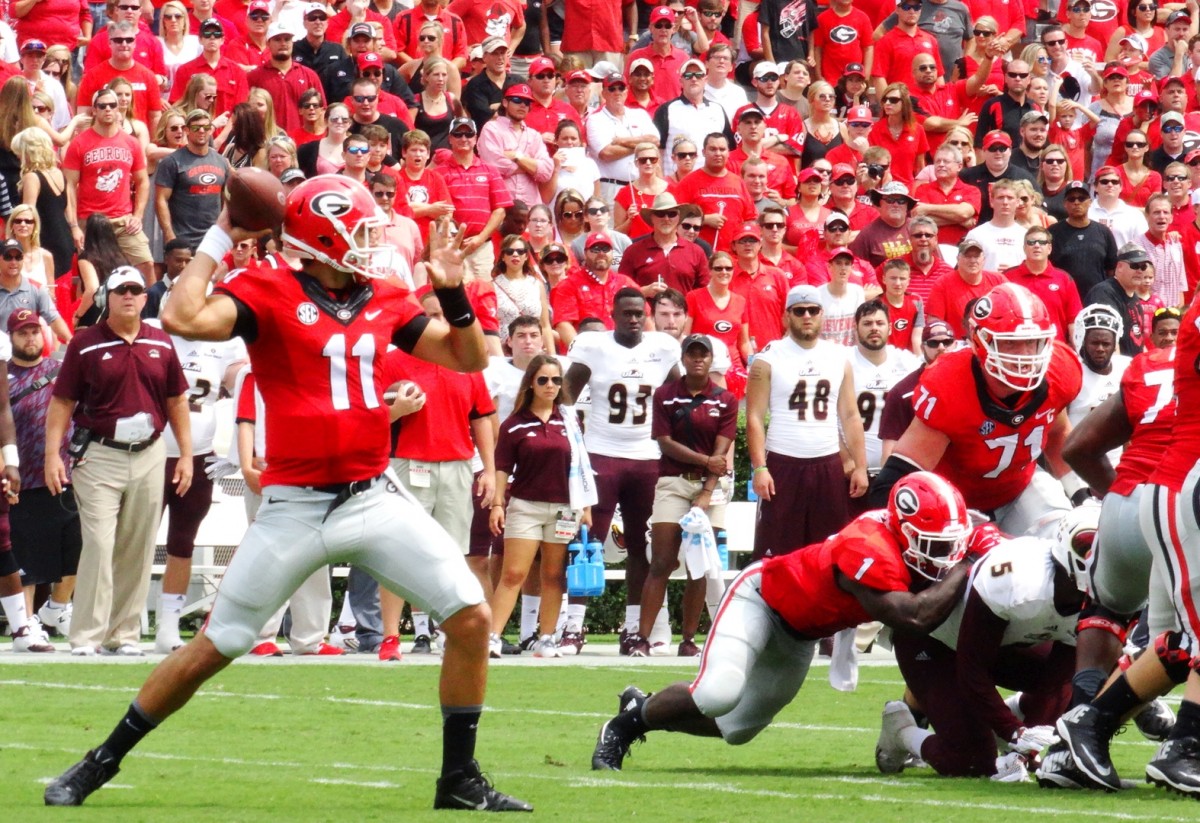 [su_spacer size="20″] One of the more talked about topics, if not the most talked about, for Georgia Bulldawg fans during the off season was on who would be the signal caller for UGA for the 2015 college football season. Who would start at quarterback for the first game versus ULM? Most of the public and media were surprised when Greyson Lambert was named the starter on Monday the week of the game. How did the junior transfer QB from the University of Virginia do?
[su_spacer size="20″]
Georgia did not have to throw very much versus the Louisiana-Monroe Warhawks, but when they did, Lambert had a solid "A" performance in my opinion. He completed 8 of 12 passing attempts for 141 yards and a couple of touchdowns. When there was not a receiver open initially, he created more time with his feet, avoiding pressure from ULM defenders, and rolling out of the pocket. If the play wasn't there, he smartly through it away.
[su_spacer size="40″] Lambert's first touchdown pass came on UGA's second offensive series when he connected with sophomore tight end Jeb Blazevich for a 15 yard score. He talks with the media about his first touchdown pass as a Bulldawg and how it felt:
[su_spacer size="20″]
A touchdown will make anybody relax. Jeb made a great catch. It was a lot of fun.
He would get his second touchdown pass in the third quarter when he connected on a 28 yard back shoulder throw to senior receiver Malcolm Mitchell in the end zone. He talks about celebrating with his teammates after his second TD throw:
[su_spacer size="20″]
I was celebrating with the o-line the most. I was just happy for all of them, for all the o-linemen. I don't think I was sacked; so, I think we're taking them out for ice scream. I think it is ice cream Sunday's tomorrow for Sunday. I think they're more excited about that than anything else.
[su_spacer size="40″] Malcolm Mitchell came up to Greyson after the play and thanked him and talked with him for a moment, sharing in the experience. The quarterback talks about that moment they shared:
[su_spacer size="20″]
We had talked about maybe running that play before the drive started, and I told him when our number's called, be ready. I'm goanna get it to you. He was able to make a great play. He came up to the side line and said 'thank you.' I said anytime … You put it around him, and he'll go get it. That's very comforting.
[su_spacer size="40″] He made similar comments about true freshman wide receiver Terry Godwin:
[su_spacer size="20″]
Terry's been awesome since day one. Terry's had a great camp. He's very reliable. I can throw it up anywhere around him and he'll go make a play for you
[su_spacer size="40″] Georgia's new signal caller also made a point to point out how blessed and grateful he was to have the opportunity he has been given at UGA, and that he has worked hard to take advantage of that opportunity. Lambert also said that it was comforting to know that he could hand it off to his teammates at tailback and rely on them.
[su_spacer size="20″]
Being able to do that, knowing you have that possibility late in games is big.
[su_spacer size="40″]
Greyson Lambert postgame interview – ULM
[su_spacer size="80″]