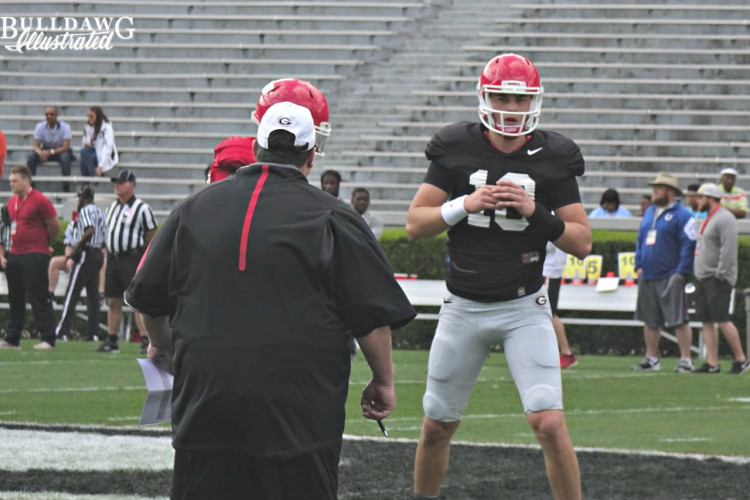 For the second year in a row the quarterback competition for the Georgia Bulldogs is a hot topic and with a whole new coaching staff on the offensive side of the ball, all three of the quarterbacks have to prove themselves to the coaches. This has put new offensive coordinator Jim Chaney in a unique position that he has rarely dealt with before in his career.
Jim Chaney is stuck in a very tough position because over the coming weeks, he will have to make a decision between Greyson Lambert, Brice Ramsey, and Jacob Eason for who will be the Georgia Bulldogs starting quarterback. This is the same position that the Bulldogs previous offensive coordinator, Brian Schottenheimer, was in last season and he did not have a very successful campaign with his decision. Chaney will hope to make the right choice and not repeat any mistakes that the Bulldogs former offensive coordinator might have made.
As of right now, Chaney is keeping the competition pretty wide open since the Bulldogs just finished up on their first week of practice. However, Chaney did voice that he let his quarterbacks know that he wants to see someone begin to emerge out of the group as the leading candidate to be the starter for the Bulldogs. For the time being, it seems that has not happened but Chaney is giving it time for each quarterback to prove his case for the starting job.
However, Chaney did voice that this is a very unique position for him because he has rarely ever had three guys, who can each play the position so well and that is what is really making the choice of starter so hard. Chaney plans on continuing to rotate give each quarterback reps with the first team guys to see how each quarterback develops over this offseason. This quarterback battle will be very intriguing and will play a huge role in how the Bulldogs season turns out.
The competition is hot and it's alive, it's very competitive, and it's been fun to watch them, but it is unique to me to have three of them right now battling for the spot


[su_youtube url="https://www.youtube.com/watch?v=IZ9cvntYQG8″]