Relax, it's just a game. That's a statement I've become accustomed to over the course of my  23 years as a Georgia Bulldog. At 28 years of age, my general rule of thumb has always been to subtract 5 years when referring to my Dawg fanaticism. Why? Well in all honesty, I can't recall a  single Georgia memory until receiving a 2000 Georgia Football wall poster sometime late that summer. I thought it was the coolest. I may not have understood anything about the Xs and O's of football at the time, but damn, I thought Quincy Carter looked cool on that poster.  Fast forward 23 years, and those who know me know I don't mark off the past in traditional time but rather based on sporting events. More specifically, Georgia sporting events. Say I meet a young person born in 2010. My head immediately jumps to the unfortunate memories of the  Dawgs mustering just six points on the final day of that year, finishing 6-7, our lone losing season of this century. 
 I sit here today, and I'm simply unable to identify any entity (aside from Faith in God and  Family) that has so incredibly enriched my life. I think first of my family, in particular my dad,  and how our relationship has been so wonderfully impacted by Georgia athletics. I think second of places. The locations we've visited and made trips out of that, without Georgia football, we'd have no reason to see. The most convenient example of this is the most recent, of course. Bulldog fans far and wide were hovering their sweaty palms over the "cancel trip" button within the Delta  Airlines app this past New Year's Eve. If it weren't for a miracle that was cemented the very second the year 2022 was published in the history books, Dawg Nation wouldn't have descended in droves upon Southern California, simultaneously terrifying and amusing every local in our path. That's just one example. Of course, there's Indy 2022, Miami 2021, Rose Bowl 2017, Notre  Dame/Chicago 2017, numerous appearances in the Florida bowl games, I could go on and on.  That list doesn't include the annual congregation that takes place in the Jacksonville-Saint  Simons-Sea Island triad. 
 Georgia is but a tiny example of such phenomena. Millions of people in this world tether their identity to sports programs. Part of what makes the human experience so worthwhile is our ability to establish relationships with others. If enough relationships are built, a community emerges, and there's perhaps no earthly force stronger than communities united, sharing in common one main overarching value. 
 At their essence, each individual sport may quite literally be a game. That said, "It's just a  game" remains an unnecessary phrase to me. These days it's thrown around to an insulting degree, as if an attempt to fault those who so passionately pour themselves into sports and the communities therein. Of course, as is the case in all things, that "strength in numbers" mentality produced by said games can be used for good and/or bad. I would argue, however, that when it comes to sports, the former is achieved at an exponentially higher rate. 
 These are interesting times we live in. Each year, the tone of our world seems to darken both economically and socially. Each decade brings with it an inflection point of sorts. Perhaps we could all throw in some more games every now and then. Who knows? Maybe these games collectively turn into something much, much more than a game.
---
---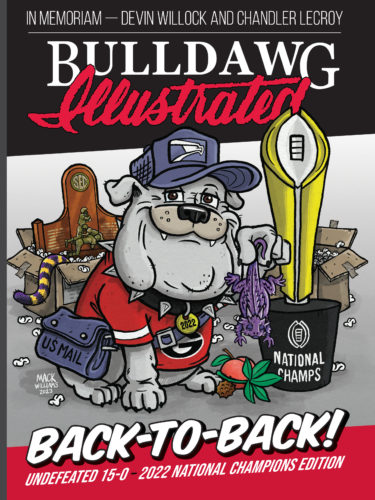 Purchase your print copy of our 2022 Bulldawg Illustrated National Champions Edition now. Or get a back-to-back set, which includes both the 2021 and 2022 Bulldawg Illustrated National Champions Editions.
The mega-editions includes game, scene, fan, and final perspective content, plus over 150 fan photos from the games and the epic National Title campus celebrations in Athens.
Available in singles and 5-packs. All orders include sales tax and shipping.
Order 5 copies of 2022 National Champions Edition $70.00 – Click HERE
Order a single copy 2022 National Champions Edition $28.00 – Click HERE
Order 5 sets of both the 2021 and 2022 Nat. Champions Editions $99 – Click HERE
Order one set of both the 2021 and 2022 Nat. Champions Editions $50 – Click HERE