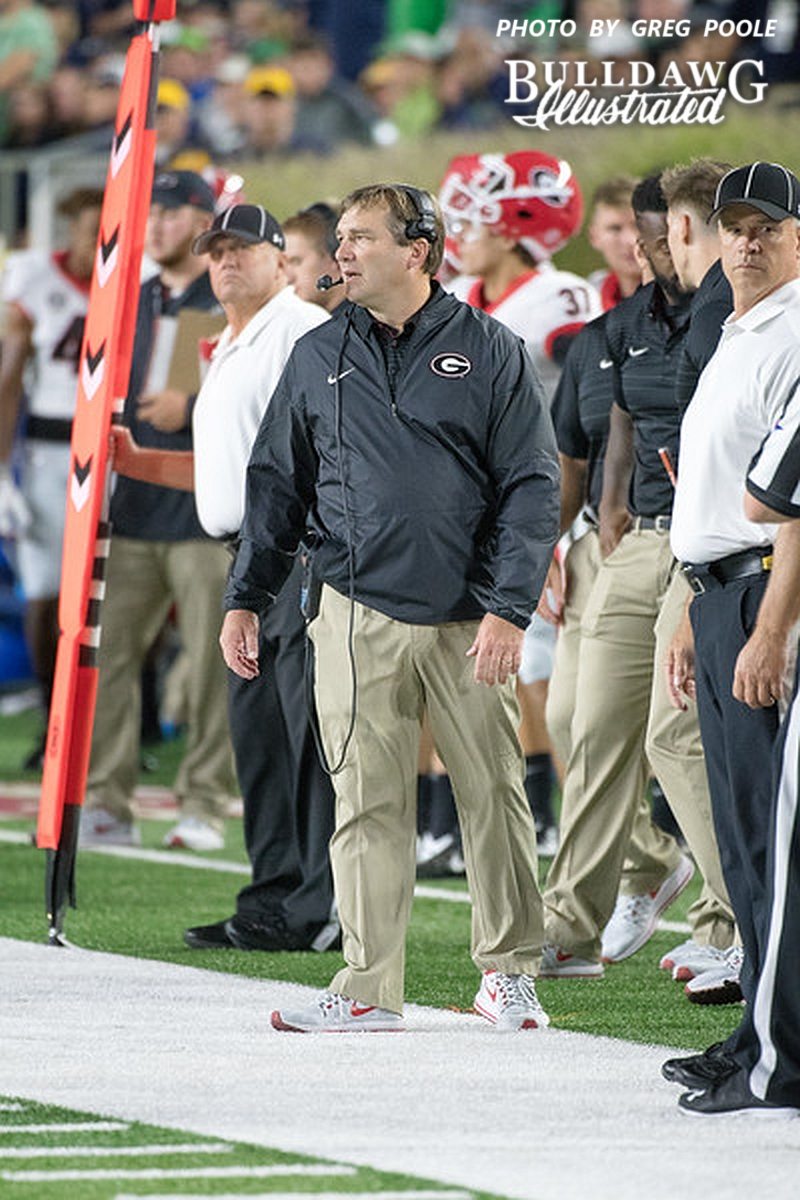 Kirby Smart addressed the area of penalties during his press conference on Tuesday afternoon. After 12 penalties for 127 yards during the Notre Dame game, the media wanted to know how big of a problem it is for Smart's team.
Smart said they address penalties daily and that he feels it's comical because last season Georgia was one of the least penalized teams. Now with two games into the season, the Bulldogs average 86.50 yards in penalties a game.
However, the head coach said that when looking at the stats it's funny because the most aggressive teams in the country are sometimes the most penalized and have the best teams. Smart believes they've been aggressive on special teams and unfortunately some of the penalties were hard to swallow.
"We always talk about penalties. We talk about penalties every day in our meetings," Smart stated. "I just laugh because last year, we were one of the least penalized teams and now we're leading. It's always funny to me when you look at stats because they can say what you want them to say. Sometimes the most aggressive teams in the country are the most penalized and they have the best teams. And we certainly feel like we've been aggressive on special teams, and we've had some penalties in those areas. We've had some unfortunate ones, with hands to the face. I don't necessarily call all of them undisciplined. You know you think of your team being undisciplined when they have a lot of penalties. Some of those penalties are not undisciplined. They're aggressive. And I don't go after aggressive penalties all the time because I think you can coach caution in your players. But we bring it to their attention and we show them a lot of stats on penalties."
He said that some of the penalties are not because the team is undisciplined, yet just extremely aggressive. So when he addresses the penalties he takes the aggressive ones into consideration and brings it to the teams' attention.
Smart mentioned that if he did go after aggressive penalties that it might cause the players to play with caution, which is something he doesn't want. After the 12 penalties for 127 yards, Smart seems to understand and have the situation handled and headed in the right direction.
For Coach Smart's full press conference, check out the You Tube Clip Below:







Recent Articles by Savannah Leigh Richardson


[pt_view id="8722077nva"]