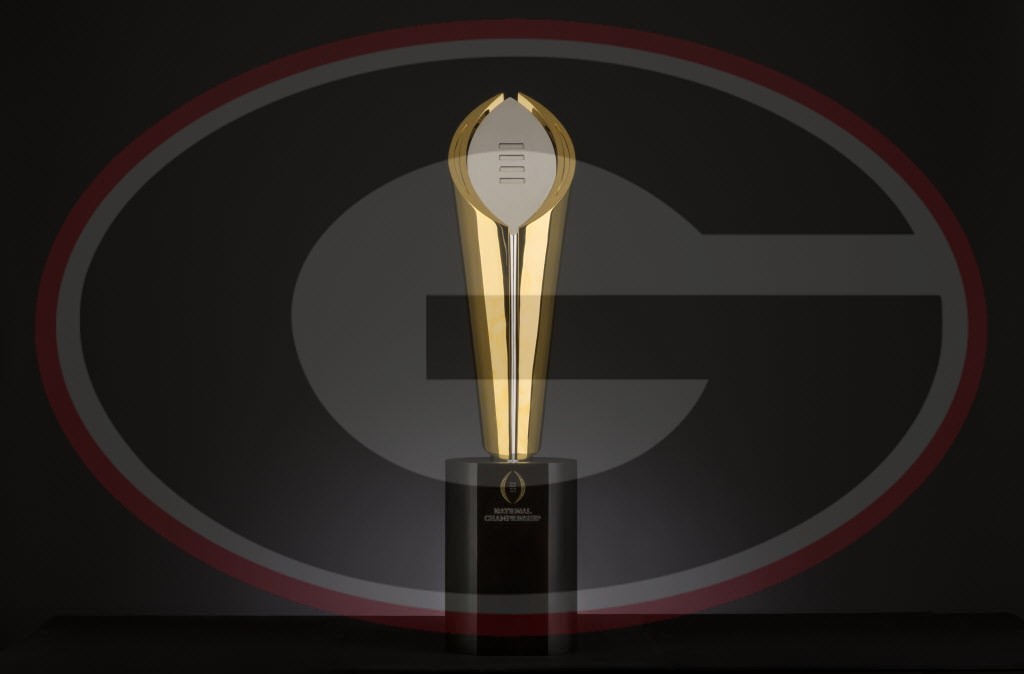 [su_spacer size="20″] [su_spacer size="20″] When will Georgia's time come?
[su_spacer size="10″] That's the question the passionate, championship-starved sons and daughters of the red and black so badly want answered in the affirmative, post-haste. Georgia has come agonizingly close in the 21st century.
[su_spacer size="20″]
There was the near miss in the 2012 Southeastern Conference Championship Game, a de facto national semifinal. The game excruciatingly ended on a completed pass — only Georgia — and Alabama prevailed 32-28. The Crimson Tide went on to destroy Notre Dame for the national championship. So close. In 2007, the Bulldogs finished No. 2 in the land. An early season 16-12 loss between the hedges to South Carolina cost Georgia a berth in Atlanta and a shot at the big prize. Georgia's SEC champions of 2002 that went 13-1 lost a devastating 20-13 decision to Florida, with a slew of missed opportunities making it one of the most haunting losses in Bulldog history. That season, two teams wound up going undefeated, and Ohio State edged Miami for the national title. The next season, LSU lost only once, falling to Florida, but there were no undefeated teams. So LSU got the call. And capitalized.
[su_spacer size="40″] For seven straight seasons the SEC produced college football's national champion, with a quartet of schools claiming the prize. Georgia has been so close. Then there is the Bulldogs success against or compared to arch-rivals in 21st century periods.
[su_spacer size="40″] Since 2006, Georgia has beaten Auburn seven of nine seasons. That's astounding in a rivalry that has been so historically tight and tough. Three of the last four years, the Bulldogs have beaten Auburn 45-7, 38-0 and 34-7. Over that nine year period, one of these schools has twice played for the national championship. It would make sense that it's the team with seven wins in nine years. It isn't.
[su_spacer size="40″] From 2002-2008, Georgia had six double digit win seasons in that seven year stretch. Florida had two. Guess which team twice played for — and won — national championships.
[su_spacer size="40″] Those numbers, those odds.
[su_spacer size="40″] Under Mark Richt's watch, the Bulldogs are 12-2 vs.Tech. The two is too many. The details of last season's horrific loss to the Yellow Jackets are gruesomely ingrained in the nightmares and memories of the Georgia faithful. That would have made six straight over the Yellow Jackets, who had last beaten the Bulldogs in 2008. Georgia had a 28-12 halftime lead and lost 45-42. That would have been eight straight, matching the infamous drought of 1949-56 when Tech beat the Bulldogs eight consecutive years.
[su_spacer size="40″] Surely those types of numbers will start working in Georgia's favor.
[su_spacer size="40″] The Bulldogs had dipped in recent years when it comes to recruiting. The class of 2013, which already has a defection rate over 33 percent, featured the signing of just two of the Peach State's top 15 prospects. But in the two years that have followed, with a major influx of energy, passion and enthusiasm amongst a slew of new assistant coaches, Georgia has gained major momentum. This past season's class, the freshmen of 2015, is outstanding. What Georgia has in the fold and on the line for this coming class is potentially the nation's best.
[su_spacer size="40″] Georgia is close. Very close.
[su_spacer size="40″] A first year quarterback and brutally tough schedule make a dream season in 2015 an uphill battle. Yes, Georgia can be very good. But the following two seasons seem to better lend the opportunity of greatness — i.e. one of those four coveted playoff berths.
[su_spacer size="40″] So close. On the verge. What do the Bulldogs need to do to get there?
[su_spacer size="40″] Georgia must learn from its history. The botched red zone opportunities compounded by missed field goals in Jacksonville have been oh so costly. That was the case in 2002. Again last year. And often in between.
[su_spacer size="40″] Knowshon Moreno twice ran Georgia down the field against South Carolina in 2007, then wasn't on the field in the red zone as Georgia settled for field goals. Then there was Todd Gurley not getting the pigskin on first and goal from the Gamecocks three yard line, a year ago. It is a fine line, especially in the rugged Southeastern Conference.
[su_spacer size="40″] Improved defensive and special teams play — though there were significant breakdowns in the three painful losses a year ago — give the hope that both of those units will continue to improve, lessen the load on the offense, and put Georgia right in the playoff picture. The defense should be better this year, and it has the potential to be its best since 2002-2003 in 2016 and 2017.
[su_spacer size="40″] Georgia must also avoid that "what in the world happened" Saturday. For nine straight years, the Bulldogs have lost a game by 15 or more points — that's more than two touchdowns. That's shocking. Championship teams can't afford to take a Saturday off. The margin is too small.
[su_spacer size="40″] Through improved recruiting the last two years, the talent level is up and there is no excuse for such to happen this year, or next, or the next.
[su_spacer size="40″] There is tremendous enthusiasm within the Bulldogs locker room and fan base. It is nice to read that a majority of the state's top prospects have either pledged to Georgia or have the Dogs at the top of their lists. Phrases like "Georgia's time is coming," and "I want to be a part of Georgia's national championship," have frequently been mentioned.
[su_spacer size="40″] The Dogs have been oh so close, but couldn't quite cash in. When that opportunity comes again, correcting those costly missteps from days gone by will get Georgia to the promised land. To go from very good to great, the self-inflicted wounds must be cut down. That's the big step to see this season.
[su_spacer size="40″] Then in 2016, Georgia will be one of the four teams in playoff for the national title.
[su_spacer size="40″] For more articles like this, including player and fan photos as well as videos, check out Bulldawg Illustrated's 2015 Season Opener digital issue:
[su_spacer size="40″] Bulldawg Illustrated
[su_spacer size="40″] For more on Jeff Dantzler, be sure to visit About Jeff at Jeff Dantzler TV.