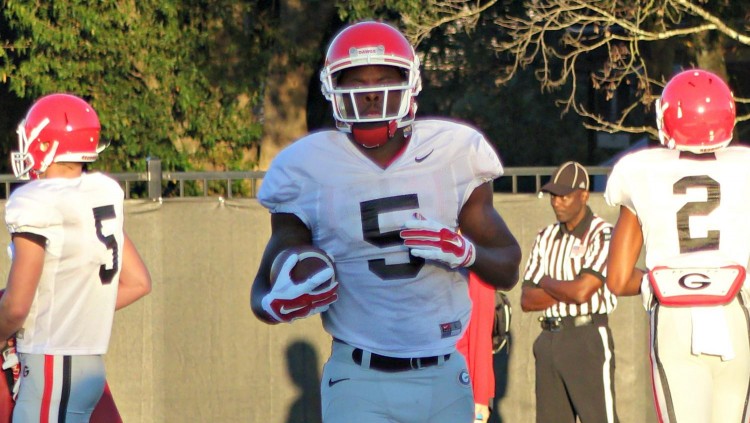 [su_spacer size="20″] The Georgia Bulldogs worked out for over two hours Tuesday afternoon in preparation for their SEC matchup this Saturday at Auburn.
[su_spacer size="40″] These two programs have split 118 previous meetings straight down the middle, with 55 wins apiece and eight ties.  Regardless of the game's implications, the series will most likely produce another tightly contested game.
[su_spacer size="40″] "Auburn being Auburn and us being Georgia is enough," said Georgia head coach Mark Richt. "That's what we're focusing on. We're focusing on getting ready to play one whale of a football game versus a team that's going to have a tremendous fanbase ready to get after us. It's going to be a battle. And if you're a competitor, that's usually enough to get your blood pumping."
[su_spacer size="40″] The Bulldogs are coming off a 27-3 thumping of Kentucky last Saturday, one in which the offense produced three touchdowns and almost 400 total yards, a marked improvement over its most recent outings.  Georgia, in general, aspires to continue the good vibe that was spawned in preparations for the UK contest.
[su_spacer size="40″] [foogallery id="70350″] [su_spacer size="40″] "Our big thing in the game was to really and truly focus on what we're responsible for and then try to encourage everybody else, and I saw a lot of that from the team," Richt said.  "The message this week is that we can't let up. We gotta build on this past week. We can't go backwards. We can't relax in any way, shape or form. We gotta keep the sense of urgency to get better."
[su_spacer size="40″] For all of Georgia's seniors, just a few games remain in their final seasons.  Despite their main goal of an SEC Championship game now off the table, aspirations are still high.
[su_spacer size="40″] "Just pride, just playing Georgia football, ending the season how we want it to end," said senior defensive end Josh Dawson.  "This season has had a lot of ups and downs, but some things you can't control. These last three games we can control with how we want to finish. As a senior you want to come out a winner, and that's something we talk about."
[su_spacer size="40″] Kickoff on Saturday is at 12:00 p.m. (EST), with Carter Blackburn, Aaron Taylor and Jenny Dell broadcasting the game for the CBS Sports.
[su_spacer size="60″]