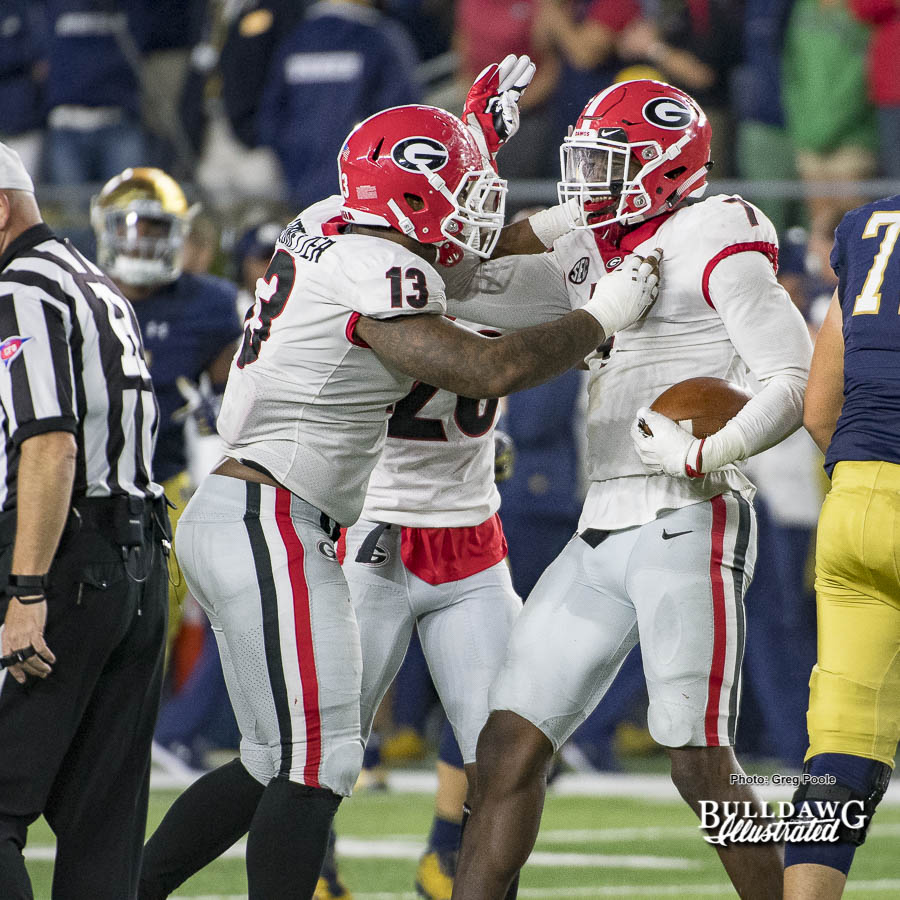 Talk about a sandwich game — Georgia's 7:30 battle Saturday night with the Samford Bulldogs is exactly that!

Coming off the huge and somewhat historic 20-19 win at Notre Dame last weekend and with the Mississippi State Bulldogs and ultra-talented quarterback Nick Fitzgerald coming between the hedges the following Saturday for Georgia's first Southeastern Conference test, there's no question that Kirby Smart's 13th-ranked Bulldogs could be caught both looking back and looking ahead.


But, they better not. All Georgia has to do is use the example of Nicholls State last season, to see what can transpire if the Bulldogs are not pumped and ready to play.


The Colonels came to Sanford Stadium as a giant underdog, the Bulldogs favored by some 40 points. Yet, there were the two teams in the middle of the third quarter with Nicholls clinging to a 14-13 lead over Georgia. The Bulldogs couldn't create any space for their running backs, finishing the game with just 167 yards on the ground against a stubborn Nicholls defensive front. Nick Chubb totaled 80 yards rushing on the day but had to carry the ball 20 times to achieve that mark.


Of course, as everyone knows, Georgia did rally to win the game, by a shaky 26-24 tally. But it took some big defensive turnovers forced by the Bulldogs' defense and several key passing plays by freshman quarterback Jacob Eason to prevent the home team from walking off the field totally embarrassed.


So, Georgia, lesson learned! At least we hope that is the case as Georgia seeks to boost its season worksheet to 3-0 Saturday evening. Although Chris Hatcher's Samford 'Dogs are an FCS football team, they do bring an explosive offense between the hedges. In quarterback Devlin  Hodges, who will wear No. 8 on his white jersey, Samford has a very dangerous weapon who can throw the football with the best of them. Don't believe that? Take a look at his 2016 passing statistics when Hodges threw for more than 4,000 yards and  36 touchdowns while completing a gaudy 70 percent of his pass attempts. Naturally, with that kind of performance, Hodges was named the Southern Conference Offensive Player of the Year last season.


So, be on the alert, Bulldogs' defense. As Georgia did against the Fighting Irish last Saturday night in South Bend, Ind., it must bring the heat on Hodges off the edge and up the middle, too. The secondary has to pitch a good performance in shadowing Hodges' ace receiver, Kelvin McKnight, who although small in stature, has the quickness and speed to continually find openings in the UGA secondary. And as Kirby said this week in the SEC teleconference, Georgia must tackle well both on the perimeter and in the defensive backfield because Hatcher likes to attack opposing defenses with short, quick passes and then watch his wideouts and running backs turn short gains into long ones.


And offensively Georgia still has to be much more consistent moving the football than it did in the first two outings with Appalachian State and Notre Dame. Eliminate those three and outs and all those nagging penalties that keep the offensive unit from functioning smoothly. The offensive line, give Chubb, Sony Michel (if he plays much with an ankle injury), D'Andre Swift, Brian Herrien and Elijah Holyfield some space to make it to the second level and break some long gainers … rather than continually running into stone walls from tackle to tackle. And Jim Chaney, please get your talented tight end corps more involved in this game. Didn't do it last year and it will be a shame to waste the talents of Isaac Nauta, Jeb Blazevich, Charlie Woerner, Jackson Harris and the like this season. If freshman quarterback Jake Fromm can hook up with those guys, then it's surely bound to open the field more for also talented wideouts Javon Wims, Terry Godwin, Riley Ridley and Mecole Hardman.


There's no earthly reason why Georgia shouldn't win Saturday night's game with relative ease. Will the Bulldogs do it? Well, the players on this 2017 UGA edition claim they're taking one game at a time and aren't about to overlook anyone. Again, in this sandwich game against the Samford Bulldogs, I'll take them at their word.


Make it Georgia 48, Samford 14.



---
Recent Articles by Murray Poole


[pt_view id="2fb799183g"]