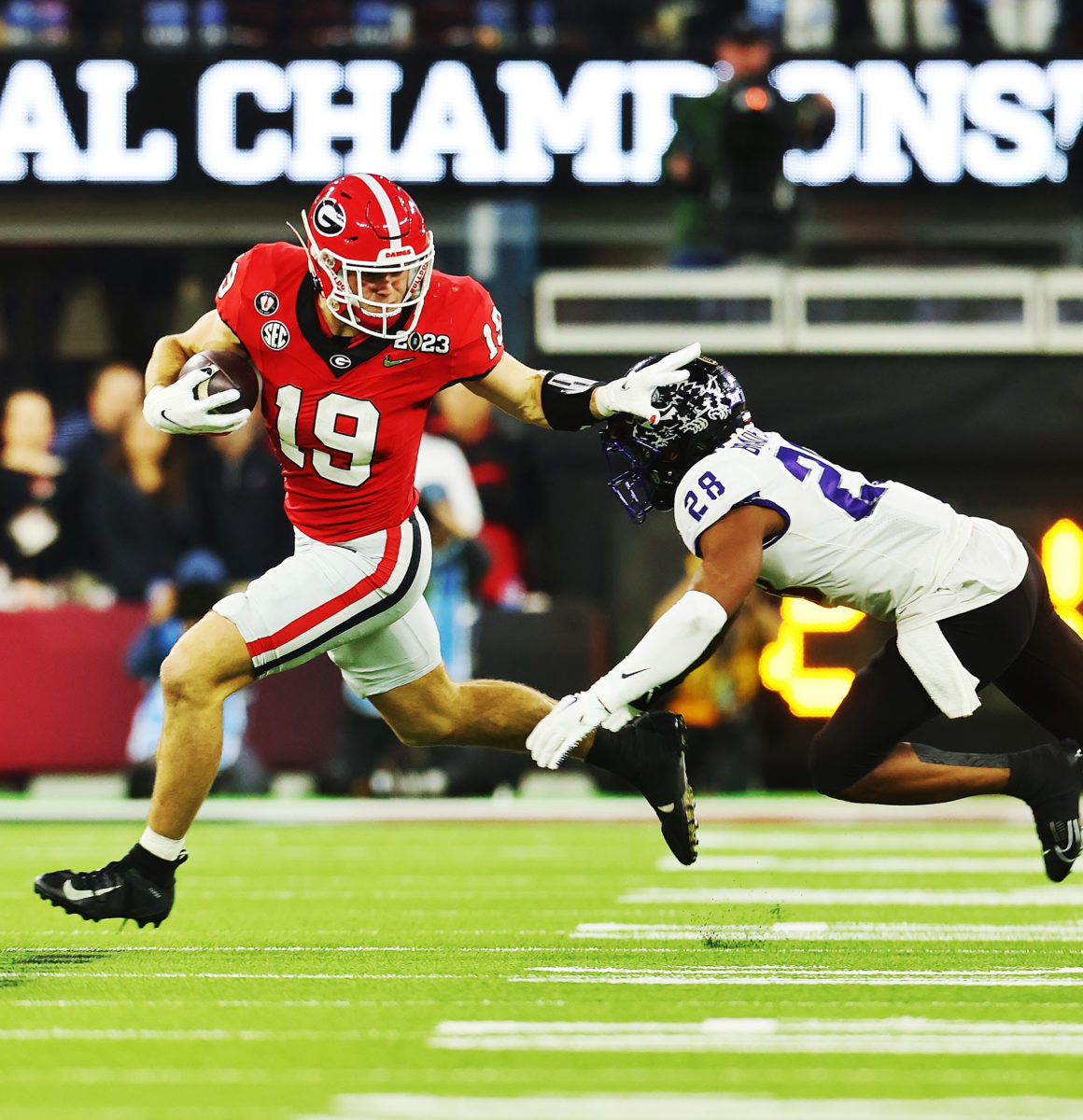 On Monday, January 9, the Georgia Bulldogs produced a night that will go down in history. 65-7. You may see scores like that in September. Maybe early October, when teams play the cupcakes on the schedule, but the 2022 Dawgs were different. Todd Monken decided to drop nine touchdowns on Sonny Dykes and the Texas Christian University Horned Frogs on college football's biggest stage: the National Championship Game.
The Frogs just couldn't hold up against what Georgia was throwing at them. There was a drastic talent disparity favoring Georgia that was made known prior to the matchup, but no one thought it would end up the way it did. The Dawgs held up on both sides of the ball when it mattered most, and it led to the largest margin of victory of any bowl game in history.
With that game being Steton Bennett's last time suiting up in the Red and Black, it leaves fans with a lot to think about. Having led his team to back-to-back national titles after struggling to find a roster spot just a couple years before is the kinda stuff Hollywood writers get paid to come up with. Bennett just did it. But even though the Mailman has made his final delivery, there's still plenty of talent that'll be returning in 2023 for the potential three-peat. The Dawgs are in good hands, and here are a couple reasons why.
152
After having a quiet end to the regular season, Brock Bowers turned it all the way up for the last three games. The most impressive of which was the National Championship where he gained 152 receiving yards off of seven receptions. He only scored one touchdown off of those, but he was most definitely setting up his teammates for success. The fact that he isn't draft eligible should be considered a crime, but no one wearing Red and Black is complaining.
3
Defensively, freshmen played a big role in this victory. Even before Coach Kirby Smart unleashed the second string defenders later in the fourth quarter, the first-years were getting at it. Three different freshmen found their way to the quarterback for sacks: Mykel Williams, Bear Alexander and Jalon Walker. Williams and Walker on the edge and Bear in the middle is going to be problematic for years to come. Add Marvin Jones to that group as well, and it's pretty safe to say that this Georgia defense is in good hands. Nolan Smith's injury served as the catalyst offering young bucks the opportunity to rush off the edge, and Williams, Walker and Jones made the most of it. We could see something similar to the 2021 defensive front sooner rather than later.
2
Not only did Javon Bullard manage to get two interceptions, he also recovered a fumble forced by Chris Smith making him responsible for all three defensive turnovers for the Dawgs. With the way everything else in the game was going, the turnovers were really just the cherry on top with the offense scoring 65 already stealing the show. Bullard is quickly emerging as one of, if not, the best defenders on this team. He's deployed all over the field because of his STAR position getting opportunities to do anything and everything. If it weren't for injury, Bullard probably would have had a sack too. Tykee Smith, who also plays STAR, got one in Bullard's absence.
64%
About 64% of Georgia's rushing production was amassed by players who are expected to return and play in the 2023 season. Some heavy hitting names amongst that group being: Kendall Milton, Branson Robinson and Daijun Edwards. Milton and Edwards have announced they are returning for their senior season. Robinson has climbed the depth chart as a freshman and has drawn multiple comparisons to former DGD Nick Chubb. Regardless of who they're compared to, these guys really run angry. RBU's future is looking bright!