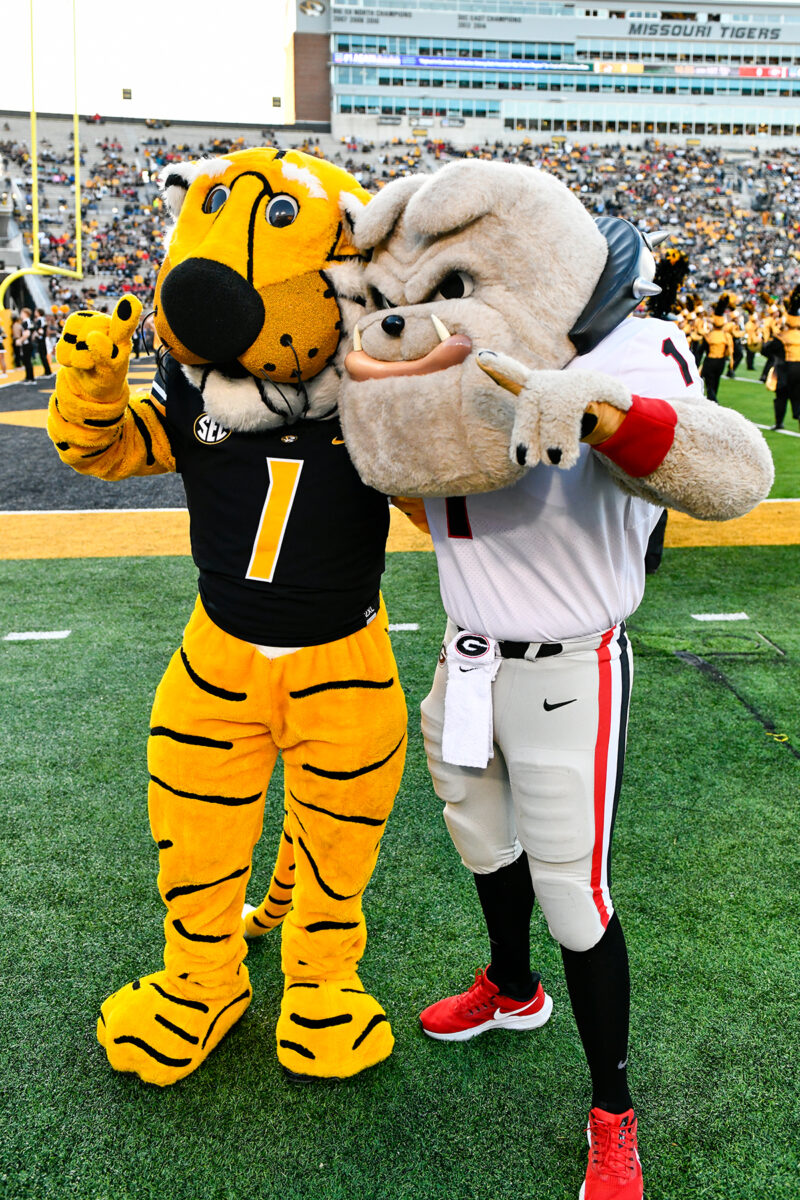 1. Luther Burden III – Missouri is very tough, strong and physical up front. They always are, and that's a big reason they have matched up well with Georgia. Tough on the line of scrimmage. Well, this team is also getting excellent quarterback play from Brady Cook, the Tigers have an outstanding running game led by Cody Schrader, who's averaging over 100 yards per contest, and one of the best groups of pass catchers in the Southeastern Conference. The headliner is Luther Burden III. A five-star recruit, Mizzou beat out some serious college football heavyweights to get the St. Louis native to play for his home state Tigers. That includes Georgia. The Bulldogs, like Alabama and Ohio State badly wanted Burden. The five star recruit is a five star player who must be accounted for at all times. Through eight games, he has 61 catches for 905 yards and six touchdowns. The Tigers will come up with creative ways to get him the football. Georgia must be aware of where Burden is at all times. A likely top ten pick in the Spring of 2025, Burden is a difference maker.
2. Mevis – Harrison Mevis is a weapon. Georgia fans saw that first hand last season in CoMo when "The Thicker Kicker" was a perfect 5-for-5 on field goals in Georgia's 26-22 come-from-behind victory. He shared SEC Special Teams Player of the Week honors with the Bulldogs Jack Podlesny, who was 4-for-4. Mevis went next level in September with a 61-yard field goal at the buzzer to beat Kansas State. That boot broke Kevin Butler's SEC record set against Clemson on the 60-yarder that proved to be the difference against those Tigers in 1984. KB says they should have an ad campaign called Mevis and Butthead. I'm all for it.
3. Tight battles – Since Mizzou came into the league in 2012, Georgia has lost just once to the Tigers. That was ten years ago in Athens, when Mizzou defeated the Dogs 41-26 en route to an 11-1 regular season and the SEC Championship Game. There have been a lot of close games between these two – see 28-27 in 2016 and 26-22 last year – and even when the Bulldogs have pulled away, Missouri has put up a helluva fight. Well this team has the talent and firepower to go toe-to-toe with any team in the country. Georgia had better be at its best and not badly lose the turnover battle. The Dogs are coming off the emotional showdown with the Gators in Jacksonville. Mizzou was off. The Tigers are hungry, and sniffing another win in Athens.
4. 1960 Orange Bowl – Prior to the Tigers joining the SEC, Georgia and Missouri had met just once before, in the 1960 Orange Bowl. The Bulldogs won 14-0 in Miami to cap the 1959 SEC Championship campaign with a 10-1 record and No. 5 national ranking. The game was televised and marked the first time Georgia had ever been on TV. January 1, 1960, quite a historic day in the annals of Georgia Bulldogs football.
5. Shakepeare's Pizza – Yes the game is in Athens, but we have to give a nod to the most famous eatery in Columbia. Bulldog fans discovered it on that first road trip to Columbia back in 2012. When I'm there with my esteemed cohorts like Tray Littlefield, Chris Lakos and David Johnston, it's a must stop. The famous Road Dawg Adam Gillespie is also a fan. On the Bulldogs first trip out there, it was quickly noticed that Georgia fans were using the names of some famous Bulldogs from the 1980s to place their order. For instance, "we got a sausage and cheese for Tron Jackson, a double pepperoni for Knox Culpepper, we got a meat lovers for Rambo Brantley." Good stuff.